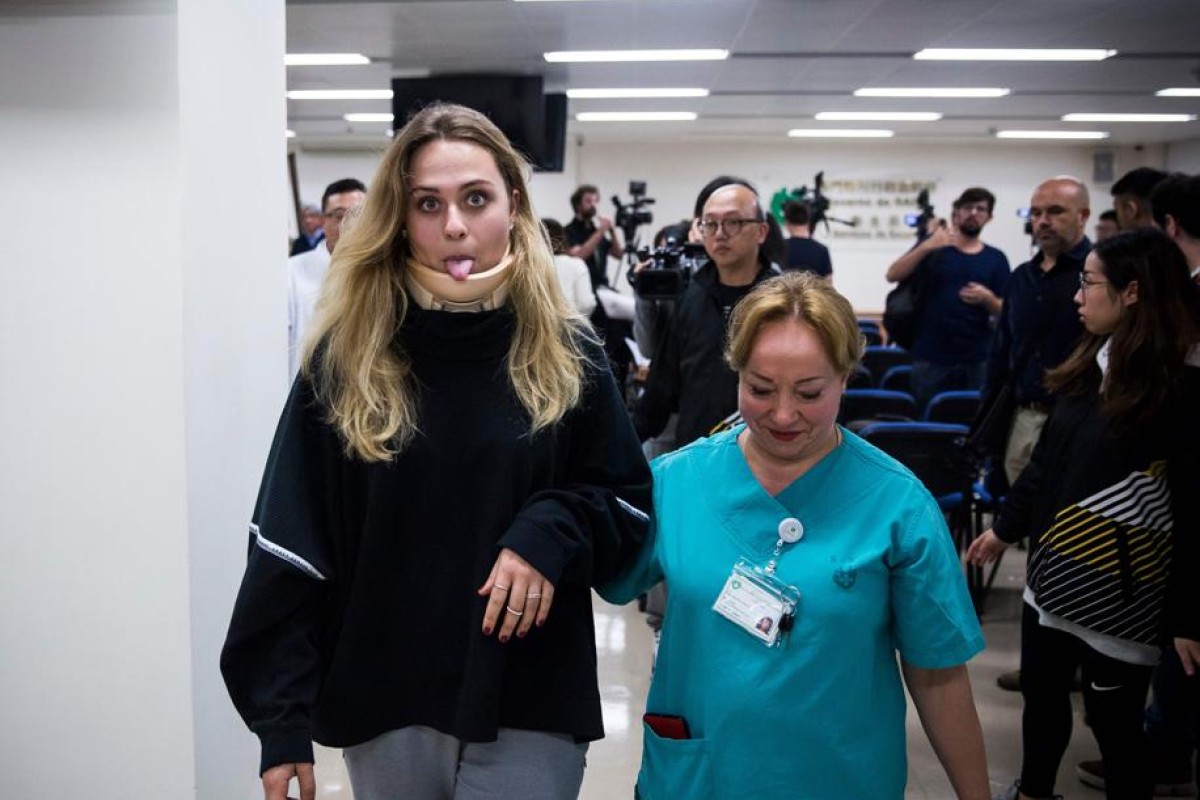 German F3 racing driver Sophia Floersch leaving the press conference at a hospital in Macau. The teenager has remained optimistic in her public statements and on her social media platforms.
A teenage racing driver who fractured her spine in a horrifying crash at the Macau Grand Prix said Monday she was flying home to Germany for further treatment.
Seventeen-year-old Sophia Floersch's car flew off the track in the Formula Three race earlier this month, catapulting spectacularly over safety barriers before hurtling backwards into a hut housing media and officials.
Doctors operated for 11 hours to repair her fractured vertebra and remove a bone splinter, which was sitting dangerously close to her spinal cord.
After the Macau Grand Prix horror crash and 11 hours of surgery, Sophia Floersch vows she's 'going to come back'
Despite her ordeal, Floersch has said she is determined to race again.
"Today I am flying back home. Really happy to see all my family and friends in the next days again," she wrote in a Facebook post Monday, after spending more than a week in a Macau hospital.

"I am still overwhelmed by all the support I got from you fans all around the world," she added.
Dramatic footage captured gasps from the crowd as Floersch's car flew through the air and into safety netting at the Guia Circuit's sharp right-hand Lisboa bend.
Macau Grand Prix crash: what happened?
Lying 16th, she lost control in a contact down the straight, launched off a kerb and bounced off Japanese racer Sho Tsuboi's vehicle.
Floersch acknowledged her miraculous survival.
"I celebrated my 2nd birthday on the 18.11.2018 in Macau ... Now a new chapter starts and I can't wait for it to begin. Let's focus on 2019," Floersch said in her post, ending with a fingers-crossed emoji.
Albinism has affected his vision, but this HK teen athlete is still a judo pro thanks to hard work and a great mentor
Tsuboi received treatment but was considered to have had a lucky escape after Floersch's airborne car hit the safety-arc or halo just behind his head.
A race commissioner and two photographers were also injured in the accident.
Floersch's team boss has said the historic Macau circuit was not to blame after the accident raised concerns about safety standards. The International Motoring Federation (FIA) has opened an investigation.
The 6.2 kilometre (3.9 mile) urban circuit features long straights with speeds of about 275km/h, coupled with tight, blind corners.
KGV equestrian champion Nathaniel Chan on studying for the GCSE while injured, and what luck has to do with showjumping
At least three people have died on the Macau Grand Prix course.
British rider Daniel Hegarty died last year after hitting a barrier at Fisherman's Bend during the Macau Grand Prix's motorcycle race.
In 2012, Portuguese motorcyclist Luis Carreira and Hong Kong driver Phillip Yau were killed within two days of each other during the Macau Grand Prix.