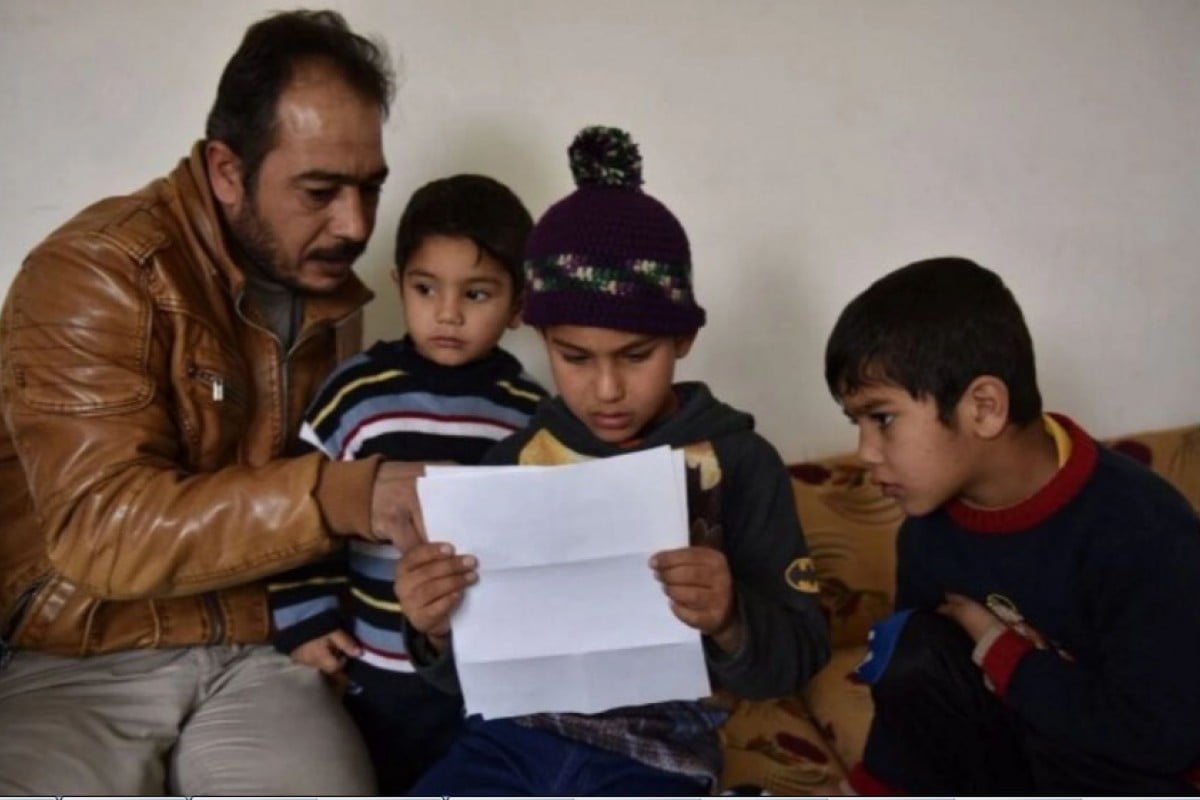 Zaher, 8, a Syrian refugee, reads a letter from Gunter Nitsch, a German World War II refugee.
Gunter Nitsch made a paper airplane, wrote "Zaher's Airline" on the wing and slipped it in the parcel en route to an eight-year-old Syrian boy.
Nitsch, 78, remembered when he was eight years old with no toys to play with when a war ripped him from his home, too.
Several years after the second world war ended, Nitsch was living in a crowded West German refugee camp after his family escaped illegally from their home in East Prussia, which was under Russian control. That's when the first CARE package arrived from America. It was packed with chocolate, coffee, corned beef, rice and raisins. There was a fruit salad that was so delicious he thought it must be "the kind of food the angels ate in heaven".
Nitsch's family was among the first recipients of the original "care package", a generic term now but one that originated with the humanitarian organization CARE (Cooperative for Assistance and Relief Everywhere), formed in 1945.
Life was bleak in the refugee camp, but the dozen or so parcels Nitsch's family received for more than a year from the Peacheys, a Mennonite family in Pennsylvania, gave them some joy. Nitsch, who came to America in 1964, located the Peacheys about a decade later, and they have become lifelong friends.
So now he and other second world war refugees who received care packages as children are paying it forward by sending letters and other special items to a Syrian refugee child of about the same age they were when they were displaced.
"I'm writing to share my story with you to let you know that, no matter how bad things may seem, there are good people in this world who can make everything better," Nitsch said in his note to Zaher.
CARE, which set up the connections, filmed the refugees receiving their packages. Zaher, who lives in a flat in Jordan, beamed when he flew Nitsch's handmade aircraft. In the video, his father said his son has no toys like he did in Syria and that Zaher's "mental state is deteriorating".
CARE hopes these messages of hope from the second world war refugees will provide some comfort to the Syrian children.
"They not only lived through it, but they lived through it and saw the other side," said Holly Frew, a CARE spokeswoman.
Helga Kissell, 87, was a teenager when her father was called away from his factory job to join the German military near the end of the war. He was killed during an air raid. As the family reeled from their loss, their Berlin home was bombed. They survived, but she and her mother fled to a Bavarian village where they had relatives. It was there, working in her uncle's photography store, that Kissell met a young US solider named Leo. They became friends.
After Leo returned to America, he and his family sent her family care packages. And Leo and Helga wrote letters, probably about 100 each, over those few years, they say. Through that correspondence, they fell in love, and he asked her to come to America and marry him.
She shared her story with a 16-year-old Syrian girl named Sajeda, who is living in a Jordan flat that isn't home.
"It is never easy to have to leave one's homeland!" Kissell wrote. "Always remember the good times and look forward to what the future may bring. It is always difficult to adjust to living in a different country - I know!"
When Sajeda heard her words, she cried. She told CARE that she felt she had "left myself" in Syria. "Helga made me feel like I exist," Sajeda said.
As of March, the Syrian refugee crisis has gone on for five years. Close to 5 million Syrians have escaped to live in foreign lands, stripped of their belongings, their schooling, their friends and, for many, their dreams."It was a very humbling experience to think a few words and a few remembrances from way back could give comfort and solace to a young person so far away," Kissell said.
In May, Nitsch and Kissell will meet for the first time with other surviving first recipients of the CARE packages at an event in Washington where they will be honored. CARE has received more than 1,000 "messages of hope" for Syrian refugees from the public as part of its broader letter-writing project, including ones from other former refugees or children of refugees, Frew said.
Each letter is unique, but all share the same goal: to let the families and children know they're not forgotten, and to help them believe in a brighter future.
Sign up for the YP Teachers Newsletter
Get updates for teachers sent directly to your inbox
Sign up for YP Weekly
Get updates sent directly to your inbox