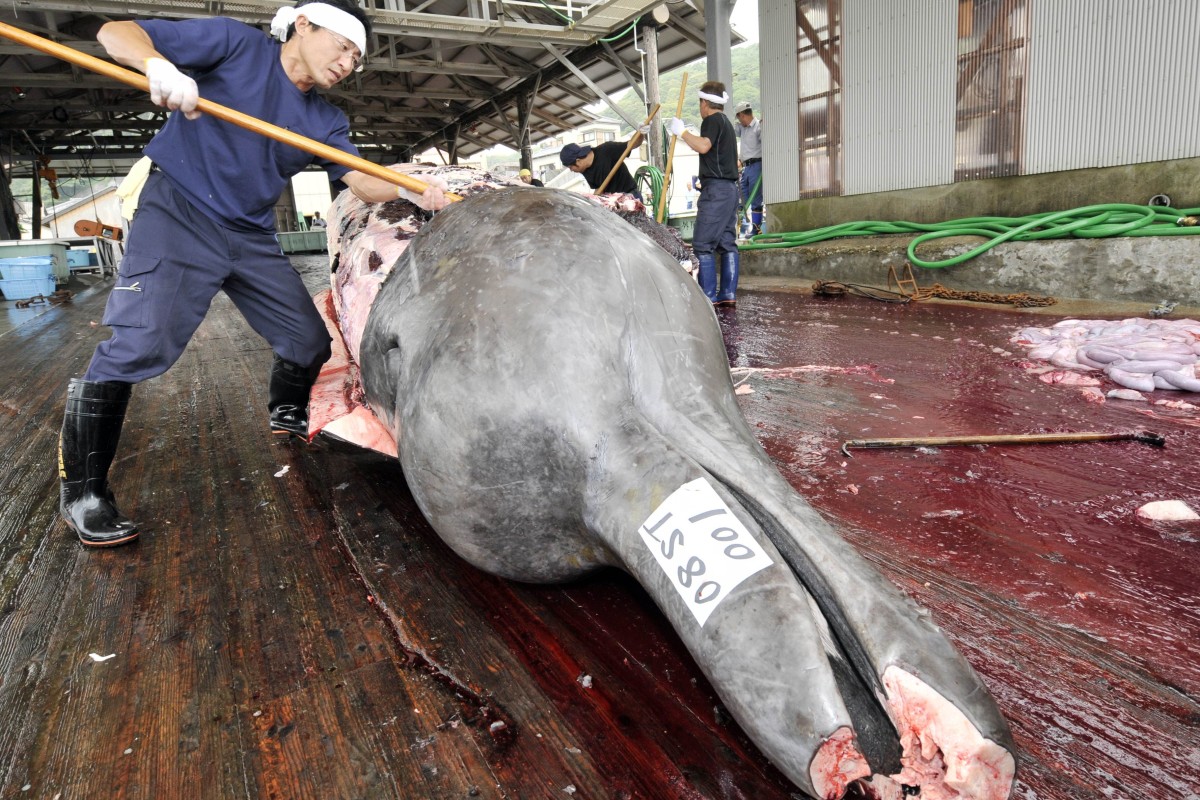 This photo taken on June 25, 2008 shows Japanese fishermen cutting up a 10m-long bottlenose whale at the port in Wada in Minami-Boso, Chiba prefecture, east of Tokyo.
Australia's "imperialist"campaign against whaling is like banning the right of Japanese women to wear the kimono, the country's chief negotiator at the International Whaling Commission has said.
Joji Morishita, the head of Tokyo's delegation to the International Whaling Commission, said Japan would defy "eco-imperialist"anti-whaling countries - led by Australia and New Zealand - and resume the slaughter of whales in the Southern Ocean in late 2015.
Morishita said international objections to whaling, partly on the grounds that the hunts are unprofitable and bankrolled by Japanese taxpayers - could be compared to restrictions on the wearing of kimono.
"The average Japanese woman wears kimono perhaps two or three times in her lifetime,"he said. "Those ceremonial kimono cost millions of yen, so some might argue that they are a waste of money. But what if another country then said that only a small number of women could wear kimono?"
He added that Japan had responded adequately to ICJ criticisms in a revised scientific whaling program revealed last week, adding that he fully expected the country's fleet would leave for the Antarctic at the end of next year.
Under the 1986 IWC moratorium on commercial whaling, Japan was permitted to kill almost 1,000 mainly minke whales a year for "scientific research". Meat from the slaughtered whales is sold on the open market, although a dramatic drop in demand in recent decades means thousands of tonnes of meat has been left unsold.
The world court withdrew Japan's whaling licence in the Antarctic, forcing officials in Tokyo to devise a new program that they say has solid scientific foundations. "Some countries won't allow any whale hunting under any circumstances," Morishita said on Wednesday, a week after Japan unveiled its new scientific whaling proposal. "They have a zero-tolerance policy. But it's time to end that paradigm. If we don't, there is no reason for the IWC to exist."
In its revised programme, Japan says it will kill 333 minke whales in the Southern Ocean next year, and a total of 3,996 over 12 years. The quota is much lower than the 850 minke whales it targeted each year until Australia's legal challenge at The Hague (international court) stopped whale hunting for a short while.
Australia has been the loudest opponent of Japan's deadly research hunts in an area of the Southern Ocean that Canberra sees as a whale sanctuary.
Environmental groups condemned the new plans. "Japan's new whaling proposal for the Southern Ocean sanctuary is neither new nor improved,"said Kitty Block, vice-president of the Humane Society International.
"Despite the ICJ decision condemning the nation's so-called scientific programme, Japan is still trying to explain the inexplicable and defend the indefensible. The hunt is for commercial purposes - not science."
Morishita said Australia and other countries were offering only "emotional" arguments in defence of an animal that had come to be seen as "charismatic".
Japan, by contrast, was only interested in scientific proof that sustainable use of an "ordinary marine resource" was possible. He said weak demand for whale meat among Japanese consumers was no reason to end the slaughter. "Yes, if you ask ordinary Japanese people they say they don't eat whale meat, but at the same time they say they don't like the idea of being told not to eat it by people who eat, say, beef.

"People in India don't eat beef, but what if they started a campaign against McDonald's in other countries, perhaps imposing economic sanctions? You can see the stupidity of the [anti-whaling] argument when you apply it to beef. But what is the difference between cows and whales?" he asked.
Young Post couldn't help giving him a hand with that question:
The resumption of whaling in the Antarctic could be short-lived. From 2016, "scientific" whale hunts must first be reviewed and approved by the general membership of the IWC, the majority of which is anti-whaling.
The next hunt will not be stopped the requirement because it is due to start a year before the IWC'S next meeting.
Sign up for the YP Teachers Newsletter
Get updates for teachers sent directly to your inbox
Sign up for YP Weekly
Get updates sent directly to your inbox