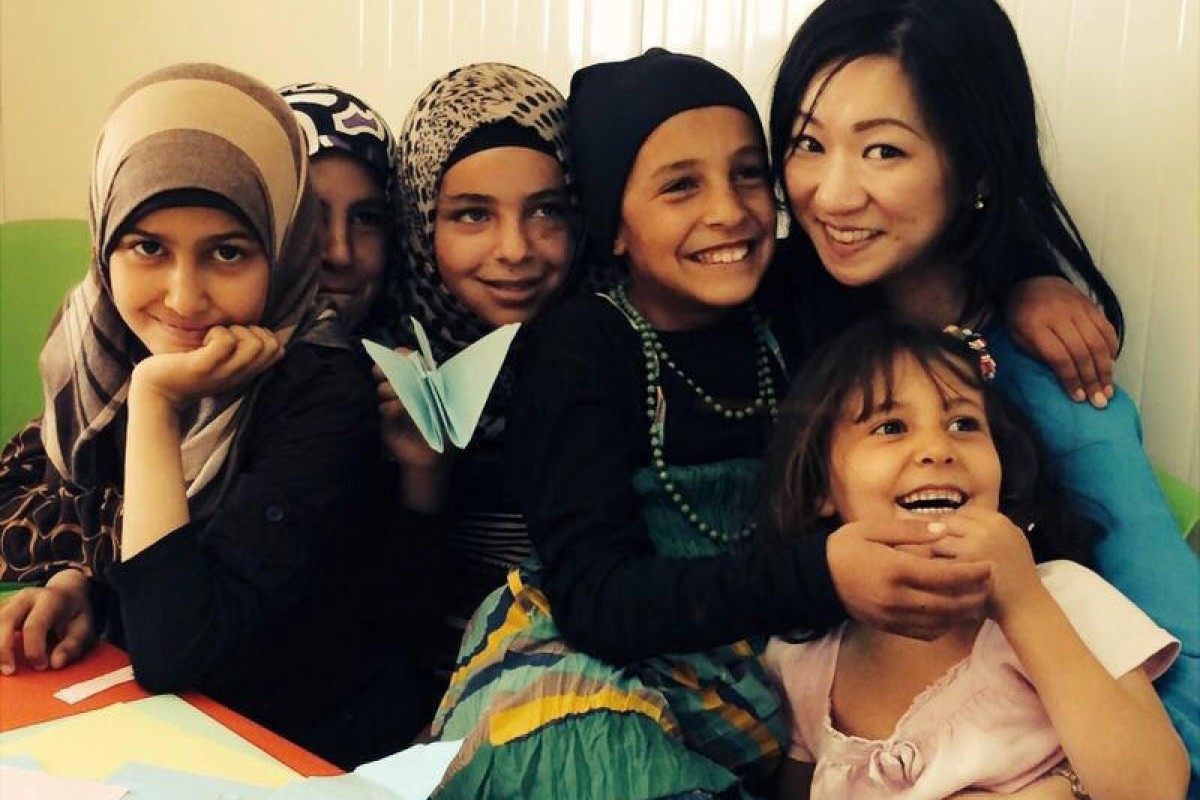 Alexandra Chen with some of the girls in the Zaatari refugee camp in Jordan.
After chatting with Alexandra Chen, she emails me some photos - a bunch of smiling kids looking up, some laughing as they chase her car. All of the children are Syrian.
Chen grew up in Hong Kong and went to Diocesan Girls' School, where she did projects with Hong Kong's Crossroads Foundation. These days she works with international aid organisations, such as Mercy Corps and Unicef, to help young Syrian refugees who live in camps in Jordan and Lebanon. More than three million people have fled Syria, in the Middle East, because of the civil war there.
"The children tell me, 'tell the world not to forget us'," says Chen. "How wonderful it would be if we could twin a school in Hong Kong with one in the camps in Lebanon or Jordan."
Many of the children have seen terrible things, including watching family members die, so Chen works with them to create a safe zone; a playground where they can learn to be children again. It doesn't take much to make a child laugh and love again, says Chen.
"The children are so beautiful and resilient. Despite what they have gone through, they are full of love and ready to forgive," she says. She's looking for Hong Kong schools that could partner with schools in the camps, or sponsor older children to continue their college and university education. In doing so, that school could change their lives forever, she says.
"In children you only need to invest a bit of hope and they can bounce back on their own," she adds.
For the past year, Chen has been organising a scheme to provide care packages for kids in the camps, and those trying to survive outside. Some live in converted chicken coops. Sometimes the parents don't have work permits and the children are forced to work for money.
David Begbie, of Crossroads, joined Chen last year to deliver "winterization" kits at camps. The situation in Lebanon is particularly tough. Families live in tents, there is no electricity, and they are entering a cold winter of mud and snow.
So the kits had warm clothes, stationery, cuddly toys, and most importantly for these children who feel so forgotten, a message and a photo from someone from another part of the world.
Crossroads is continuing that scheme this winter. For a donation of HK$160, Crossroads puts together a kit of warm clothes and a personal message from the donor, as well as a photo with a piece of paper saying, "We care about Syria". The photo and message can be put on Crossroads' Facebook page and they'll then make sure it is printed and sent to the person receiving a kit.
Begbie described a little girl opening her package, and the delight in her eyes as she saw the message of love from Hong Kong. The foundation is keen to expand the winter scheme by linking up with local schools. In her work, Chen helps children to come to terms with what has happened, to talk about it and become normal kids again. Chen notes that she has seen positive changes in a group of teenagers she's been working with in Jordan.
One of Crossroads' partners over the past months was Harrow International School. Student Sophie Yau Wing-ki, 18, says she learned a lot by being involved in the project and took a photo of herself with a "We care about Syria" sign to send to the refugee children.
If you would like to get your school or youth club involved, check out Crossroads Foundation or email Kate Falconer.
Sign up for the YP Teachers Newsletter
Get updates for teachers sent directly to your inbox
Sign up for YP Weekly
Get updates sent directly to your inbox