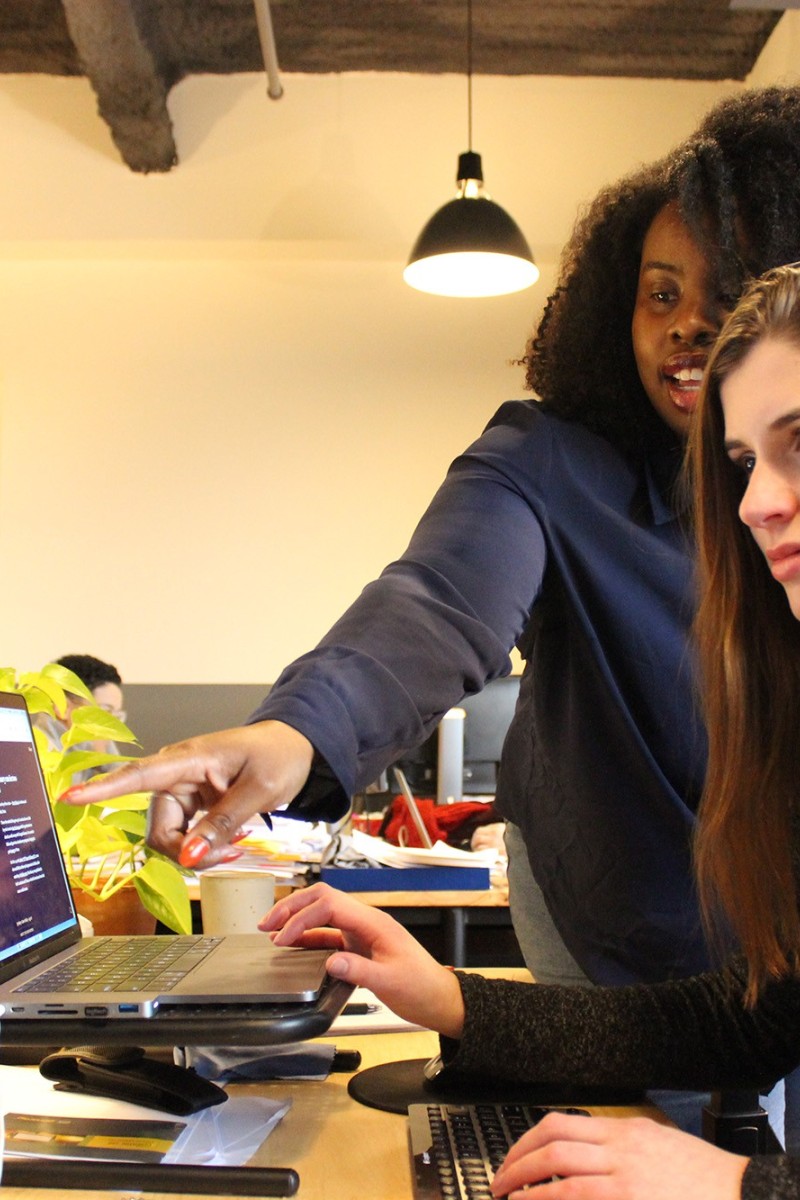 In the year between the shooting at Marjory Stoneman Douglas High School on Valentine's Day in 2018 to February 2019, more than 1,100 young people were shot and killed

The

Since Parkland

team shares the most important journalism lessons they learned while reporting on the epidemic plaguing America's kids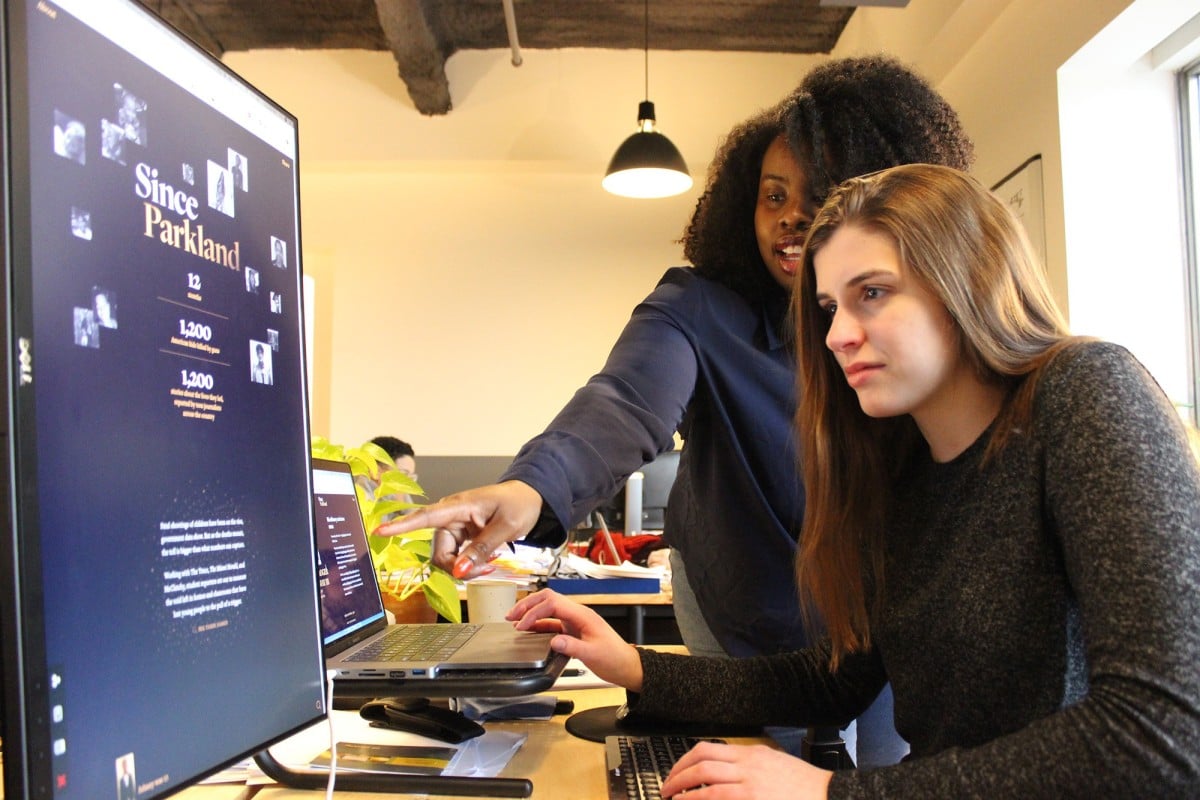 Teen journalists Akoto Ofori-Atta (back) and Mary Claire Molloy are working towards making gun violence a central issue in today's news, following the shooting at Marjory Stoneman Douglas High School last year.
In the year between the shooting at Marjory Stoneman Douglas High School on Valentine's Day in 2018 to February 2019, more than 1,100 young people were shot and killed; teen journalists documented in detail each and every one of them.
On February 10, 2019, two days before they launched sinceparkland.org, a website that contains small snapshots of their peers lost to gun violence in the past year, the Since Parkland team shared with us some of what they consider the most important journalism lessons learned while reporting on the epidemic plaguing America's kids.
Look for a story that matters
When Akoto Ofori-Atta became a journalist, she wanted to focus on something that mattered. There were a few big stories of this generation, and gun violence was one of them, she said. That's how she ended up at The Trace, America's only single-issue newsroom focusing on the gun violence epidemic.
"Right after the Parkland shooting, we quickly realised the gun debate in America had shifted to one that focused on young people in this country," said Akoto. "We asked, 'What does it mean for our role as a newsroom that covers gun violence exclusively?'"
The answer to the question was a project they called, Since Parkland, in which young people told stories of the people their age who die tragically every year. "We recruited people and fleshed out the idea. That's how Since Parkland was born."
After the February shooting, Parkland survivors struggle to live normal lives again
Like many people, Mary Claire Molloy, 18, was shocked to learn that mass school shootings are just one sliver of the American gun violence crisis.
"It gets the most attention when someone goes into a school and shoots kids, as it should, but there are kids everywhere in American cities dying every day – whether from murders, accidents, domestic violence, murder-suicides, or drive-by shootings."
Of the 46 stories she wrote, the one that impacted Mary Claire the most was about Shelby and Harrison Hunn, two kids who lived just one city away from her.
Mary Claire went to school one day to find everyone sombre and sad. She learned of reports that Shelby and Harrisons' father had murdered them in their sleep and then shot himself.
"There are kids everywhere in American cities dying every day that we don't hear about," said Mary Claire. "Their story should be told. It's part of a bigger picture of violence that we should be having a national conversation about."
Generation Z emerges as united voice for gun control legislation in the US after horrific Florida school shooting
Experiment with different formats
Senior project editor and The Trace curriculum designer, Beatrice Motamedi, is a secondary school journalism teacher. She was a working journalist before that. Even earlier, she was a poet. That's why she suggested the 100-word and even smaller six-word stories that teens used to turn what could have been grim obituaries into tiny, loving portraits.
"The language of a story is very important," said Motamedi, citing rhythm, cadence, and the variety of sentences, all of which helped students tell each story quickly and in short format. "Although some students struggled at first, eventually they learned it doesn't take a lot of words to tell a story very well."
One challenge students faced was writing stories about victims when there wasn't much information. Allie Kelly, 18, a student from Denver, Colorado, applied the same strategies she uses as a student who is a visual learner.
When she found a photo on Facebook or Instagram, or in a news report, she used the information it revealed. What colour were their eyes? What was the shape of their smile? What was their style?
Allie described writing one of the first stories she wrote about a girl named Lauren Emily Kaufman. In the photos, Lauren Emily has silver earrings that framed her face. Her whole outfit was kind of eccentric. She had a wooden necklace, and a baseball shirt. But it was all very neat. "In that way, it was a little window into her personality," said Allie. "I tried to draw on that."
Parkland shooting survivors win International Children's Peace Prize for March For Our Lives anti-gun movement
"Since Parkland is our generation's story to tell," said Allie. "In the same way that we don't think about the significant airport security after 9/11 any time we travel, there isn't any other story like this that overshadows our lives when we walk down the street or sit in our classrooms. It's always in the back of our minds. I think that it's incredibly important that this story was carried out by youth, by students."
Find mentors who believe in you
Before working with the Since Parkland project, senior project editor Katina Paron worked with youth journalists for 25 years. She hopes teens will walk away from this pioneering project understanding their abilities.
"The fact that teen journalists pulled off this project is amazing and groundbreaking, and it's a huge accomplishment," she said. "This is what young people are capable of, and people need to give teens the credit for that."
Gun control? Shouldn't this be a no-brainer?
The students who took on the emotional toll to produce Since Parkland come from all walks of life – different regions, ethnicities, income levels, geographical locations, and points of view. What held them together through late-night Skype calls and stressful editing sessions was the care they felt for their peers.
"Since Parkland is not activism," said Allie. "It's our attempt to have a voice in an issue that impacts our fellow American teens and our fellow American children walking to school, or going to the grocery store, or riding in a car.
"When people read this project, I want them to feel. I think it's so easy to walk away, turn away, or shut your laptop, these stories are so incredibly devastating. I want you to cry. I've cried. That's part of the goal," she said.
An assistant editor for Since Parkland and current editor-in-chief of the East High Spotlight news magazine, Allie led a group of students in her hometown. For many, it was their first journalism project.
"They took a chance on a crazy project because their editor-in-chief told them they should try," said Allie. "It is a really important work for teens by teens that couldn't be told in any other way."
Sign up for the YP Teachers Newsletter
Get updates for teachers sent directly to your inbox
Sign up for YP Weekly
Get updates sent directly to your inbox