In the space of 18 months, Zion Harvey has gone from having no hands, to having two functioning ones thanks to a pioneering operation that has given him his life back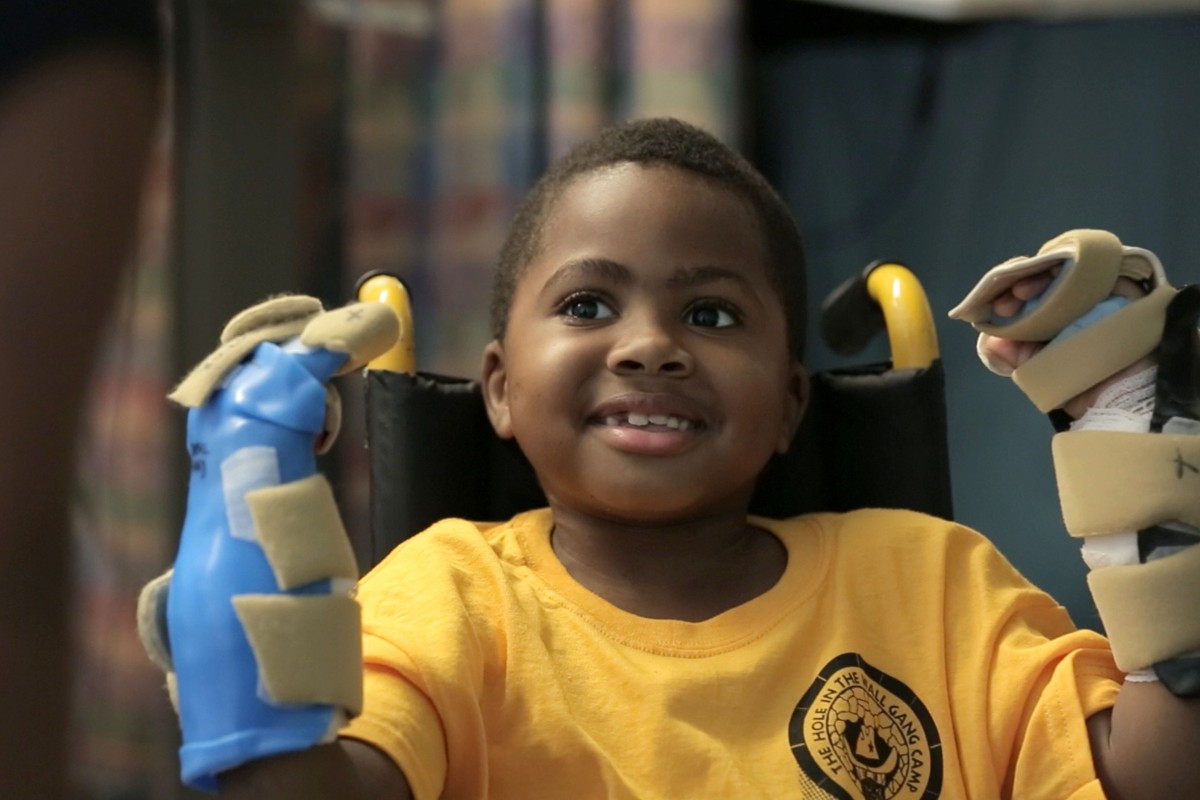 Zion became the first child in the world to receive two new hands.
After almost 11 hours of surgery involving four teams of doctors, Zion Harvey had earned his place in medical history. The eight-year-old had become the first child in the world to receive two new hands in a procedure that seemed to be leading a revolution in transplant medicine.
Two years on, the sports-mad boy from Baltimore, Maryland, is enjoying the freedom and independence his new hands have given him. In the first medical journal report of Zion's treatment, published on Wednesday, the experts involved declared the operation a success and say other children could benefit from the knowledge gained.
Zion had to rely on others after he had his hands and feet amputated aged two when he fell sick with sepsis. For six years he used a mix of his remaining limbs and specialist equipment to dress, wash himself and eat – until the double transplant changed his life.
"As of 18 months after transplantation surgery he is able to write and feed, toilet and dress himself more independently and efficiently than he could do before transplantation," writes the team from the Children's hospital of Philadelphia in the Lancet Child and Adolescent Health.
Organ transplantation is risky in that a recipient's body may reject the new body part, while the drug regime involved carries a series of health risks. Two years on from the surgery he had in July 2015, Zion, now 10, is coping well with both.
More than 100 people worldwide have had a hand or arm transplant since the first adult received a new hand in 1998, closely followed by the first replacement of both hands in 2000. Many countries now conduct such transplants on small numbers of patients.
In May 2000, a baby girl in Malaysia became the first child to receive a new hand and arm, transplanted from her identical twin sister who died at birth.
In an update last year on his progress in the year since his surgery, Zion said: "The only thing that's different is instead of no hands, I have two hands. I'm still the same kid everybody knew without hands."
Within eight months of the operation Zion was using scissors and crayons. After a year he was able to swing a baseball bat – once throwing the opening pitch at a Baltimore baseball game.
Dr Scott Levin, team leader for Zion's surgery, has praised his patient's bravery. "I've never seen Zion cry. I've never seen him not want to do his therapy. He's just such a remarkable human being, let alone child or adult. He has such courage and determination and gives us all inspiration," he said.
But the last two years have been hard for Zion. He has had huge amounts of physiotherapy and occupational therapy to help him adjust, as well as counselling to aid his mental recovery.
The doctors write: "Since his surgery he has undergone eight rejections of the hands, including serious episodes during the fourth and seventh months of his transplant. All of these were reversed with immunosuppression drugs without impacting the function of the child's hands."
He is still taking four different immunosuppressant drugs to maximise the chances of his body continuing to accept the pair of new hands, though doctors hope to reduce the dose.
"While functional outcomes are positive and the boy is benefitting from his transplant, this surgery has been very demanding for this child and his family," said Dr Sandra Amaral.
However, in another article, Dr Marco Lanzetta, an Italian expert in hand transplant surgery, doubts that many children could tolerate a similar procedure and highlights the risks from lifelong use of immunosuppressants. Zion's case was exceptional as he was already on the drugs, after receiving a kidney from his mother, Pattie Ray.
Prosthetic hands and limbs, adds Lanzetta, have now developed so much that they, rather than transplant surgery, are more likely to prove the future for patients like Zion.