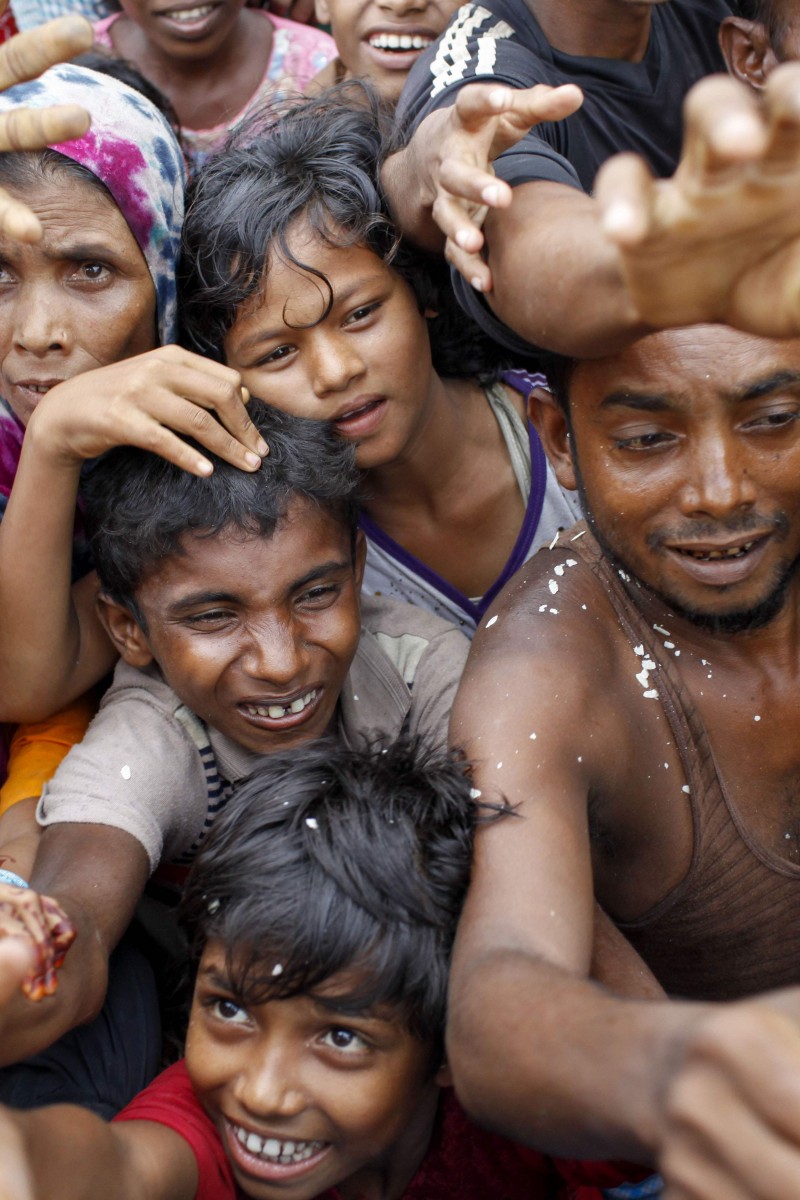 Fuelled by fake news, this mostly-Muslim ethnic group has been driven out of the country and into camps in Bangladesh

Some of the refugees feel they have no option but to take up arms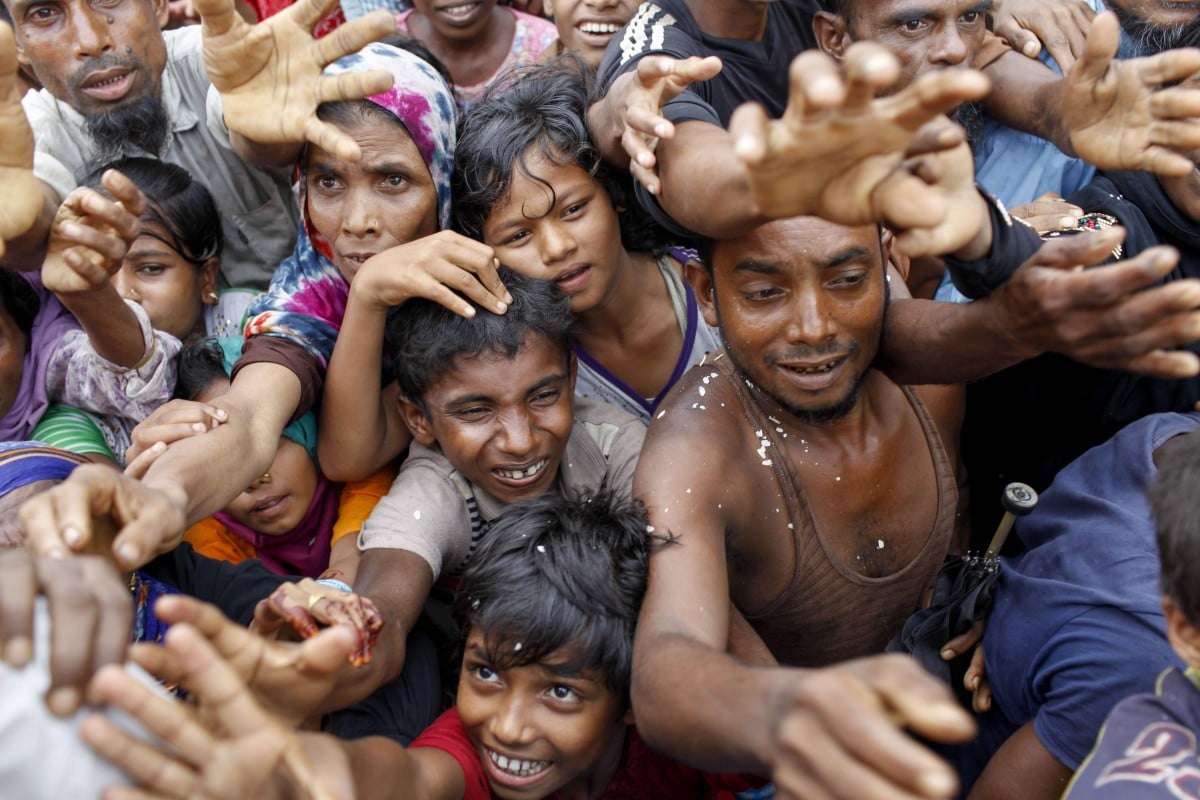 Rohingya refugees from Myanmar's Rakhine state wait for aid at Kutupalong refugee camp in the Bangladeshi town of Teknaf.
The voice crackles down the phone line. Hashem, a Rohingya Muslim fighter, is getting anxious.
"Nah, nah, nah, nah," he says. His group does abduct informers, but it doesn't kill them, he claims.
"Yes, it is right that sometimes we kidnap them and keep them with us for some days," he says, from a refugee camp in Bangladesh. "We are motivating them."
Hashem, who is 26, says he belongs to the Arakan Rohingya Salvation Army (Arsa), a military organisation waging war in Myanmar's Rakhine state.
The region is under lockdown, making access to reliable information extremely difficult. But interviews with a dozen analysts, aid workers and diplomats in Myanmar and Bangladesh, build a picture of a movement led by overseas Rohingya that over several years has entered the northern part of Rakhine state, using the desperation of persecuted residents and intimidation to keep control.
All you need to know about the Rohingya crisis
On August 25, the government said hundreds of fighters armed with guns, sticks and improvised explosives launched coordinated attacks on police posts across the north of the state, killing 12 members of the security forces. The death toll from the clashes has since risen to more than 100, mostly alleged Rohingya fighters.
Since then, tens of thousands of Rohingya have attempted to cross the border into Bangladesh, even as eyewitness reports show Myanmar troops have opened fire on them and hundreds have been turned back.
Rohingya refugees have described a brutal army response, accusing soldiers of burning villages and shooting indiscriminately.
Government officials insist they are fighting back legally. "For the security situation, there is not enough local police and border guard forces, that's why the army has been helping them with security," Win Myat Aye, the social welfare minister, said.
Meanwhile, some Rohingya in Bangladeshi refugee camps have slipped across the border in the opposite direction to take up arms for Arsa, according to local news reports and a western official who spoke on condition of anonymity.
Aung San Suu Kyi's government has dubbed the group "extremist Bengali terrorists" , implying they are illegal immigrants from Bangladesh, and accused them of slaughtering civilians. A government spokesperson could not be reached for comment.
The militants insist they are freedom fighters and, claiming the attack via Twitter, hailed it as a "legitimate step" to restore the rights of Rohingya, a minority excluded from citizenship in Myanmar.
'The single biggest threat to stability in Rakhine'
Friday's attacks came hours after the Annan commission released a series of recommendations for easing entrenched tensions.
"Just by the virtue of their existence and activities and antagonism towards the military they for the last nine months have been the single biggest threat to stability in Rakhine," says Gabrielle Aron, a Myanmar-based consultant who has lived and worked in northern Rakhine.
Analysts and aid workers say recruitment in the villages of northern Rakhine and the camps in Bangladesh surged after October 2016, when hundreds of fighters attacked border posts in Maungdaw township, prompting a massive army crackdown, with troops accused of rape and indiscriminate killings.
The group's leader, a Rohingya named Ataullah Abu Ammar Jununi, who has appeared in videos, is described as extremely charismatic.
"I've had very educated and moderate Rohingya saying … 'I start crying when I watch his videos'," says a staffer at an international nongovernmental organisation who works in Rakhine and was not authorised to speak to media.
Hashem says he joined Arsa at the urging of "senior people" in his village in Maungdaw. "It was a secret matter in Arakan," he says, using an alternative name for the region. "Sometimes we had meetings, sometimes we communicated through mobile phone but it was difficult to get together."
"The senior person told me: '[Rakine is] our country. We should take care of it. It's our nation,'" he says.
While many, like Hashem, appear to have joined the group willingly, there have been reports of communities coming under immense pressure to join the group, Aron says.
"There's two groups: ones who really want to join on their own volition and others – educated moderates – who are really really scared for themselves and their families, they don't want to be a part of anything like this," says an NGO staffer who spoke anonymously.
The product of decades of oppression, the Rohingya diaspora numbers around one million, according to aid agencies, with more than 500,000 in Pakistan and Saudi Arabia. A report published last year by the International Crisis Group says Arsa is directed by Rohingya based in Mecca and Medina, with some on the ground in Rakhine.
But Rohingya rebellions – which have a history dating back to the 1940s – have a history of factionalism and analysts believe Arsa may have splintered or spawned offshoots. It is a viewpoint supported by Hashem, who talks of "many leaders" and multiple groups.
'We are not dead and we are not alive'
In recent months, the group has been accused by the government of murdering scores of Rohingya leaders suspected of informing to the authorities or opposing the violent struggle, and kidnapping others. The Guardian has seen video of masked men making death threats in the name of the group.
Another video shows a teenage boy being threatened with a long knife by men identified as being part of the armed group.
While Myanmar authorities portray them as Islamist radicals, there is little evidence that religion has served as a motivating factor for recruits.
But the campaign has had religious overtones. The Crisis Group report, which was based on interviews with members of the group as well as sources in the area and the diaspora, found Islamic clerics had blessed training camps and issued fatwas legitimising the group.
"Indonesian and Malaysian extremists have been chomping at the bit to go help their brothers in Myanmar," says Sidney Jones, director of the Jakarta-based Institute for Policy Analysis of Conflict.
"Decades of persecution have led to this," says Matthew Smith, CEO and founder of Fortify Rights.
For years, Rohingya have told human rights advocates and journalists that their lives, confined to villages and displacement camps, are not worth living.
"Now we are not dead and we are not alive, so we need to do something," says Hashem. "We want our rights. If it is not happening, either we die or they die."
Sign up for the YP Teachers Newsletter
Get updates for teachers sent directly to your inbox
Sign up for YP Weekly
Get updates sent directly to your inbox