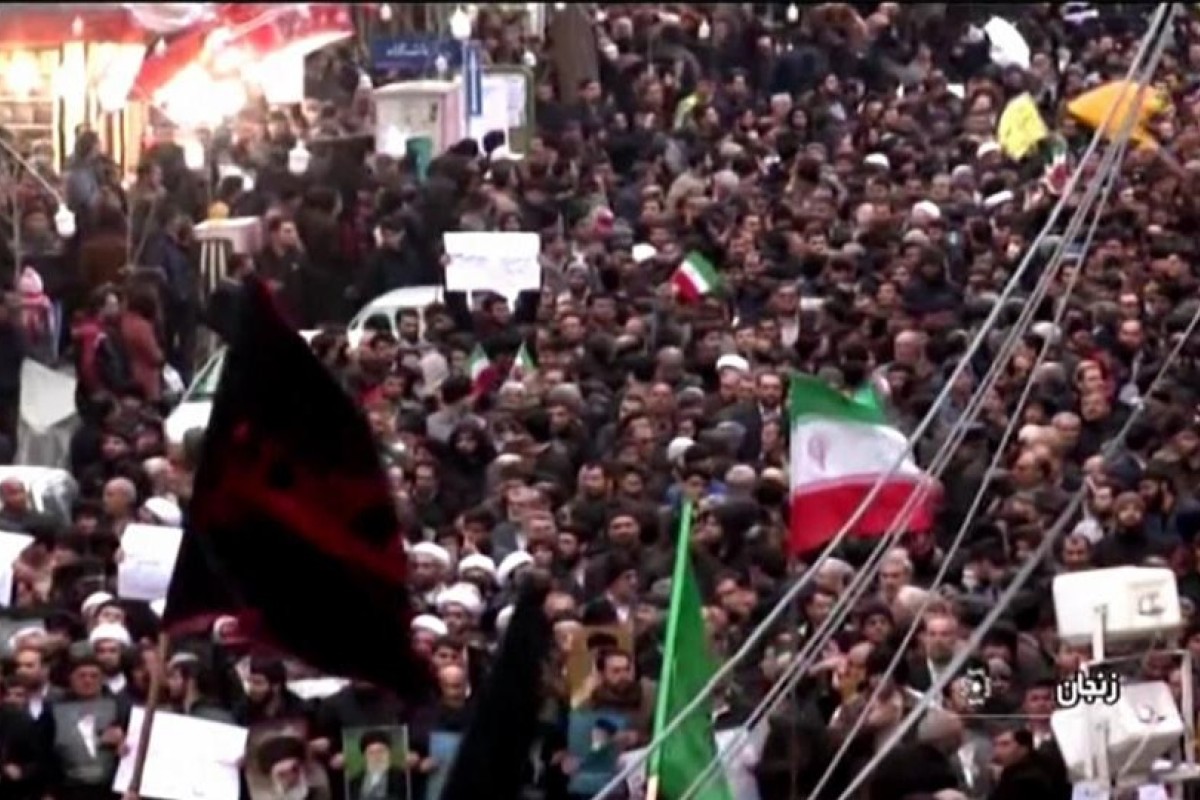 Some of the protests have turned fatal, with at least 13 reported deaths.
Iran has seen its largest anti-government protests since the disputed presidential election in 2009, with thousands taking to the streets in several cities in recent days.
The government has put travel restrictions in place and shut down social media networks, so international journalists have had trouble getting information about the protests. At least 20 people have been killed so far during the ongoing unrest.
How did the protests start?
The demonstrations began Thursday in Mashhad, Iran's second-largest city and the home of a famous Shiite shrine. The city is a conservative support base for Ebrahim Raisi, a cleric who unsuccessfully challenged President Hassan Rouhani in last year's election. Experts suggest conservatives began the protests there as a means to pressure President Rouhani, a relatively moderate cleric within Iran's theocratic government. The protests then rapidly spread throughout the rest of the country of 80 million people.
What do the protesters want?
Demonstrators initially focused on Iran's poor economy. Despite now being able to sell oil on the international market after the nuclear deal in 2015, Iran faces rising inflation and high unemployment. A recent increase in egg and poultry prices by as much as 40 percent appears to have sparked the protests. Protesters have chanted against Rouhani as well as Supreme Leader Ayatollah Ali Khamenei. Some have also criticised Iran's military support of Syrian President Bashar Assad.
Who is leading the protests?
So far, no central leadership has emerged. That's in contrast to the 2009 Green Movement demonstrations, which protested President Mahmoud Ahmadinejad's re-election amid widespread claims of voter fraud. Those protests, Iran's biggest since 1979, resulted in a crackdown by Iran's Revolutionary Guard that saw thousands detained, dozens killed and others tortured. Its leaders remain under house arrest years later. While leaderless, these new protests have been fuelled in part by an exiled journalist named Roohallah Zam using a mobile phone messaging app called Telegram.
How has the government responded?
Iran says it temporarily shut down access to both Telegram and the photo-sharing app Instagram to "maintain peace," limiting protesters' ability to share images and promote more demonstrations. Facebook and Twitter are already banned. Uniformed and plainclothes police are in the streets, as are motorcycle-riding members of the Basij, a volunteer force under the Revolutionary Guard that helped carry out the 2009 crackdown. Rouhani himself has said Iran allows protests, and authorities often tolerate smaller, limited demonstrations and labor strikes. But Rouhani and other officials have warned that the government won't hesitate to crack down on those it considers lawbreakers.
At least 20 people have died so far. Iranian state television said on January 1 that security forces repelled "armed protesters" who tried to take over police stations and military bases, without giving further information. Pictures published by semi-official Iranian news agencies have shown water cannons being used on protesters in capital city Tehran, as well as damage done by demonstrators to public property. Several hundred people have also been arrested, though police say they've released many. Some videos circulated online show protesters welcoming police officers and demonstrating peacefully. At least one police officer has been killed by an armed protester.
How has the world reacted?
US President Donald Trump has tweeted several times in support of the protests. The State Department has accused Iran's leaders of turning "a wealthy country with a rich history and culture into an economically depleted rogue state whose chief exports are violence, bloodshed and chaos." Rouhani has dismissed Trump's criticisms, while many Iranians remain angry with the American president over his travel bans barring them from getting US visas, as well as his refusal to re-certify the nuclear deal. Both Britain and Germany, which took part in the nuclear deal, have called for Iran to allow peaceful protests. Israeli Prime Minister Benjamin Netanyahu, a longtime foe of Iran's government, has called the protesters "brave" and "heroic."
Iran describes itself as an Islamic Republic. Elected representatives pass laws and govern on behalf of the people who elected them. However, the supreme leader has the final say on all state matters. The Guardian Council, a 12-member panel half selected by the supreme leader and half nominated by judges and approved by parliament, must approve all laws. The council also approves all presidential and parliamentary candidates, barring anyone who challenges the political system itself or believes in dramatic reform. Security forces answering only to the supreme leader, like the Revolutionary Guard, routinely arrest dual nationals and foreigners, using them as pawns in international negotiations.
Demonstrators have called for more protests in the days ahead. While Rouhani has said the government allows demonstrations, all so far have been held without police permission, which is illegal. Ultimately, the supreme leader will decide how to respond. As an expert on Iran politics wrote in an analysis Sunday, "When it comes to regime survival, Khamenei calls the shots. And he's got a lot of loyal and ruthless troops at his disposal."
Sign up for the YP Teachers Newsletter
Get updates for teachers sent directly to your inbox
Sign up for YP Weekly
Get updates sent directly to your inbox