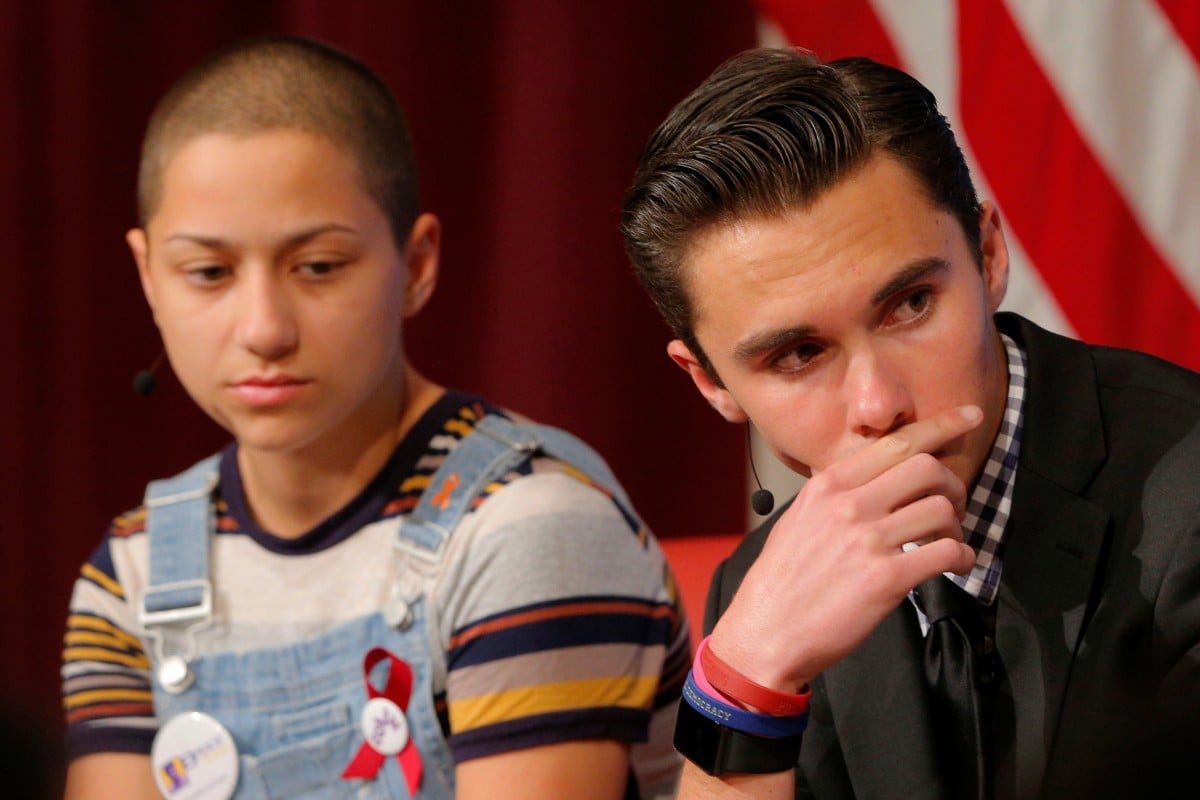 Emma Gonzalez and David Hogg discuss their #NeverAgain movement at Harvard University.
Fresh off an evening flight from New York City where he appeared on several news shows, David Hogg darts into his house in Parkland, Forida grabs a box of chocolates - a gift for a friend - and hops into his car.
Within minutes, Marjory Stoneman Douglas High School comes into view in the distance. It's two weeks after the mass shooting that launched the student-led #NeverAgain movement for gun control. David, a spokesman for the group, has become a familiar face to TV viewers.
As he drives, he's delivering his often-broadcast message about "getting the right politicians in office that are not owned by the NRA."
But then he goes silent for a second as he slows down the car.
"I always drive along here and see the sun rising over there." David says. "Normally, right around here there's a longer line of cars that are waiting to turn into the senior lot … Coach Feis would always stand right there and wave at us. Every single morning without fail."
The normal is gone now. So is Coach Aaron Feis and the 16 others killed on Valentine's Day when a former student shot up the school with an AR-15 assault rifle.
"It's hard to believe," David says.
Before the shooting, 17-year-old David Hogg's biggest worry had been keeping his fish and plants alive for a school project. Now he and the other activists from Stoneman Douglas believe they are fighting for their lives and the lives of every school kid in America. Since the shooting, his days have been full of meetings with politicians, Twitter feuds with trolls and conspiracy theorists, TV appearances and flights between New York and Los Angeles
"My childhood really ended with that first gunshot," David says.
Student protesters honoured by Time magazine
Dealing with grief sometimes takes a backseat to the perpetual motion. His parents worry about that. But, David says, grief is the driving force behind the movement. This is how he and the other activists are coping. They are speaking for the 17 dead whose voices were taken away, and for all those left with physical and emotional scars.
Quiet moments are rare. He says he gets them in the shower or while brushing his teeth or while on airplanes.
"There are times when I try to be left alone just like anybody else," he said. "But I get most of that time on airplanes at this point. Like in the past week I've probably been on five flights."
Still, his mother says David and the rest of the family are in therapy to deal with the shooting.
"I don't want him to not see a therapist just because he's too busy," said Rebecca Boldrick, whose cellphone voicemail greeting now identifies her as "David Hogg's mom." She's been fielding many of his calls and trading texts with producers to set up David's media interviews in the post-shooting frenzy.
And it has been a frenzy. On the drive back from delivering the chocolates to his friend Emma Gonzalez - another Stoneman Douglas student leading #NeverAgain and spearheading the "March for Our Lives" to demand gun control scheduled for D.C. on Saturday - David's ringing phone keeps thwarting his attempt to do an interview with the reporter in his car.
First it's his mother. He should hurry back home, she says. A news crew has cameras already set up in the dining room and is waiting for him. It's almost 8pm.
The next time the phone rings, David doesn't wait to find out who's on the line: "Is this Bill Maher's show? If it's not, you can call me back in like an hour." He hangs up.
Minutes later, Maher's production staff does indeed call. They want to prep for David's appearance on HBO's Real Time with Bill Maher in L.A. later in the week.
He tells the producer about the spring break boycott he called for on Twitter. He urged tourists to stay away from Florida until gun legislation is passed.
Then he condemns the relationship companies such as FedEx and Amazon maintain with the NRA. "I hope that they suffer and they need to because you know who is suffering? It's the 17 people that died, all of their families. And when these corporations stand with the NRA, they stand with the child murderers that allowed this to continue."
Budding broadcast journalist
Before the shooting, David spent a lot of time behind cameras studying television production at the high school. He spent three months filming an 18-minute documentary on a weather balloon for a school project. It "was all right for a first documentary," he says.
He's a budding broadcast journalist who became drawn to film and photography while struggling with dyslexia. Words were difficult to string together on paper, but expressing himself through images was easier. It became his passion.
During the shooting, David went into journalist mode. He turned on his cellphone video camera as he hid in a classroom with 60 other students.
In his footage of the shooting, David narrates what's going on in a whisper: "It's 2:52. I heard one gunshot and we thought it was a drill initially, but it's not. We don't know if the person has been taken down and we're currently hiding. Hopefully, I'll live through this."
While in hiding, David begins to show signs of the activist within, getting in front of the camera: "I call on the legislators of this country to take action and stop this from happening. Thousands of people have died from gun violence and it's time to take a stand … for human lives, for children's lives."
He later said in interviews he wanted to document the moment with his phone in case he died. He wanted to be sure someone found his message and experienced what it was like to be hiding from a gunman in a darkened classroom.
"That's really what I was trying to do is tell the story because I didn't want to die emotional," David says. "I didn't want to die doing anything other than the thing that I love most which is telling stories and informing the public."
In David's new life, a typical day starts after four or five hours of sleep with a news interview before school. After school he preps for another media interview. Bedtime is midnight. He's up by 5am or so to do it all over again. There has been no time for homework or studying or much else, but he's not worried.
"It doesn't matter in the grand scheme of things because what matters right now is this movement and making sure that no other kids die," David says.
He and the other Stoneman Douglas activists feel a deep burden, a weight on them that this is their time to make a difference and lobby for gun law reform.
"I can't really go back to my old life. I can't come home and sit down and watch some YouTube and go and do my maths homework. That's just not possible at this time," David says.
Journalists from the national media keep promising the kids at the school that they'll stay with them and keep the story alive. But David says he knows the truth.
"It comes down to the question of who's going to leave first," he says.
That's why he and the core group of leaders of the #NeverAgain movement have been doing as many interviews as they can while the interest is still high.
"I'm just like press secretary (of the movement)," David said. "I need to feed them, or else the press dies."
The strategy is working. The Stoneman Douglas kids still appear on the national stage with their message as they work toward the march. And a month after the shooting, there are stacks of greeting cards and letters covering the dining room table at David's house.
"I've probably gotten over 100 pounds of fan mail," David says. Most of it is sent to his school, but some is mailed directly to his house. Most of the mail comes from those congratulating David and encouraging him to keep working towards change.
His father, Kevin Hogg, is an ex-FBI agent who retired from the agency after being diagnosed with Parkinson's disease. He checks the mail before David reads it to make sure there is nothing harmful in those envelopes. But a lot of it is thoughtful.
"These are pretty motivating," Kevin Hogg said. "Sometimes you read through them and people put a lot of thought into them."
He worries, though, about his son getting hurt by those who disagree. And he worries whether post-shooting, David has enough time to "just be a kid." There's been little time for that, Kevin Hogg says.
His parents are protective. One of them always travels with him to make sure he remembers to eat and sleep.
The spotlight on David and the other Stoneman Douglas kids has drawn fans and foes across Twitter. There have been calls for proof that David really attends the high school. And claims he is a "crisis actor."
David doesn't seem to mind much: "I think it's fun to reply to these people because they're so stupid," he says.
Sign up for the YP Teachers Newsletter
Get updates for teachers sent directly to your inbox
Sign up for YP Weekly
Get updates sent directly to your inbox