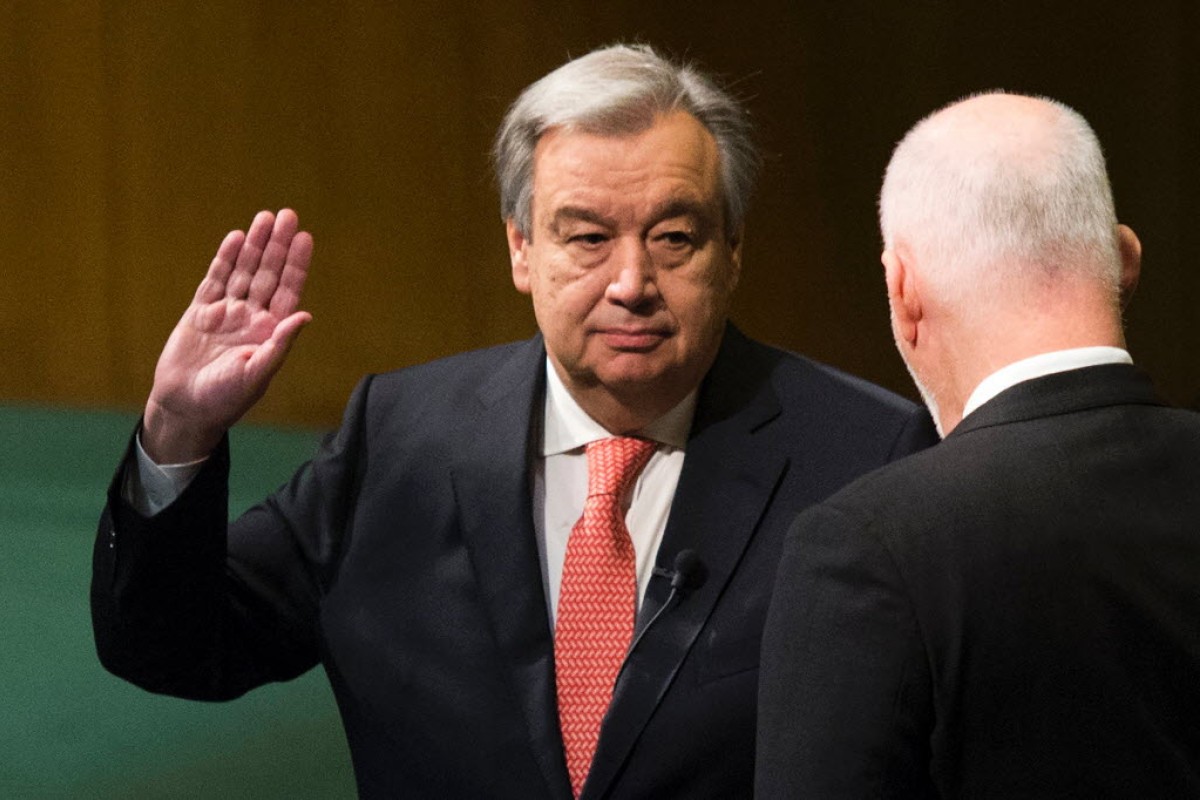 Meet the UN's new secretary-general António Guterres.
Portuguese diplomat António Guterres took over as the United Nations' new secretary-general Sunday and issued an appeal for peace.
"Let us make 2017 a year in which we all — citizens, governments, leaders — strive to overcome our differences," Guterres said shortly after taking the reins. He urged people to share his New Year's resolution: "Let us resolve to put peace first."
Guterres, 67, succeeds Ban Ki-moon, who was the UN chief for 10 years. Here are four things to know about Guterres, the ninth leader of the world organisation:
He wants more women at the UN
Prior to Guterres' election the General Assembly, the UN considered giving its top job to a woman for the first time. Guterres, a former prime minister of Portugal, has said "gender parity" is key for the organisation to thrive. In mid-December, Guterres announced he will appoint Nigeria's environment minister, Amina Mohammed, as his deputy. He also said he would appoint Brazil's Maria Luiza Ribeiro Viotti as his chief of staff. A senior policy adviser role will be given to Kyung-wha Kang of South Korea. In 2016, 33 of the UN's 46 senior roles were held by men, according to the Global Peace Operations Review, an online resource covering peacekeeping and political missions.
He wants to meet Trump 'as soon as possible'
President-elect Donald Trump has called for major changes at the UN, which he said is "not living up to its potential." Guterres said this week that it is "certainly in my interest to visit (Trump) as soon as possible." Guterres noted the "United States is not only the main donor of the UN but a fundamental element in its actions." Meeting with Trump takes on added significance after the president-elect condemned the December 23 UN Security Council resolution criticising Israeli settlements on land claimed by Palestinians. Guterres has already met with Russian President Vladimir Putin about Syria's civil war, describing it to Portuguese TV as an "excellent working meeting." The Lisbon native will contend with a Trump administration that is sceptical of many UN-brokered achievements, including a landmark deal to combat global warming.
He may refocus efforts on refugee programmes
Guterres spent a decade as the UN's High Commissioner for Refugees. During this time, he oversaw the most profound overhaul in the refugee agency's history and built up its ability to respond to the largest refugee crisis since the end of World War Two, as millions of Syrians and others fleeing war and poverty fled to Turkey and western Europe. He led the UN response to Syria's civil war, the European migration crisis, the 2014 conflict in eastern Ukraine between separatists and the national government, the Gaza conflict with Israel in 2009 and the aftermath of natural disasters, including the 2004 Asian tsunami that killed 250,000. "He's not a quiet voice. He's a forceful outspoken leader on the global stage, and that's something the UN needs," said Peter Yeo, president of Better World Campaign, which promotes a strong relationship between America and the UN.
He wants a 'culture of prevention'
Guterres said his priority at the UN will be a "surge in diplomacy for peace." To achieve that, he aims to foster a "culture of prevention." He wants the UN to act as an "honest broker, bridge-builder and messenger for peace," and to focus on preventing crises rather than managing them after they occur. For this to work, Guterres said there needs to be strong partnerships among regional organisations, international financial institutions and the private sector.
Sign up for the YP Teachers Newsletter
Get updates for teachers sent directly to your inbox
Sign up for YP Weekly
Get updates sent directly to your inbox