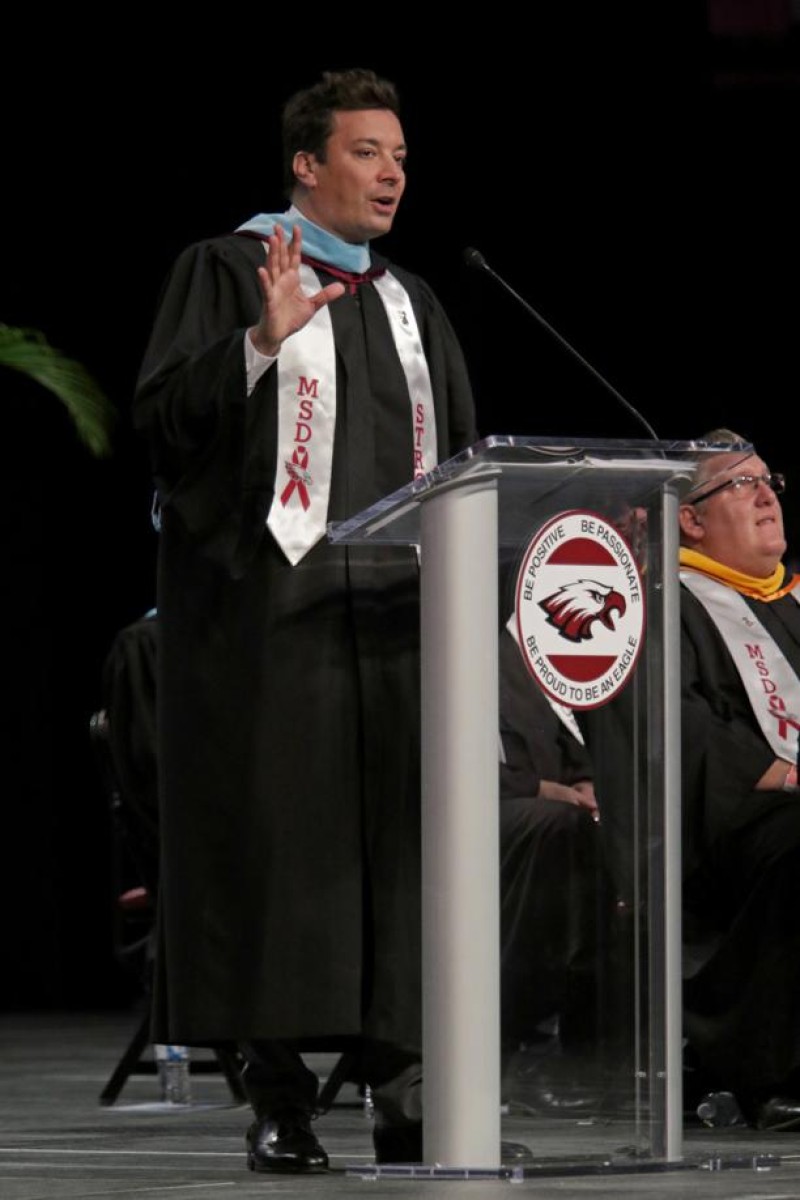 The TV host and comedian was a surprise guest speaker at the school's graduation for their final year students this weekend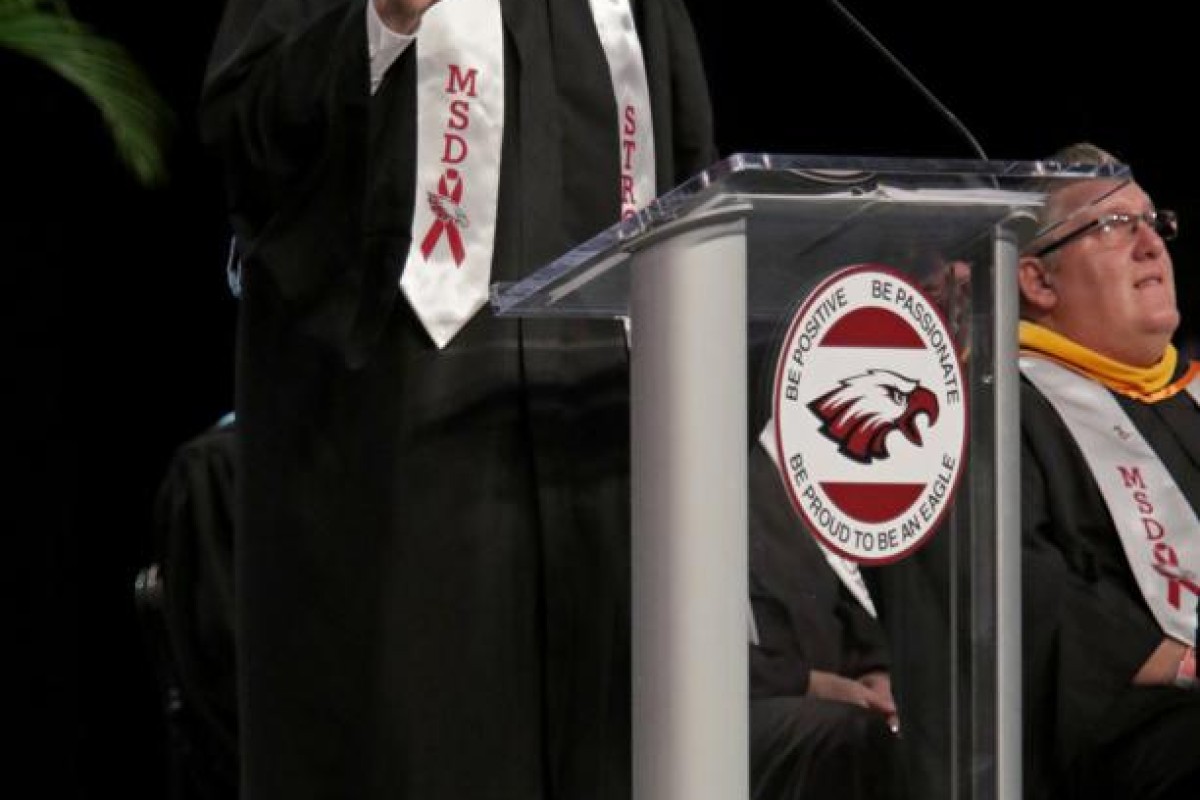 Jimmy Fallon gives a commencement speech to Marjory Stoneman Douglas High School seniors during their graduation ceremony on Sunday.
Graduating students at the Florida secondary school where a gunman killed 17 people in February received diplomas on Sunday. They also heard from surprise guest speaker Jimmy Fallon, an American TV host, who urged them to move forward and "don't let anything stop you".
Four families received diplomas on behalf of loved ones who died in the attack that gave rise to a campaign by young people for gun control. Principal Ty Thompson underscored the honours for the dead students in a tweet.
"Remember those not with us, and celebrate all the successes the Class of 2018 has brought to the community and the world!" Thompson tweeted.
The Tonight Show host offered similar praise, saying, "You are not just the future – you are the present. Keep changing the world. Keep making us proud."
In a video of his address, Fallon joked that the students "won't be classmates any more. You'll be adults who will Facebook search each other at 2 in the morning for the next 10 years."
Turning more serious, he said: "First thing is this: when something feels hard, remember that it gets better. Choose to move forward. Don't let anything stop you." He thanked them for their bravery and activism.
Graduate Shannon Recor said afterward that Fallon "made us laugh and cry" with his speech.
"He brought a positive energy – I'm glad he came," Recor said.
The private ceremony for the nearly 800 members of the Marjory Stoneman Douglas High School class of 2018 was held at the BB&T Center in Florida, where the National Hockey League's Florida Panthers play. It was moved to the arena to accommodate the expected large crowd. Reporters were not permitted inside the arena.
Fourteen students and three staff members died in the February 14 attack in Parkland. Former student Nikolas Cruz is charged with their deaths and the wounding of 17 other people. Lawyers for the 19-year-old have said he will plead guilty in exchange for a sentence of life without parole. Prosecutors are seeking the death penalty.
The school presented diplomas to the families of Nicholas Dworet, Joaquin Oliver, Meadow Pollack, and Carmen Schentrup.
Graduate Chris Grady said their families received standing ovations when they walked on stage, with Oliver's mum wearing a T-shirt that read, "This should be my son."
He said graduates Emma Gonzalez and David Hogg, who have become prominent in the "March for Our Lives" gun control movement, got a mixed response as their names were announced. Gonzalez got cheers, he said, while Hogg got a mixture of cheers and boos.
Pollack's brother, boyfriend and cousins were to accept her diploma. Her brother, Hunter Pollack, aired his feelings on Twitter. "Today is the day my sister has been waiting for. Graduation where she would've been getting her diploma and be on her way to attend [university]. This is a sad day, as I will be walking stage to get her diploma for her," he said.
Her father, Andrew Pollack, said he was too emotionally spent to attend the ceremony. He has been an outspoken critic of school and law enforcement officials, saying they failed to protect his daughter and the others, but that's not why he's staying away.
"It has nothing to do with them," Pollack said on Sunday. "I've just been dead inside since February 14."
Instead, he was headed to central Florida, where this week he will address the armed guards one district has hired for its schools.
April Schentrup, mother of Carmen Schentrup, posted a photo of her daughter wearing her graduation gown and cap, local media reported.
"For me, it is too painful to celebrate [without] Carmen," she said in an online post. "But I am proud of Carmen's friends & classmates on their accomplishments. They've overcome so much. I know they will [continue] to make positive changes."
Read Fallon's speech in full

here

.
Sign up for the YP Teachers Newsletter
Get updates for teachers sent directly to your inbox
Sign up for YP Weekly
Get updates sent directly to your inbox