The social media network provided information that rebuts the US president's tweet about mail-in ballots

It is the first time Twitter has taken action on Trump's tweets for being misleading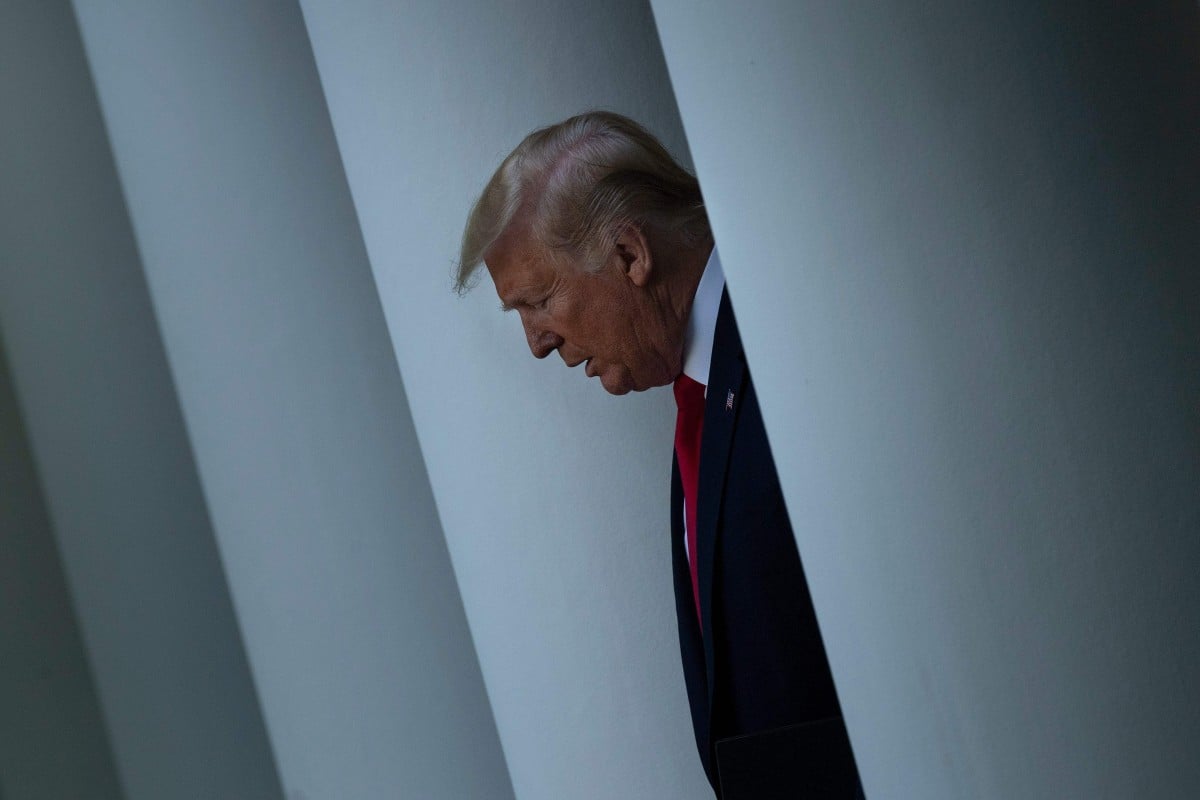 US President Donald Trump walks to the Rose Garden of the White House for an event on protecting seniors with diabetes in the Rose Garden of the White House in Washington, DC, on May 26, 2020. - Trump announced new choices of Medicare Part D plans that will offer insulin at affordable and predictable prices of no more than $35 for a month's supply. (Photo by Brendan Smialowski / AFP)
The man who popularised the term "fake news" is finally being challenged by Twitter for his own posts. The social media network has started fact-checking US President Donald Trump.
Following years of criticism that the social network has allowed the president to spread misinformation on its service, on Tuesday a pair of Trump's tweets that made unsubstantiated claims about mail-in voting were appended with links reading "Get the facts about mail-in ballots".
The labels take readers to a page with a collection of stories and reporters' tweets about the president's claims, as well as an item apparently written by Twitter staff titled "What you need to know" that rebuts the president.
It's the first time the company has ever taken action on Trump's tweets for being misleading. The action came on the same day Twitter faced intense criticism for failing to move against the president's tweets on a different subject – a conspiracy theory about the death almost two decades ago of a former congressman's aide.
"Trump falsely claimed that mail-in ballots would lead to 'a Rigged Election'," the Twitter-authored item reads. "However, fact-checkers say there is no evidence that mail-in ballots are linked to voter fraud."
7 ways to help you identify fake news
Twitter confirmed it had added the fact-checking links to Trump's tweets.
"These tweets contain potentially misleading information about voting processes and have been labelled to provide additional context around mail-in ballots," the company said in a statement.
Trump campaign manager Brad Parscale said the label was an effort to interfere with the president's efforts to get his message to voters.
"Partnering with the biased fake news media 'fact checkers' is only a smoke screen Twitter is using to try to lend their obvious political tactics some false credibility," Parscale said in a statement.
Maybe Trump should read this: how to check your bias before posting on social media
The labels are part of a policy Twitter expanded earlier this month when it started labelling misinformation related to Covid-19. Posting misinformation is not against the company's rules, but Twitter is adding links providing more information to tweets "where people may still be confused or misled", it said at the time.
Twitter has expanded that policy to include tweets about voting, according to a spokesperson, who declined to share if this policy included other potential topics.
Trump shared the same post about mail-in ballots on Tuesday to his Facebook page, where he has more than 29 million followers. That post is still up and doesn't include any warning or label. Facebook didn't immediately respond to a request for comment.
The importance of an uncensored media
Twitter was criticised earlier in the day to remove some of Trump's tweets – just not the ones focused on mail-in ballots. The New York Times published a letter written by a man whose wife died in former Representative Joe Scarborough's office, asking Twitter Chief Executive Officer Jack Dorsey to remove tweets Trump posted encouraging a baseless conspiracy theory that Scarborough murdered the woman, Lori Klausutis.
Twitter issued a statement apologising for the pain Trump's tweets caused Klausutis' family but did not say whether the tweets would be removed. They are still visible on the president's Twitter account, which has more than 80 million followers, and on his Facebook page.
Sign up for the YP Teachers Newsletter
Get updates for teachers sent directly to your inbox
Sign up for YP Weekly
Get updates sent directly to your inbox