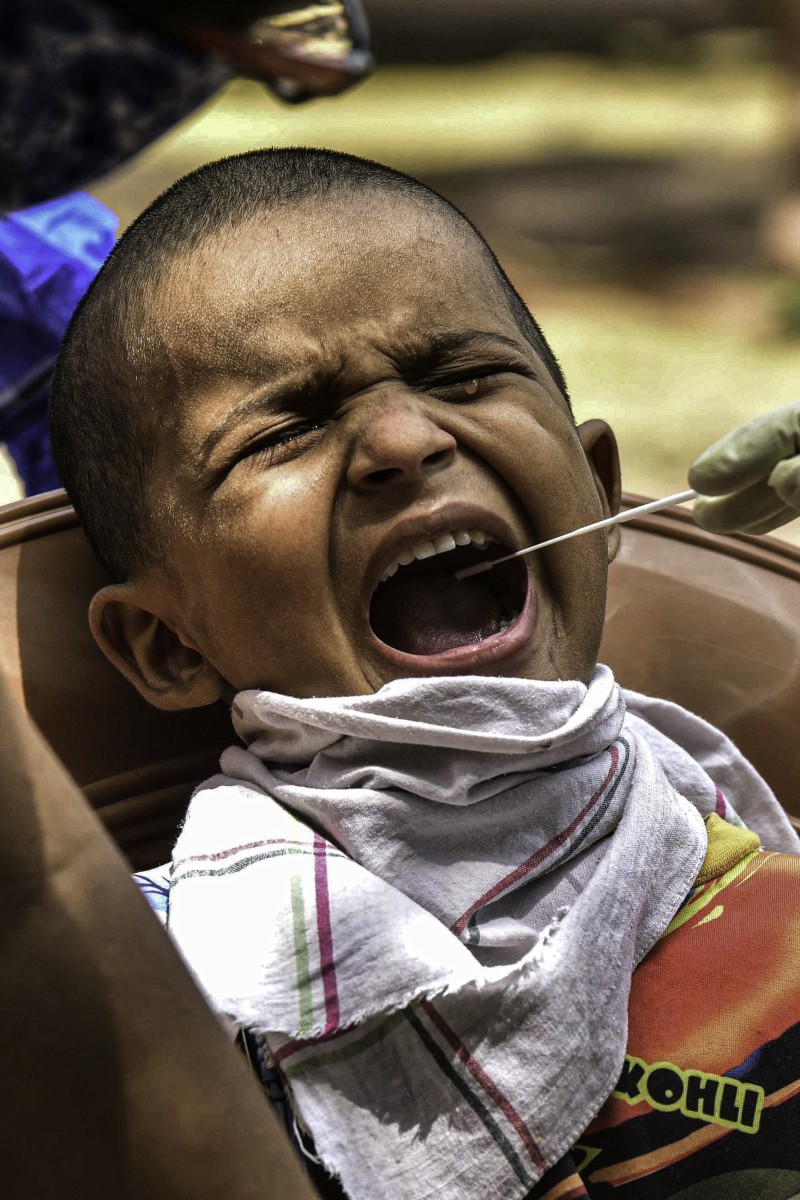 Coronavirus: How Dharavi, India's largest slum, beat back the pandemic
Covid-19 infections are slowing down in the crowded streets of the Mumbai slum, which is home to more than one million people

Officials are containing the virus with an aggressive strategy of setting up fever camps and makeshift quarantine facilities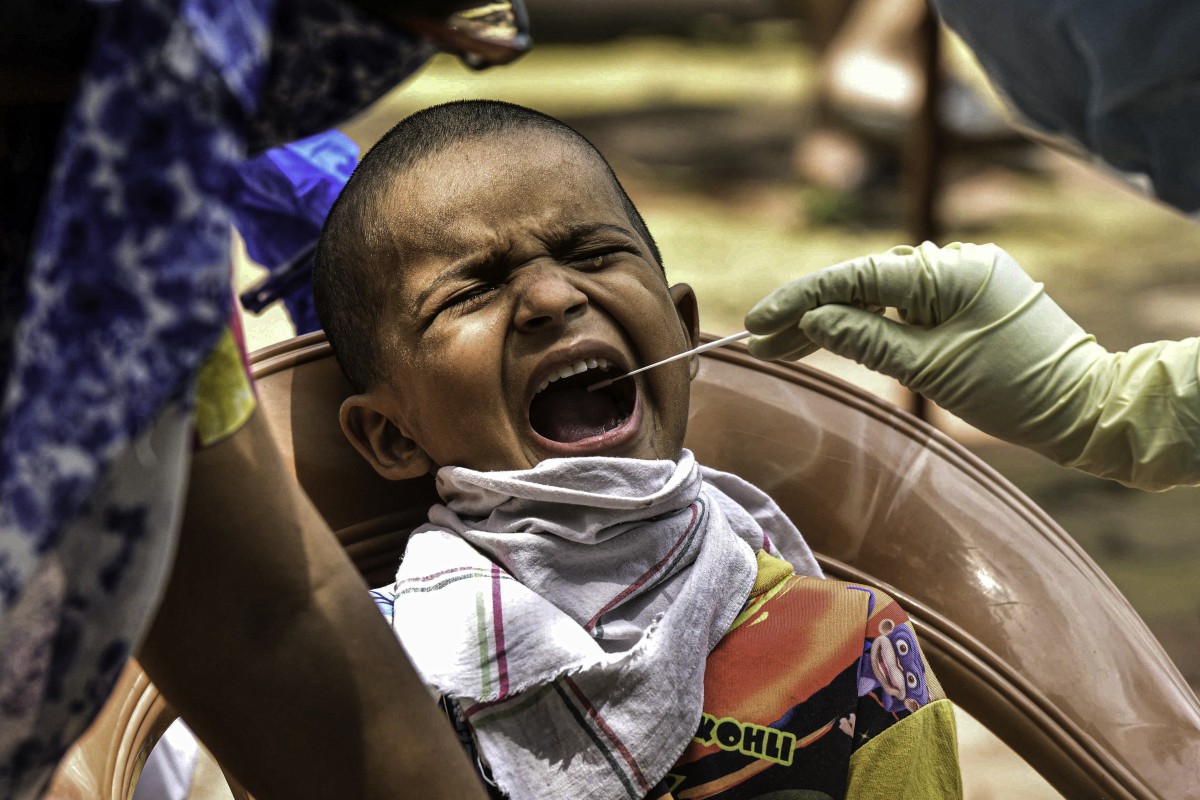 A health worker collects swab samples of a boy for Covid-19 testing inside Dharavi slum in Mumbai. Photo: Xinhua
As we all know, Hong Kong is a very advanced and wealthy city in Asia, with the resources to take on Covid-19 and win. Imagine, though, how impossible it would seem to tackle the virus in one of Asia's largest slums – with a million people.
It would be a disaster.
That's what everyone thought when coronavirus claimed its first victim in Dharavi slum, in Mumbai, India. It seemed almost sure that its crowded streets would become a graveyard.
How Muslims in Tunisia celebrate Eid during Covid-19
But, three months later, there is a glimmer of hope. New infections are shrinking, thanks to the city's proactive strategy of "chasing the virus, instead of waiting for disaster", says Mumbai official Kiran Dighavkar.
The residents of Dharavi are a perfect example of the city's huge wealth gap. They eke out a living as factory workers, domestic helpers and drivers for the wealthy.
Here there is no isolation ward. Usually a dozen people share one room, hundreds use the same public toilet. Slums don't allow for social distancing, not when people don't have homes, or beds, or water to wash their hands. Contact tracing is impossible.
To make things worse, temperatures ticking over 30 degrees Celsius suffocated medical workers suited up in their protective clothing as they combed the alleys, looking for cases.
Medical staff wearing personal protective equipment (PPE) conduct a door-to-door medical screening inside the Dharavi slums to fight against the spread of the COVID-19 coronavirus in Mumbai. (Photo:AFP)
They were in a race against time but infections kept rising rapidly. Then officials realised that they needed to change their plans.
Instead of trawling the streets, medical workers set up fever camps in a different part of the slum each day where residents could be screened for symptoms. Schools, wedding halls and sports complexes were reinvented as quarantine facilities and offered occupants food, vitamins and laughter yoga.
When virus hotspots were found, areas were locked down and volunteers swung into action, delivering food to make sure no one went hungry.
Scientists discover Covid-19 creates 'zombie' cells in human body
Bollywood stars and tycoons forked out for medical equipment as construction workers raced to build a 200-bed hospital inside a park.
By late last month, half of the population in Dharavi had been screened, around 12,000 tested, and only 82 people had died. These figures don't look too bad when compared to the whole of Mumbai, which had seen more than 79,000 positive cases and more than 4,600 deaths as of last Friday.
"We are on the brink of victory, I feel very proud," said Abhay Taware, a doctor who saw around 100 patients daily in his tiny clinic at the height of the crisis.
The 44-year-old father-of-two also had to fight his own battle against coronavirus when he contracted the disease in April, but said he had "no doubts" about returning to work. "I thought I could show my patients that a positive diagnosis does not mean the end," he said.
Although doctors like Taware worked to reassure worried residents, the stigma persists.
After an isolating 25-day spell in hospital and a fortnight in quarantine, Sushil – not his real name – said he now feared discrimination if people found out about his diagnosis.
The 24-year-old also struck a note of caution, warning of a potential resurgence in infections.
"People need to take as many precautions as possible. The numbers might have come down but they can swiftly rise again", he said.
Officials set up fever camps and quarantine facilities to fight against Covid-19. (Photo: AFP)
No escape next time?
With Mumbai and New Delhi struggling to accommodate coronavirus patients as India's cases surged past 600,000 last Friday, officials are also wary of celebrating too soon.
"It's a war. Everything is dynamic," said Dighavkar. "Right now, we feel like we are on top of the situation."
"The challenge will be when factories reopen," he added, referring to the billion-dollar leather and recycling industries run out of Dharavi's cramped shacks.
And some people in the slum fear their community might not be as lucky next time.
Sign up for the YP Teachers Newsletter
Get updates for teachers sent directly to your inbox
Sign up for YP Weekly
Get updates sent directly to your inbox