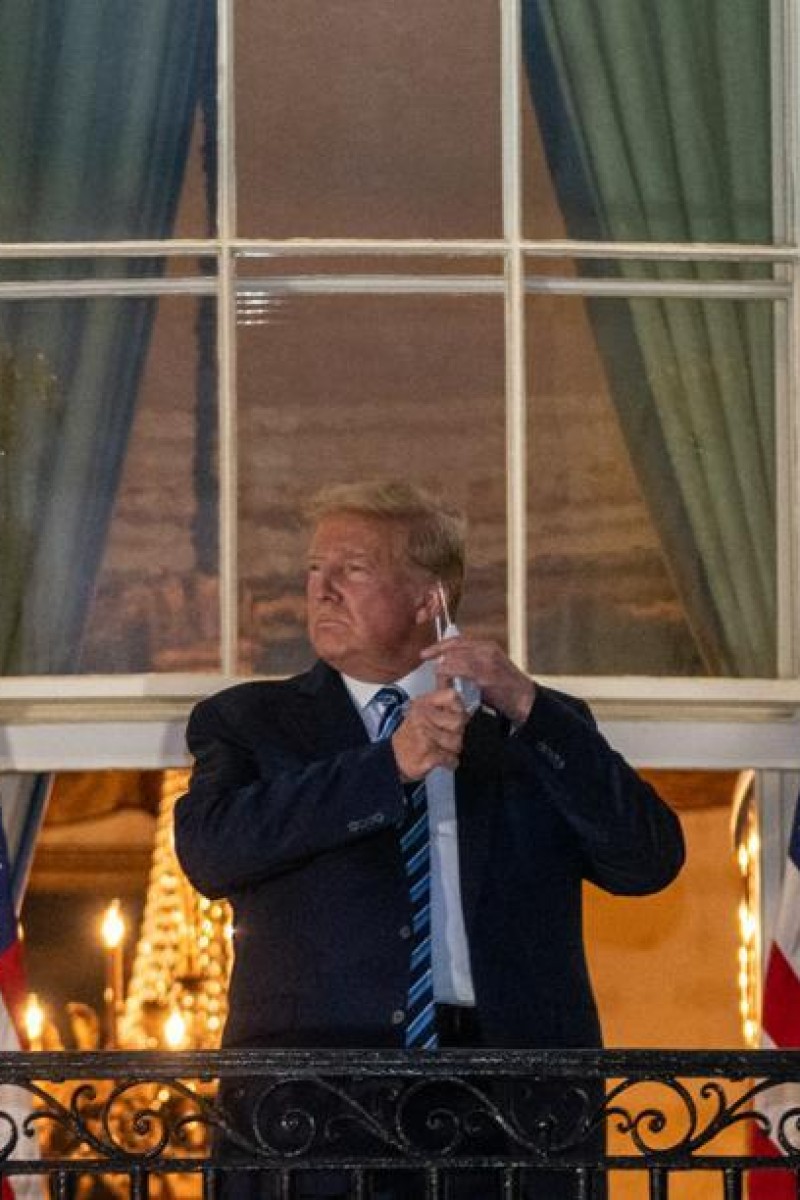 US President Donald Trump, still infected with coronavirus, returns to the White House
Trump tweeted that he was 'feeling really good' and said 'Don't be afraid of Covid. Don't let it dominate your life."

Democratic presidential hopeful Joe Biden, who debated Trump just two days before his diagnosis, called him out for his remarks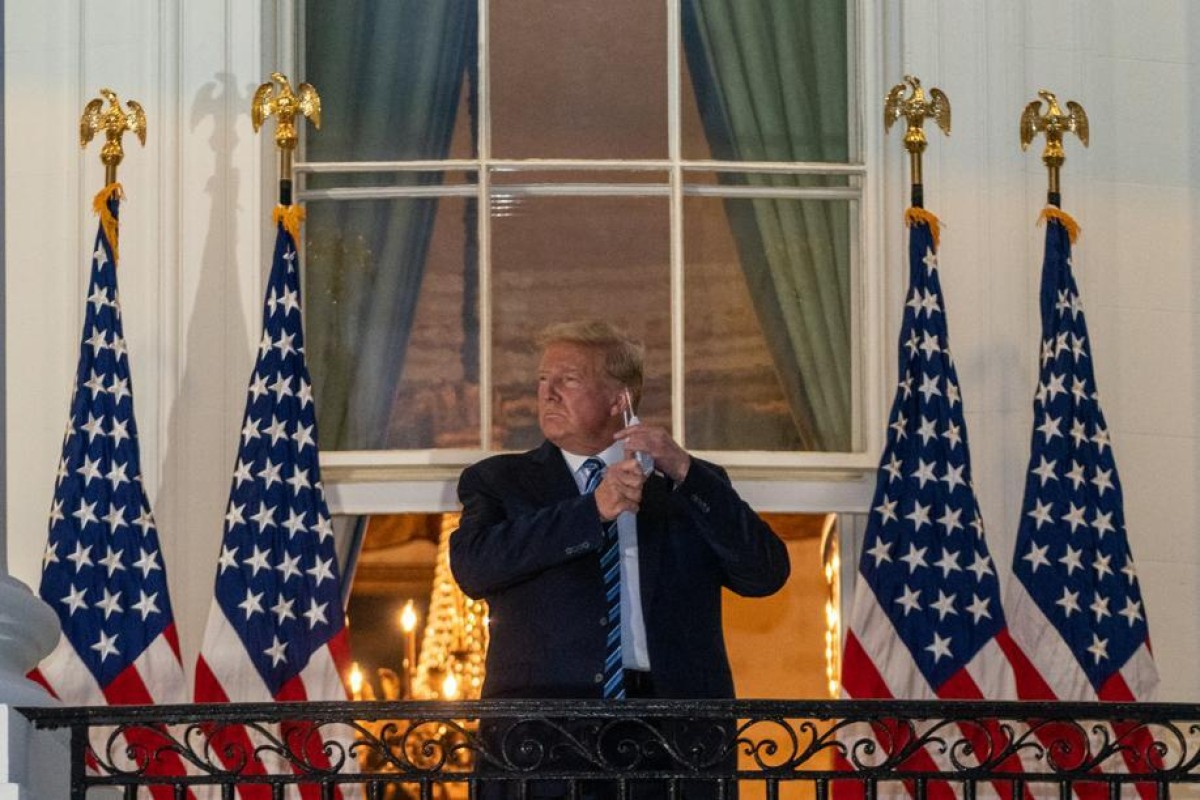 US President Donald Trump removes his protective mask at the White House , after his release from hospital. Photo: Bloomberg
US President Donald Trump left the hospital where he was being aggressively treated for coronavirus over the weekend and returned to the White House, even as the number of virus cases continued to climb.
Wearing a surgical mask, suit and tie, Trump walked out of the Walter Reed National Medical Center around 6.30pm, pumping his fist and giving a thumbs-up to onlookers. He ignored shouted questions from the press about whether he considered himself a "superspreader".
Minutes prior, he tweeted that he planned to return to the campaign trail "soon". The US Centers for Disease Control and Prevention (CDC) recommends that infected individuals should remain in isolation for ten full days after first exhibiting symptoms.
Trump's departure from the military hospital in Bethesda, Maryland came hours after his own press secretary Kayleigh McEnany announced that she had tested positive for the coronavirus and as news of other infections among White House aides emerged.
Hong Kong's fourth wave of Covid-19 could be coming 'sooner than we think'
"I will be leaving the great Walter Reed Medical Center today at 6:30 P.M. Feeling really good!," Trump had tweeted earlier in the afternoon ahead of a press briefing from his medical team. "Don't be afraid of Covid. Don't let it dominate your life."
In a video posted after that on Twitter, Trump urged Americans to "get out there, be careful, we have the best medicines in the world ... the vaccines are coming momentarily". The 74-year-old president also boasted about feeling "better than I did 20 years ago".  
"Now I'm better, maybe I'm immune, I don't know," he added. 
Trump's chief of staff Mark Meadows told Fox News that the president was "ready to get back to a normal working schedule" even though he was still considered contagious.
Trump's doctor, Dr Sean Conley, said that Trump was prescribed steroids in the hospital because of 'several little temporary drops' in his blood oxygen levels. Photo: Bloomberg
Democratic White House hopeful Joe Biden called out Trump for saying Americans should not be afraid of Covid-19.
"Tell that to the 205,000 families who lost somebody," said Biden, who faced Trump on stage in their rollercoaster debate last Wednesday, just two days before the president announced his positive diagnosis.
Trump "may not entirely be out of the woods yet", said White House doctor Sean Conley. "The team and I agree that all our evaluations, and most importantly, his clinical status, support the president's safe return home, where he'll be surrounded by world class medical care, 24-7."
"We're in a bit of uncharted territory when it comes to a patient that received the therapies he has so early in the course [of the illness], so ... if we can get through to Monday with him remaining the same or improving ... then we will all take that final deep sigh of relief," Conley said.
Single-use face masks pose an environmental problem for Hong Kong
Asked about Trump's advice that people should not be afraid of Covid-19, Conley declined to comment.
However, other medical experts weighed in.
"The reality is that for a man his age, who is obese, the risk of dying of Covid-19 is around 10 per cent maybe, maybe now it's five. It's a massive number," Dr Rob Davidson, executive director of the Committee to Protect Medicare and a vocal critic of the Trump administration's pandemic response, said in a video shared on Twitter. 
"He'll leave the hospital and he may be just fine ... and he will take that as a message to America that this is no big deal," he said. "The reality is this thing will cut you down. It doesn't care who you are and doesn't care about your political party," Davidson added. "So please people just wear masks, just stay away from one another and listen to your doctor." 
Sign up for the YP Teachers Newsletter
Get updates for teachers sent directly to your inbox
Sign up for YP Weekly
Get updates sent directly to your inbox