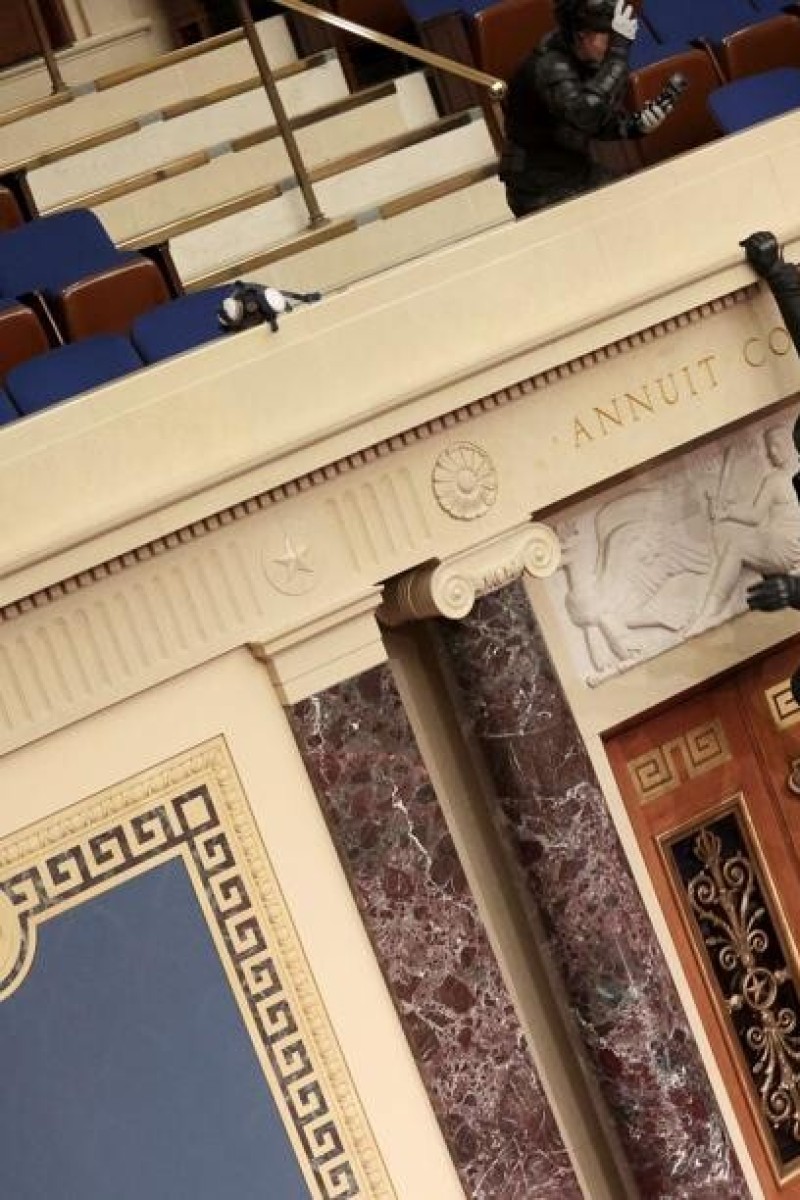 Pro-Trump protesters storm US Capitol building in Washington DC, forcing lawmakers to evacuate
Trump supporters broke into the Senate chamber and one woman was shot and killed; three others later died of medical emergencies

Congress was conducting a routine procedure to certify the 2020 election results, lead by Vice President Mike Pence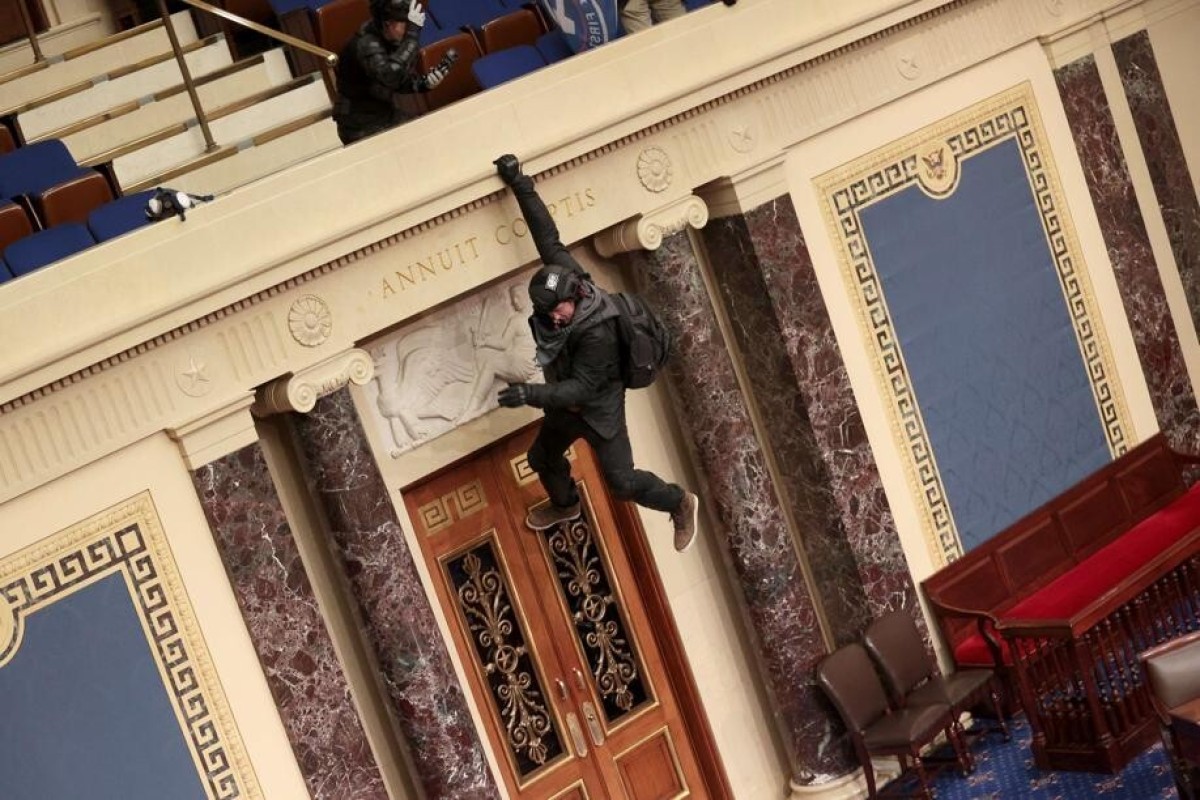 A pro-Trump rioter hangs from the balcony in the US Senate chamber on Wednesday. Photo: Getty Images/AFP
Supporters of outgoing US President Donald Trump stormed the Capitol building in Washington DC on Wednesday, disrupting a congressional proceeding to certify the results of the presidential election. Lawmakers, including Vice-President Mike Pence, were evacuated.
After an outdoor stand-off with Capitol Police, Trump supporters brandishing US and Confederate flags breached the Capitol, smashing windows, setting off fire extinguishers and occupying areas of the building normally off-limits to the public.
Speaking on Fox News, House Minority Leader Kevin McCarthy said he had heard on Capitol Police radio that there were "shots fired" in the building. Washington police confirmed late on Wednesday that a woman had died of a gunshot wound, after she was shot inside the Capitol, multiple US outlets reported.
Three others later died of medical emergencies.
Hours into the siege, White House spokeswoman Kayleigh McEnany said Trump had ordered the deployment of the National Guard to stop the violence and called on agitators to "remain peaceful".
By the time a 12-hour, emergency citywide curfew went into effect at 6pm, the Capitol building was secured.
5 memorable US election moments
During the siege, at least one Trump supporter entered the Senate chamber, while others smashed windows in an attempt to break onto the House floor, where police officers stood with guns. Police placed the building under lockdown, and lawmakers reported being instructed to prepare gas masks after the indoor deployment of tear gas.
As police led senators to the Capitol basement, Senator Mitt Romney, a Republican from Utah and a Trump critic, said, "This is what the president has caused today, this insurrection."
The breach came hours after Pence told lawmakers he would not defy his constitutional obligations and reject Electoral College votes during Congress' certification of the presidential election result, resisting pressure from President Donald Trump to overturn his loss to Joe Biden.
A pro-Trump mob stormed the US Capitol building on Wednesday. Photo: AFP
In response, Trump tweeted that Pence "didn't have the courage to do what should have been done to protect our Country and our Constitution, giving States a chance to certify a corrected set of facts, not the fraudulent or inaccurate ones which they were asked to previously certify."
The fracture between the two came as Pence appeared in Congress to oversee election certification, a traditionally routine process that this year was expected to extend for hours amid challenges of the results from Republicans.
Close by, and before rioters stormed the Capitol, Trump appeared at a rally to exert further pressure on Pence, while appearing to acknowledge that the vice-president did not intend to acquiesce to his demands.
"Mike Pence, I hope you're going to stand up for the good of our Constitution and for the good of our country," Trump said to supporters. "And if you're not, I'm going to be very disappointed in you. I will tell you right now, I'm not hearing good stories."
Netflix shows to help you understand US politics
In a later video message in which he called for an end to the violence, Trump repeated his disproven claims that the election was stolen from him, and said to those who had stormed the Capitol: "We love you, you're very special."
Shortly after it was posted, Youtube, Facebook and Twitter deleted the video, citing its false claims and concerns that it could incite further violence. Twitter announced later Wednesday evening that Trump's account would be locked for 12 hours and demanded the removal of three of his posts.
Speaking in Delaware, President-Elect Joe Biden said the Capitol's storming bordered on "sedition" and called "on the mob to pull back and allow the work of the democracy to go forward."
Sign up for the YP Teachers Newsletter
Get updates for teachers sent directly to your inbox
Sign up for YP Weekly
Get updates sent directly to your inbox