The Old City, home to major religious sites for Jews, Christians and Muslims, has seen daily conflicts between Palestinian protesters and Israeli police

Policies from former US President Donald Trump may have contributed to an increase in hard-right ideas in Israel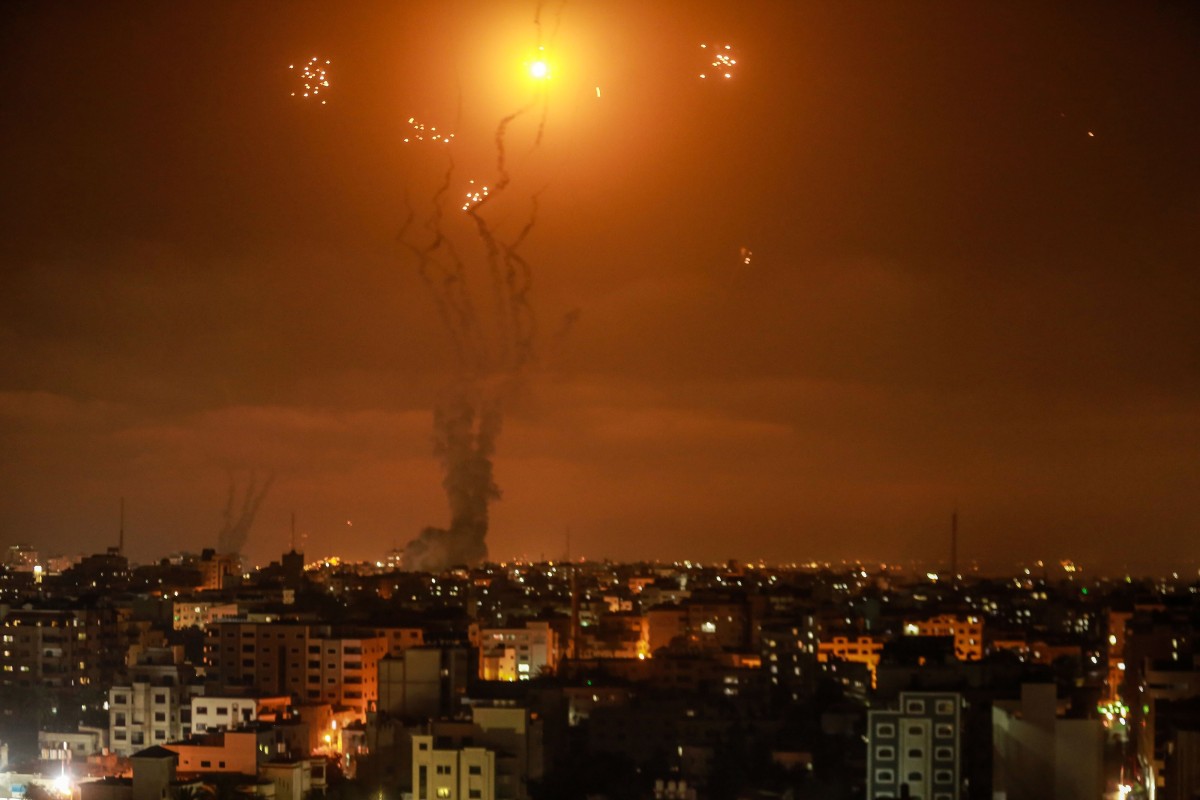 Israel's Iron Dome aerial defence system intercepts rockets fired by the Palestinian Islamist movement Hamas from Gaza towards Israel. Hamas said Monday it launched several rockets at Israel in retaliation for Israeli action at a contested holy site in Jerusalem. Photo: Mohammed Talatene/DPA via ZUMA Press/TNS
At least 50 people have been killed in relentless rocket fire and rioting in mixed Jewish-Arab towns in Israel, sparking fears of a full-scale war.
For weeks now, Palestinian protesters and Israeli police have clashed on a daily basis in and around Jerusalem's Old City. The sector is home to major religious sites sacred to Jews, Christians and Muslims and the emotional epicentre of the Middle East conflict.
Jerusalem has been the scene of violent confrontations between Jews and Arabs for 100 years and remains one of the most bitterly contested cities on earth.
The latest clashes began a month ago with Israeli nationalists interfering with some Palestinian gatherings at the beginning of the Muslim holy month of Ramadan, already a time of heightened religious sensitivities.
After those tensions eased, tempers flared over a plan to evict dozens of Palestinians from an east Jerusalem neighbourhood.
Palestinian militants and the Israeli army exchanged a barrage of deadly fire in the early hours of yesterday as intense fighting continued overnight, with United Nations envoy for Middle East Peace, Tor Wennesland, warning the two sides were heading "towards a full-scale war".
Israeli border police confront residents of a home in the Sheikh Jarrah neighbourhood of east Jerusalem, where several Palestinian families face eviction. Photo: AP
Hamas and Islamic Jihad launched more than 1,000 rockets into Israel in retaliation for attacks on buildings and civilians. Israel is protected from these rockets by a system called Iron Dome, which renders most of them useless.
Israel's Defence Forces said they had launched their largest strike across the Strip since the 2014 Gaza conflict, including targeting the homes of senior Hamas figures.
There has been an upswell of hard right sentiment among Israelis, possibly spurred on by the policies of former US President Donald Trump who heavily favoured Israel, and in 2017 formally recognised Jerusalem as the capital of Israel.
China reportedly forces birth control on its Muslim Uygur minority
Since then, ideologically motivated Israelis have tried to acquire land in the settled Palestinian neighbourhoods, evicting the people who are there. Israel labels this as a "property" dispute, with Israelis who lived in the area previously saying they had been evicted to make way for Palestinians.
The fighting has caused other countries who sympathise with the Palestinians to take a stand. Pakistan has called on Muslim nations to unite against Israel, and the US and Britain are condemning the attacks on Israel and focusing on de-escalation.
Sign up for the YP Teachers Newsletter
Get updates for teachers sent directly to your inbox
Sign up for YP Weekly
Get updates sent directly to your inbox