Blind Malaysian student at the University of Cambridge shares what inspires her to study law and challenges of online class
Celine Lean Yew-lin hopes to use her law degree to advocate for the rights of disabled people in Malaysia and around the world

The coronavirus pandemic has created additional difficulties for the visually-impaired law student, as she has to juggle multiple tasks to keep up with class discussions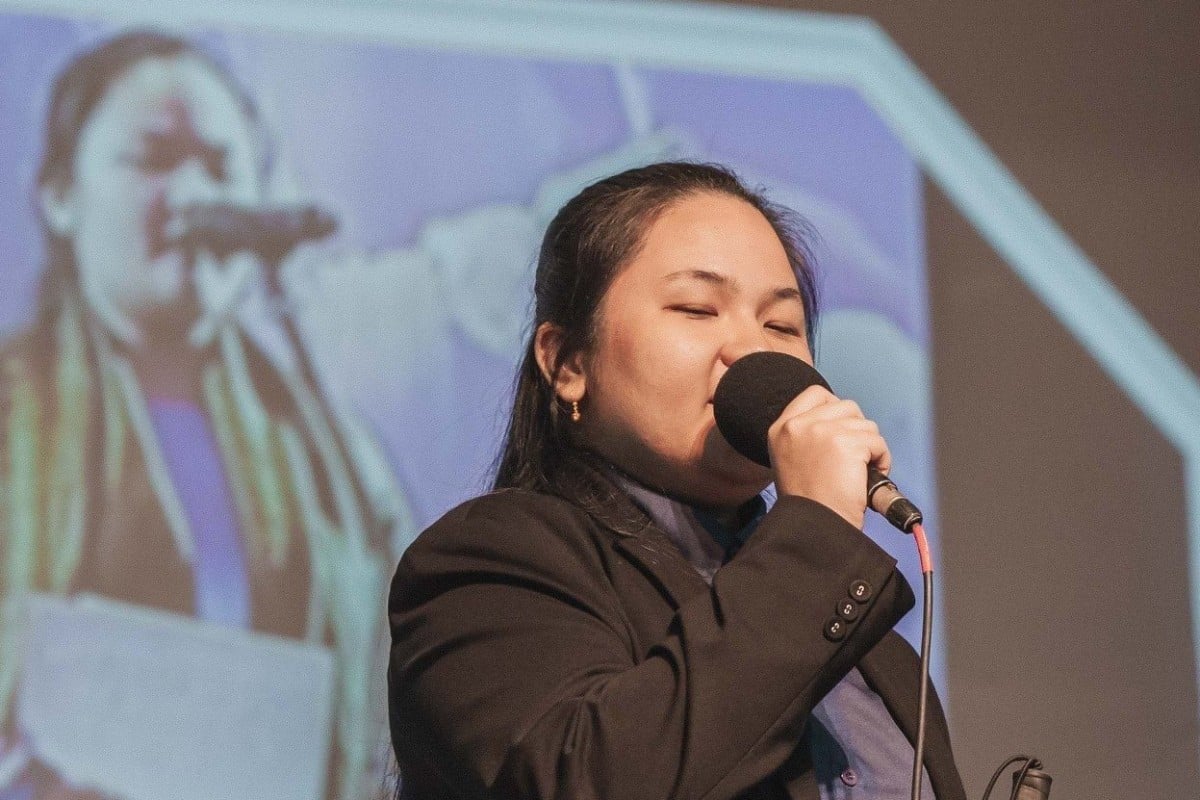 Celine Lean discusses some of the difficulties she had growing up in Malaysia's education system. Photo: Handout
For Celine Lean Yew-lin, taking law classes online at the University of Cambridge requires almost superhuman multitasking: jotting notes as she listens to the teacher, checking that she is working on the correct document, and finding the unmute button when she wants to speak.
Lean – a blind 23-year-old Malaysian student at Cambridge University's law school – lost her vision at the age of four after a battle with leukaemia. The cancer and her chemotherapy treatments resulted in her retina detaching.
While some visually impaired people can see some colours, Lean cannot see anything at all.
Hong Kong students with disabilities doubly affected by half-day class
"I'm as blind as you can get," she said.
She relies on her other senses – hearing, touching and smelling to navigate her surroundings and develop spatial awareness. She uses echolocation, a way to detect objects by making sounds and sensing the echoes.
Lean has overcome countless obstacles and now attends one of the world's most prestigious law schools, but it was not an easy journey.
Celine Lean has received a full scholarship from the Yayasan Khazanah foundation for her studies at the University of Cambridge. Photo: Shutterstock
Growing up in Malaysia was a tremendous challenge because of the country's lack of support for disabled students, Lean said.
Visually impaired students there have three options: mainstream schools that have no experience supporting disabled students; integrated schools that mostly have able-bodied students but also offer support for disabled students; and specialised schools for the disabled.
During her primary and secondary years, Lean had studied at integrated and specialised schools. But she needed to find another school that would prepare her to take the A-levels university entrance exam.
She struggled to find any.
Hong Kong swim school helps disabled kids jump in at the deep end
"[Schools] refused to accept me because they didn't want to take the responsibility and risk of having a disabled student," she said.
She was so furious that she wrote to local newspapers to complain about the issue and call for education reforms. But rather than address the problems that Lean had voiced, the press wanted her to write about her success in overcoming obstacles as a disabled person.
Eventually, a mainstream school admitted her, and she had the opportunity to take part in an exchange programme in the US.
While Lean was studying there, she learned more about advocacy for the rights of disabled people, and was determined to study law so she could make a difference for people with disabilities around the world and in her home country.
7 TV shows every aspiring lawyer should binge-watch
After achieving excellent results in her A-levels, Lean received the offer to study law at Cambridge University, and won a full scholarship from the prestigious Yayasan Khazanah foundation. The accomplished student took the offer because of Malaysia's status as a Commonwealth country, which meant her law degree would also allow her to practise in Malaysia.
Two years ago, she flew to Britain for the first time in her life to begin university. Like many other first-year international students, she arrived before the term began to get acquainted with her new home, armed with Google Maps' audio directions and her senses.
"I also recognise coffee shops ... by the smell, and the location of the bank by the texture of the floor," she said.
Celine Lean is now in her third year at the University of Cambridge. Photo: Handout
Each term is only eight weeks long at Cambridge University, which is known for its intense workload. For law students, this is characterised by long reading lists that must be completed before small-group classes.
In secondary school, Lean used to read and write in Braille – a system of raised dots that can be read by the fingers. But because of the difficulty of carrying the bulky Braille machine during her A-levels, she switched to using Microsoft Word, which could read text out loud.
At Cambridge, she continued to use Microsoft Word, but said relying on the computer to read in what she called a "robotic man voice" was not without its challenges.
"It takes me longer to go through the same material because I have to listen to everything," she explained.
Asking for a friend: Help! I'm totally burned out and it's so hard to study
Despite the struggle, she refused to ask for help.
"I grew up in an environment in Malaysia where, if I [didn't] fight to be the same as everyone else, I wouldn't have the opportunity at all," she recalled. "So I didn't want to get help because I felt I would be judged for being useless as a disabled student."
But thanks to the encouragement of her tutor – someone who provides support for students – Lean eventually reached out to her college, Hughes Hall, and the law school for extra support. The experiences taught her to accept and embrace her disability.
Baker with cerebral palsy talks about giving back to society and wheelchair dancing
Near the end of her first year, the Covid-19 outbreak hit, and the university switched to online classes which lasted through her second year.
During her virtual classes, Lean not only had to type notes on her computer, but also had to listen simultaneously to class discussions, and her computer's robotic voice reading out her notes.
"It felt so suffocating because everything was in my head," she recalled.
The struggle the city's disadvantaged youth face during Covid-19
Despite all the challenges she has faced, Lean has also enjoyed her university experience so far. In her spare time, she plays goalball, a paralympic sport that requires players to throw a ball embedded with bells into their opponents' goal.
Asked how able-bodied people should treat the visually impaired, Lean responded that people looking to help the blind should always ask first.
"I walk close to the curb near the cars, so people think it is dangerous. Some just grab me and steer me off my path, which disorients me instead," she said.
She also emphasised the importance of not assuming that every blind or disabled person is the same.
"My disability is part of me, but it does not define me," Lean explained.
Chemotherapy - 化療: Treatment of a disease by using chemical substances, especially the treatment of cancer

Navigate - 探索: To find their way through

Prestigious - 有聲望的: Inspiring respect and admiration; having high status

Tremendous - 極大的: Very great in amount, scale, or intensity

Advocacy - 擁護: Public support for or recommendation of a particular cause or policy

Simultaneously -同時的: Occurring, operating, or done at the same time

Disorient - 使迷失方向: Cause (someone) to lose their sense of direction
Sign up for the YP Teachers Newsletter
Get updates for teachers sent directly to your inbox
Sign up for YP Weekly
Get updates sent directly to your inbox