Nato condemned President Vladimir Putin for the invasion, imposing sanctions on the country and freezing Russian assets

Moscow previously invaded Ukraine in 2014 and seized the Crimea region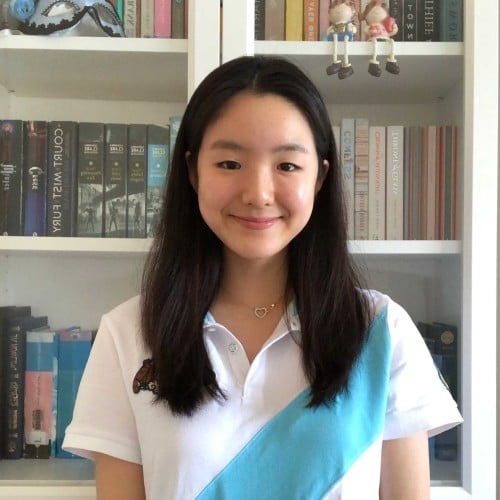 Clara Ki Lu
Clara Lu is an incoming student at Georgetown University. In 2016, she founded her non-profit Read For All (HK), in hopes of better serving students in Hong Kong. She and her team distribute free books and educational material to underserved communities.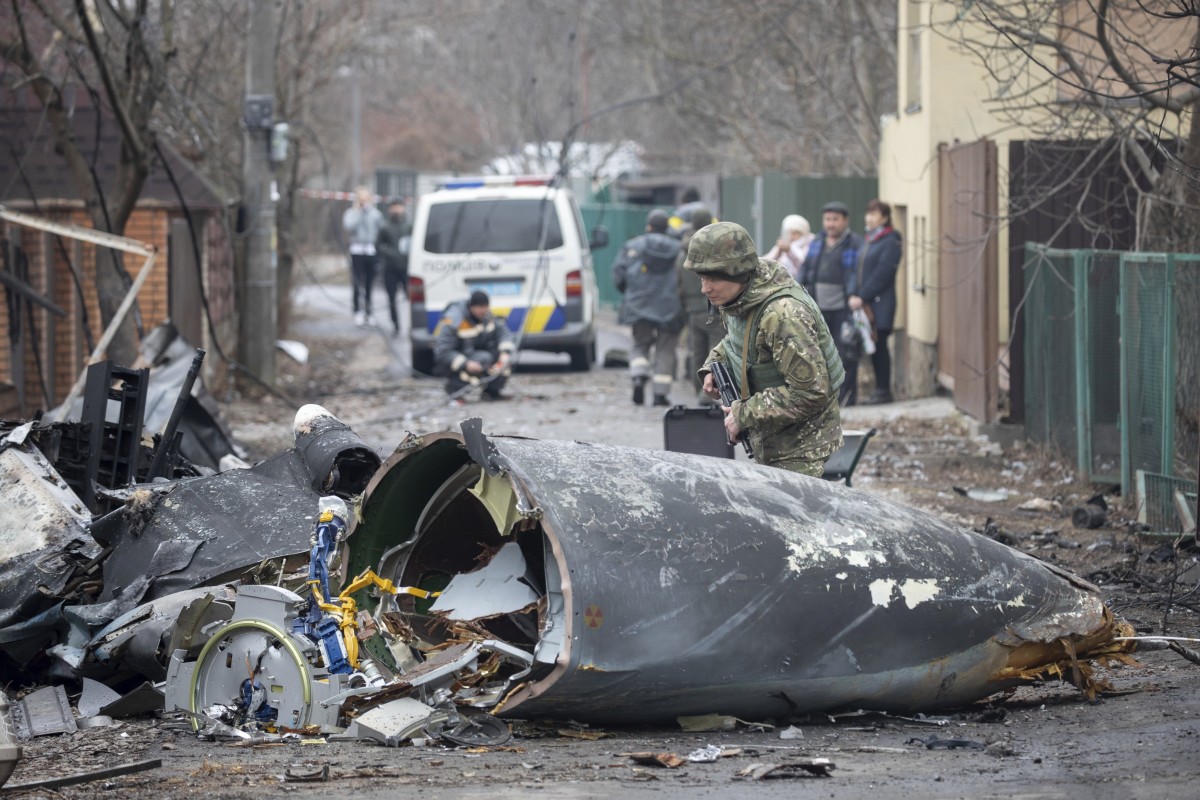 A Ukrainian Army soldier inspects fragments of a downed aircraft in Kyiv, Ukraine. It was unclear what aircraft crashed and what brought it down amid the Russian invasion. Photo: AP
The escalating tensions between Russia and Ukraine have captured the attention of people all around the world. Just yesterday, Moscow launched attacks on Ukraine, and the world remains in shock, worry, and fear. What does this mean for the existing world order? The circumstances are ever-changing and can sometimes be difficult to understand, but this is what we know about the situation so far.
What happened on September 11, 2001?
Before we get into current events, it's important to know a little bit of history.
Ukraine is the second largest country in Europe and used to be a part of the Soviet Union (USSR), which we now call Russia. However, on December 1, 1991, there was a democratic referendum, with a large majority voting for independence from the USSR. Soon the Soviet Union collapsed, and Ukraine became an independent country, with its own political infrastructure and relationships with neighbouring countries.
However, the current President of Russia, Vladimir Putin, does not fully agree with this statement, and this is where things get tricky.
Russian President Vladimir Putin (left) and Turkish President Tayyip Erdogan arrive for a news conference following talks in Moscow in March 2020. Photo: Reuters
After the USSR disbanded, former Baltic states Estonia, Lithuania, and Latvia joined the North Atlantic Treaty Organisation, also known as Nato, an intergovernmental alliance between 28 European nations and two North American countries. In 2008, discussions took place about Ukraine's possible membership with the organisation, which left Russia displeased, to say the least. Former president Viktor Yanukovych shelved these plans in 2010, preferring to keep the country non-aligned, but the move was made a priority in 2014.
Like his predecessors, Putin does not want the neighbouring country to participate in this alliance, nor does he want it to become part of the European Union (EU). The Russian president sees cooperation with other European nations as a threat and believes that the West is using Ukraine as its "puppet". Now, he wants a guarantee that Ukraine will not join any of these alliances.
Taliban takeover in Afghanistan casts shadow over women's rights
In November 2013, a wave of large scale protests erupted in response to President Yanukovych's refusal to sign a political association and free trade agreement with the EU. These protests continued for months.
This resulted in President Yanukovych being removed from office and an angry Moscow. One month later, Russia seized Crimea, an area in southern Ukraine, and a war broke out in 2014 that cost over 14,000 lives.
Ukrainian families are seen walking with their belongings along a road near the Hungarian-Ukrainian border crossing some 300 km from the Hungarian capital on February 25, 2022, one day after Russia launched a military attack on Ukraine. Photo: AFP
When did the threat of war start?
Washington has repeatedly warned that an invasion of Ukraine is possible. On November 10, 2021, the United States detected unusual movements by the Russians near Ukraine. Intelligence officials estimated that over 150,000 Russian troops had been deployed around the country.
On February 21 of this year, Moscow officially recognised breakaway Ukrainian territories Donetsk and Lugansk as independent states, a move that lead to more tension. Since 2014, the areas have been mainly controlled by Russian forces; however, Moscow recognised them as a part of Ukraine until this month. Putin said that ordering more troops into the two regions was meant to "maintain peace".
Famous people you may not have known were refugees
Russia invaded, how has the world responded?
Western governments have condemned Russia. Hours after the attack, Nato called an emergency meeting. Secretary General of Nato Jens Stoltenberg called the operation a "deliberate, cold-blooded and long-planned invasion" and said that "Russia is using force to try to rewrite history". He announced that the organisation will add more land, sea, and air forces around the area, but there is currently no intention to position troops directly in the country.
The United States said that it will not deploy troops to fight in Ukraine as of now, but that it will engage if Russia moves into Nato territory. Governments around the world will also impose harsh sanctions on Moscow, including the G7 nations and the European Union. The United States vowed to freeze all Russian assets; Britain will also freeze over 100 Russian assets and enact a package of sanctions. Meanwhile, Canada will accelerate immigration applications for Ukrainians, according to Prime Minister Justin Trudeau.
"Canada's message to the people of Ukraine is this: you are not alone," he said.
Ukrainians protest against Russia's military operations in Ukraine in front of the Nato building in The Hague. Photo: AFP
What's going on the ground?
Ukrainian President Volodymyr Zelensky has mobilised his people to fight off this "full scale war" and expressed sadness over having to battle this war alone.
"Who is ready to fight alongside us? I don't see anyone. Who is ready to give Ukraine a guarantee of Nato membership? Everyone is afraid," Zelensky said.
On the first day of fighting, at least 137 soldiers and civilian lives were lost. Russian forces initiated over 392 bombings as thousands of Ukrainians attempted to flee the country. Officials have also confirmed that the Russians seized Chernobyl, a nuclear power plant that exploded in 1986, which resulted in a massive amount of radioactive material being released into the air, contaminating nearby areas.
Sign up for the YP Teachers Newsletter
Get updates for teachers sent directly to your inbox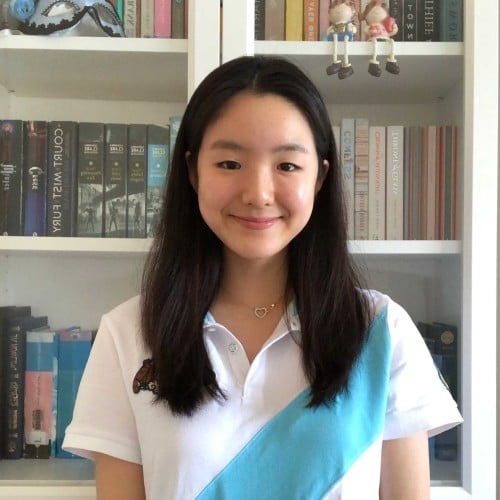 Clara Ki Lu
Clara Lu is an incoming student at Georgetown University. In 2016, she founded her non-profit Read For All (HK), in hopes of better serving students in Hong Kong. She and her team distribute free books and educational material to underserved communities.
Sign up for YP Weekly
Get updates sent directly to your inbox