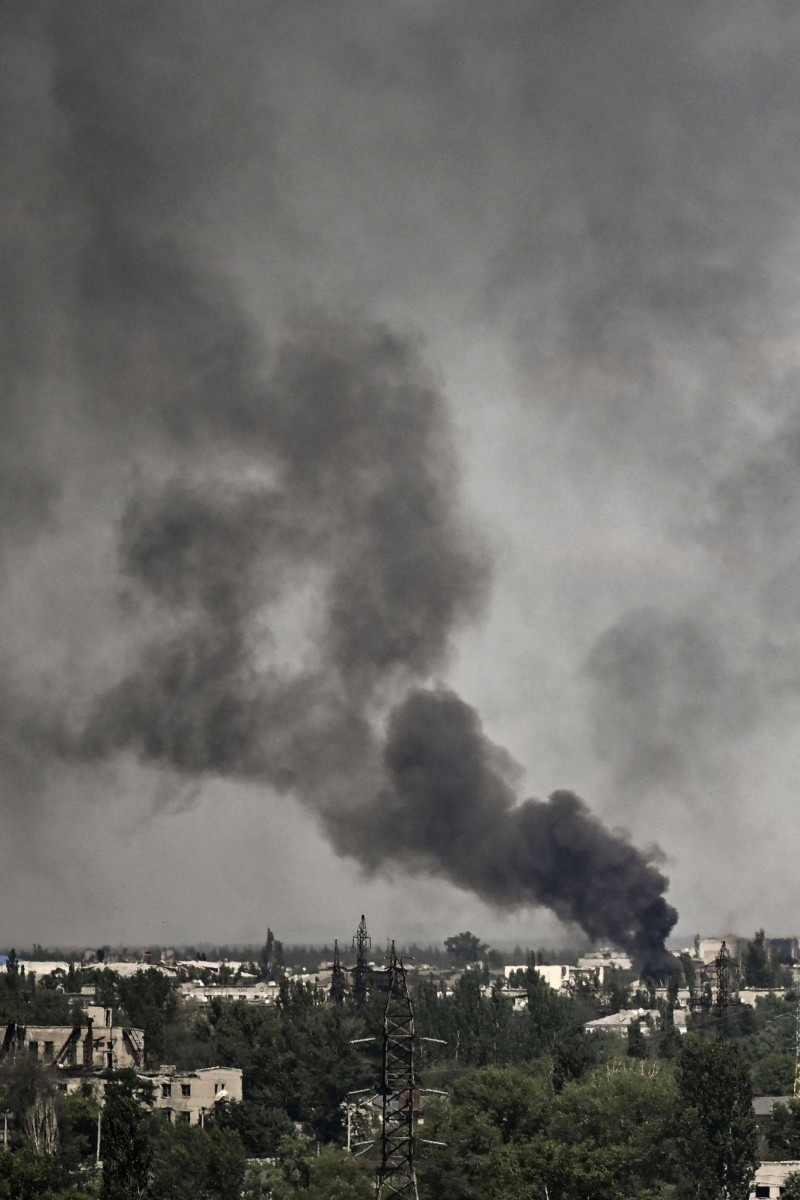 After 100 days of fighting, what's happening with the Russian invasion of Ukraine?
Vladimir Putin sent his troops over the border on February 24 on what he called a special military operation to disarm and 'denazify' the country

Though Russian forces failed to capture Kyiv, Ukrainian President Volodymyr Zelensky acknowledged that 'the situation in the Donbas remains extremely difficult'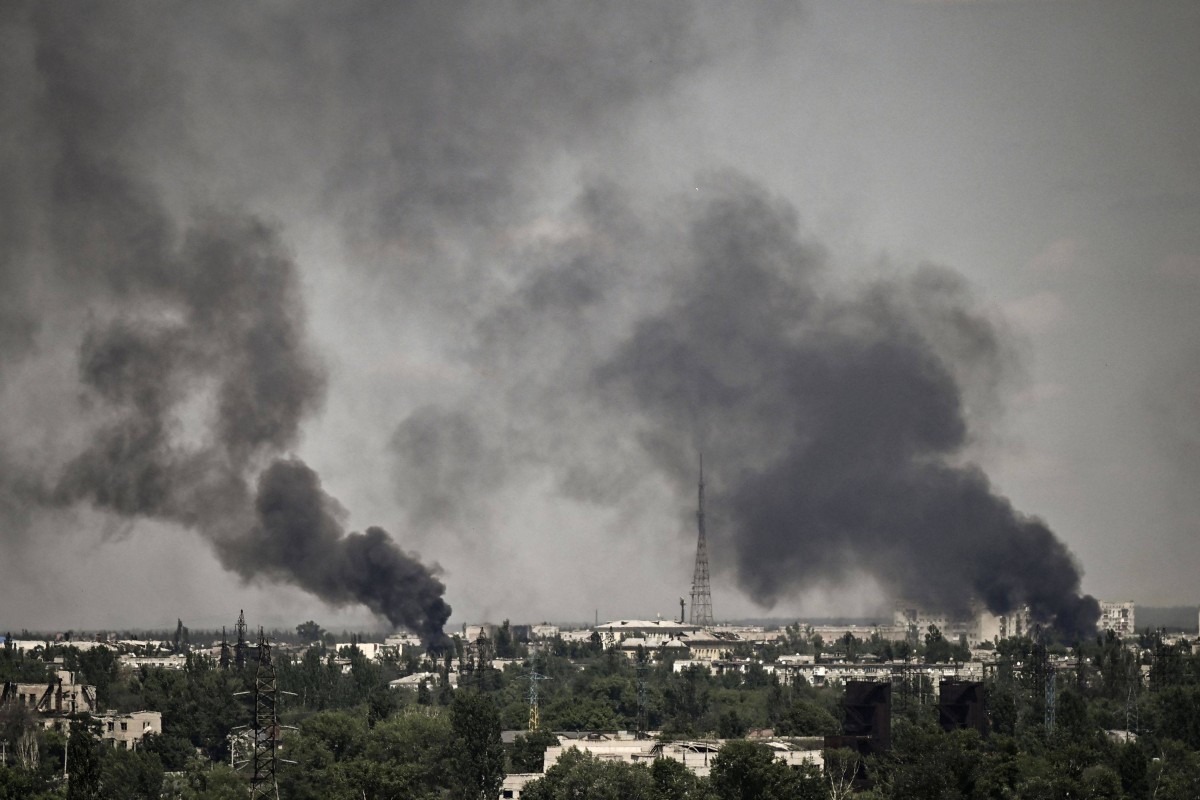 Smoke rises in the city of Severodonetsk in Ukraine during heavy fighting between Ukrainian and Russian troops in the Donbas region on May 30, 2022. Photo: AFP/Getty Images/TNS
Russia's failure to capture the Ukrainian capital of Kyiv and topple the government in the first days and weeks of its attack have prompted it to reduce its reach, focusing on a slow squeeze in the eastern Donbas region as the war passes its 100th day.
This week, Russian troops have solidified their hold on parts of the vital city of Sievierodonetsk, and Ukrainian President Volodymyr Zelensky acknowledged that "the situation in the Donbas remains extremely difficult".
"The steamroller is indeed advancing, if laboriously," said Mathieu Boulegue of British military think-tank Chatham House.
How Russia's invasion of Ukraine is sowing seeds of hunger around the world
"This isn't a military conquest" of the kind Russia might have hoped for.
"In the coming weeks, Moscow will be forced to switch from a war of movement to fighting from fixed positions," he predicted.
"It hasn't renewed its equipment, its forces are exhausted. The positions will soon freeze in place."
President Vladimir Putin's war, launched on February 24 to horror in the West, may have fallen short of its initial objectives.
Local residents examine a destroyed Russian tank outside Kyiv on May 31, 2022. Photo: AFP
But with the fall of the key port of Mariupol, Russian troops have established a land link to the occupied Crimean peninsula.
Further progress in the Donbas, an area with a large ethnic Russian population and many pro-Russian separatists, would be welcome news for the Russian government, which continues to describe the assault as a "special military operation" rather than a war.
Although it was the largest invasion in Europe since World War II, Russia's 160,000 troops barely outnumbered the Ukrainian defenders at the start.
UN condemns bombings of Ukrainian schools
Ukraine's dispersed forces were able to take a heavy toll on their opponents, thanks in part to years of Nato training, as well as supplies of anti-tank and anti-aircraft weapons from Western allies.
Within a month, Putin decided to focus his efforts on the eastern Donbas region, hoping to overwhelm the Ukrainians and alleviate the limitations that have shown up in the Russian military machine.
Ukraine's east is "closer to Russia and closer to their organic supply lines and capabilities," Pentagon spokesman John Kirby said Friday.
"And so you can see them being mindful and wary of getting too far out ahead of their supplies" as they did early in the war.
UN officials say Ukraine children, women need more protection
On the tactical level, "they're using smaller units now in smaller places and smaller movements, and so it's a little bit easier for them to integrate air support for their operations on the ground," he added.
Although Russian artillery is now battering Ukrainian positions in the Donbas, "they're dug into the ground in trenches" and won't easily be dislodged, expert Boulegue said.
"The battle for the Donbas is far from over," French military historian Michel Goya wrote in a blog post. For him, the eastern front was "becoming like a decisive battle that will absorb efforts in the coming weeks".
The Russian government's aim is "to reach the administrative borders of the Donbas", former French special forces general Christophe Gomart told broadcaster RTL on Tuesday.
A Ukrainian serviceman sets up an anti-materiel rifle in the town of Marinka, in the Donetsk region of Ukraine, on May 28, 2022. Photo: Reuters
In the near term "I think they'll have a real operational pause, because we have two armies that have been fighting one another for three months already and are exhausted. It's becoming a war of attrition".
According to the Russian government's latest official numbers – which were released back in late March – 1,351 troops have been killed in Ukraine.
Western intelligence agencies have placed the Russian death toll somewhere between 7,000 and 15,000. Ukraine's official numbers put the Russian death toll as high as 30,000.
This week, Zelensky said that between 60 and 100 Ukrainian soldiers were dying on the battlefield every day, and another 500 wounded.
Russian censorship law targets 'fake news' about war in Ukraine
"The situation in the east is very difficult," Zelensky told Newsmax.
Mark Cancian, of the US-based CSIS think-tank, predicted "a long war of attrition."
"Neither side seems willing to compromise or make a deal … Until one side decides, you may get an informal pause, a sort of low-level frozen conflict," he added.
US Secretary of State Antony Blinken said there were no signs of Russia pulling back its forces: "As best we can assess right now, we are still looking at many months of conflict".
Sign up for the YP Teachers Newsletter
Get updates for teachers sent directly to your inbox
Sign up for YP Weekly
Get updates sent directly to your inbox