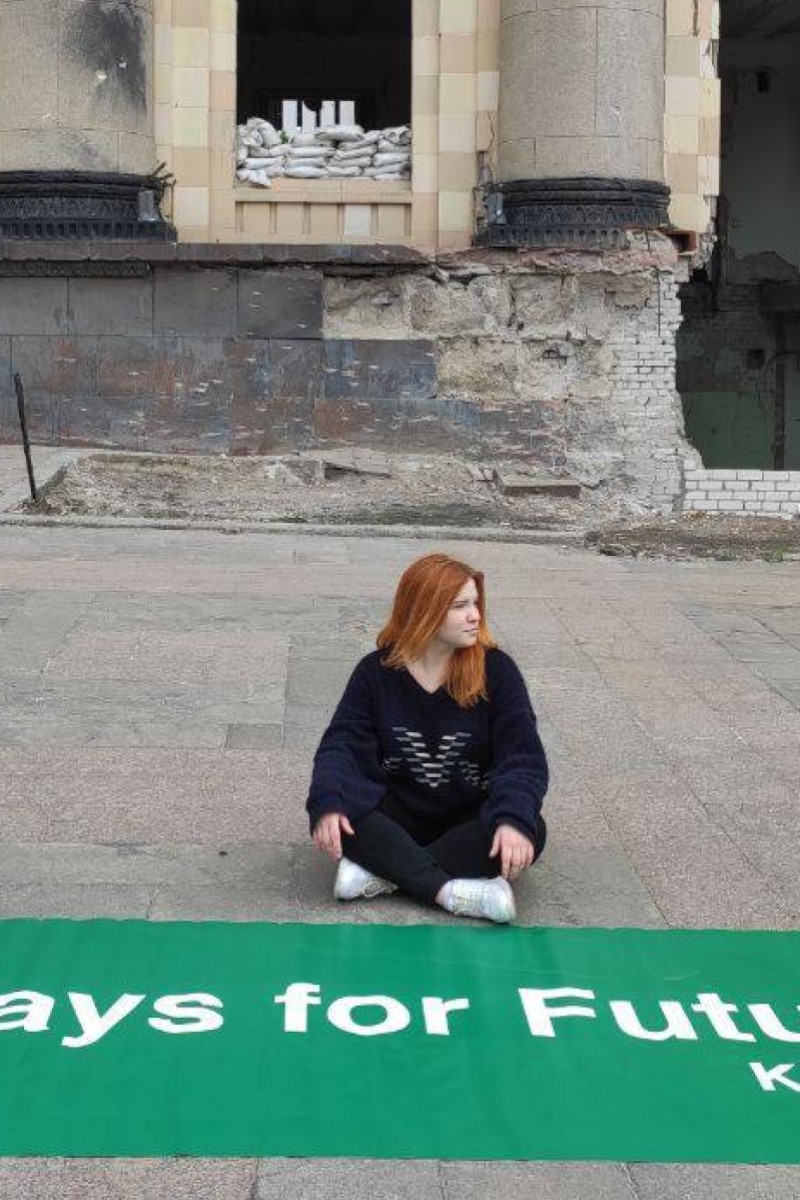 Why a Ukrainian climate activist returned to a war zone after fleeing: 'I want to show what my city now looks like'
To show how fossil fuel reliance and war are connected, Valeriia Bondarieva, 20, is photographing sites in Ukraine that have been bombed amid Russia's invasion

The university student details how she escaped Kharkiv in the early days of the war and how she rediscovered the courage to continue her activism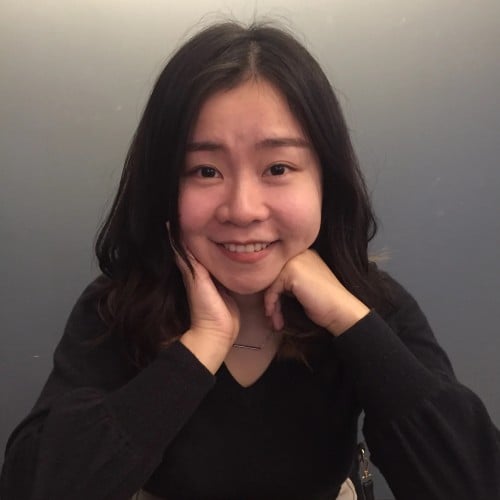 Kelly is a journalist from Hong Kong. She joined the Post in 2018, where she writes about Hong Kong's arts and culture, social welfare and the environment. She has a master's degree in Journalism from the University of Hong Kong.
Climate activist Valeriia Bondarieva returned to the building where she used to protest with her peers every Friday before the war. Photo: Handout
On May 21, young Ukrainian climate activist Valeriia Bondarieva returned to Kharkiv – the country's second-largest city from which she had escaped at the start of the war and where she had spent nearly four years as a university student. But this time, she was here for a different purpose.
The 20-year-old had come to stage a demonstration and document the wreckage in hopes of highlighting the nature of the war and how it is tied to the hazards of fossil fuel reliance.
Among her grim collection of photos is a shot of her sitting in front of the bombed Kharkiv Regional State Administration building, where she used to protest with other climate activists every Friday. It has been empty since February, and now, it is a ruin.
"Whenever I look at the picture, I always think that it shouldn't be what the future ... looks like," said the activist, who is in her final year studying English, Italian and translation studies at VN Karazin Kharkiv National University.
In 2019, Valeriia Bondarieva and other climate activists from Fridays for Future Ukraine organised a climate strike in front of the Kharkiv Regional State Administration. Photo: Handout
"I want to show what my city now looks like, and to leave a message for those who fight against fossil fuels to continue what they are doing – because it is really important."
In recent weeks, Bondarieva, a translator for the climate activist group Fridays for Future Ukraine, has visited war zones across the country. Besides documenting shelled buildings, she is collecting first-hand accounts from climate activists whose lives were upended by the war. She posts about this on social media to connect with activists around the world and encourage global leaders to act against fossil fuels.
"It is important to show the faces of real people who have encountered the consequences of [fossil fuels]," she explained.
"It is not the first time that fossil fuels made thousands of deaths possible, so it is also a chance to raise awareness about climate justice. We demand our governments move away from fossil fuels to guarantee us the future."
Peace on Earth: Ukrainian climate activists talk fossil fuels and war
On February 24, the first day of the invasion, Bondarieva remembered staying up all night doing an assignment that was due the next day. Moments after deciding to get some sleep, she was awakened by explosions at about 5am.
"I saw people switching on the lights in their flats and heard students in my dorm waking up," she recalled. "I called my father who didn't want to believe that the war [had begun]."
Half an hour later, she saw people in Kharkiv evacuating with their luggage, and many were rushing to grocery stores to stock up on food and water.
"I was afraid of going out, but after some time I went to the grocery [stores] to buy plenty of food and water," she said. "While doing that, I heard several other explosions."
While not every building at VN Karazin Kharkiv National University has been damaged, the one housing the economics and sociology faculties was the most severely bombed. Photo: Handout
Her only option was to return to Poltava, a small town in central Ukraine where her family lives, so she bought a train ticket to leave in the evening. But she had no luck catching the train because a curfew was imposed at night, requiring her and other students to take shelter in their dormitory's basement.
The next day, at the crowded railway station, she recalled how loud explosions and an air raid alert permeated the air. Worse still, when her train arrived an hour late, it was already packed to capacity with people fleeing other war zones.
"There was no room in there – none," she said, adding she eventually managed to get on the last train to Poltava with the help of her schoolmates.
"The city where they are from ... [has a] factory [that] paid for the seats, so the children of their workers could evacuate. They just shared a place with me and some other three people."
Meet Hong Kong's young climate activists striking every Friday
Despite returning home safely, life was still unsettling. She didn't know if her home would be safe, and her family could not leave either.
"We couldn't leave our house because my parents have their small business here. We have four cats, two dogs ... and a barn full of chickens," she added. "It would be hard … to leave with or without them."
For some time, the student activist was devastated by the war, and it was difficult to continue her advocacy.
"At first, it was psychologically difficult, but staying in a relatively safe place helps a lot," she said. "Then, I ... started to get back into activism because I understood how important it is to talk about fossil fuels and the fact that they fuel wars, especially the one most relevant to me."
Valeriia Bondarieva went to the Ukrainian city of Chernihiv with two other climate activists to document the havoc of the war there. Photo: Handout
In the summer, Bondarieva will go to Europe to meet politicians and other activists. There, she will demand a full embargo on Russia's fossil fuels and a declaration of climate emergency in Ukraine.
"For the future, we still don't know [our next destination] because of the travelling costs," she said, "but demanding for a full embargo on Russian fossil fuels remains our number one priority."
This week, the student has made her way to Chernihiv, a city in northeastern Ukraine that was heavily bombed by Russian forces in early March.
"They are really just ordinary flats where people used to live and [the residents] have no place to return," she said.
"That's the first time I see so many people's ordinary things [belongings] now are just rubbish lying in ruins."
Sign up for the YP Teachers Newsletter
Get updates for teachers sent directly to your inbox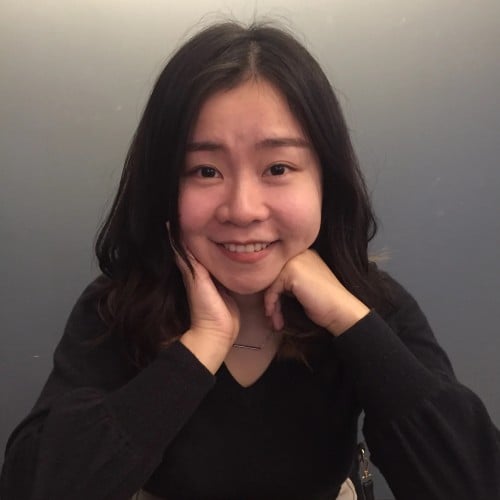 Kelly is a journalist from Hong Kong. She joined the Post in 2018, where she writes about Hong Kong's arts and culture, social welfare and the environment. She has a master's degree in Journalism from the University of Hong Kong.
Sign up for YP Weekly
Get updates sent directly to your inbox