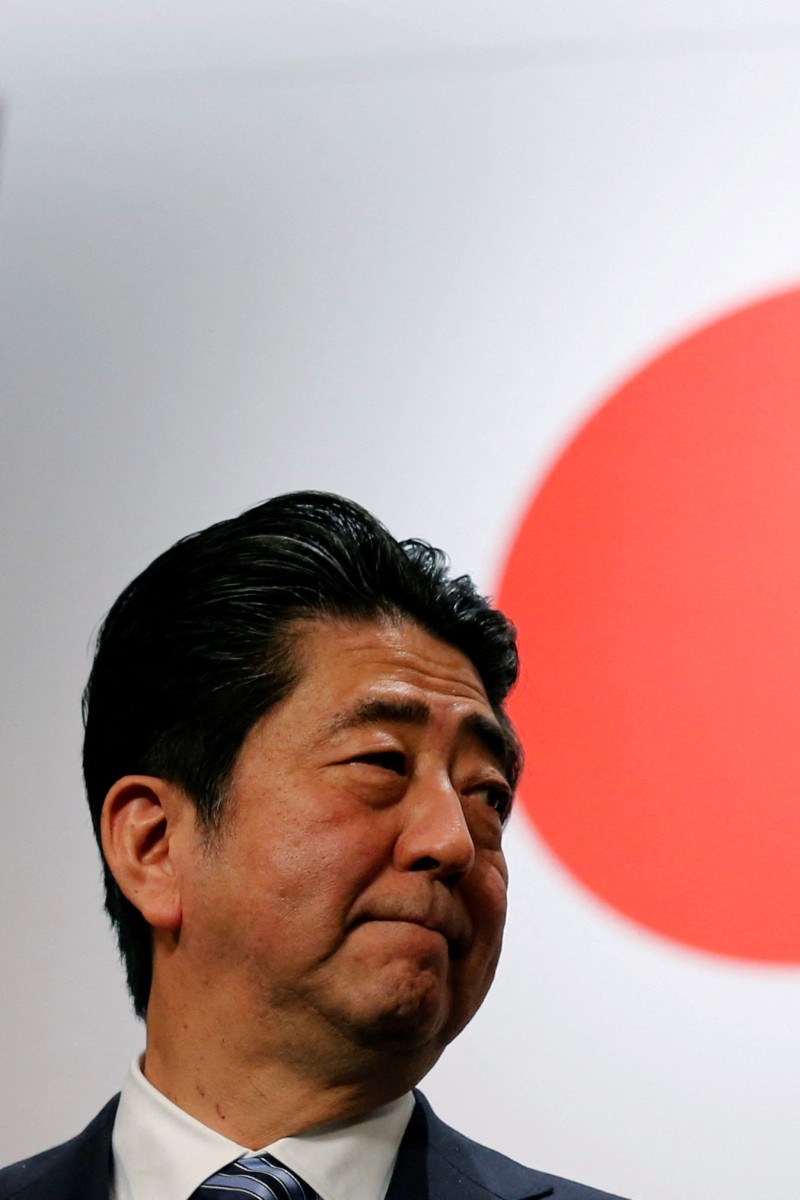 He was delivering a speech in the city of Nara when the incident happened; broadcaster NHK said a male suspect has been detained

Abe was twice prime minister, including from 2012 to 2020 – an eight-year stint that was the longest uninterrupted tenure for a post-war Japanese leader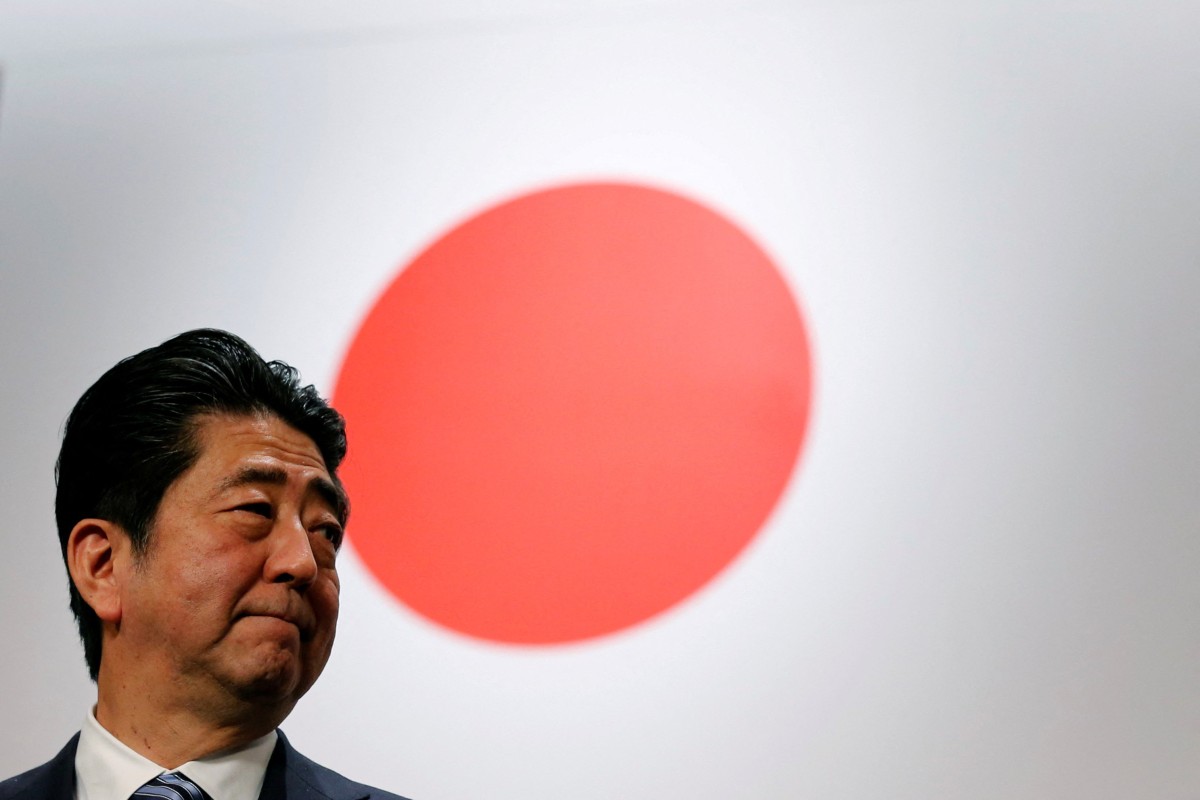 Former Japanese Prime Minister Shinzo Abe died on July 8, 2022 after being shot while campaigning. Photo: Reuters
Japan's former prime minister Shinzo Abe has died after being shot during a campaign event in the city of Nara in Western Japan, public broadcaster NHK said.
"According to a senior LDP (Liberal Democratic Party) official, former prime minister Abe died at a hospital in Kashihara city, Nara region, where he was receiving medical treatment. He was 67," NHK said.
Earlier, in a hastily organised press conference, Prime Minister Fumio Kishida – who has suspended his own campaigning activities – said doctors were "working very hard to save Mr Abe" and condemned the shooting as a "heinous, barbaric" act.
This screen grab shows former Japanese Prime Minister Shinzo Abe on the ground after he was shot from behind by a man during an election campaign in Nara, western Japan, July 8, 2022. Photo: Kyodo via Reuters
"Many people have the same feeling with me – that this cannot be totally tolerated. I want to use the strongest words to condemn this act," a visibly emotional Kishida told reporters after flying back to Tokyo from Yamagata prefecture. "I would like to first pray that Prime Minister Abe will survive this and that his life will be saved."
Abe was not showing vital signs even as he received treatment, Kyodo reported just before 3pm Hong Kong time, quoting an emergency official in Nara. The Nara City Fire Department meanwhile said he sustained wounds on the right side of his neck and his left clavicle.
Earlier, first responders were quoted by local media as saying that Abe appeared to be in a state of cardio-respiratory arrest – a term used in Japan before a feared death can be confirmed by a doctor.
World leaders expressed shock over the attack, with the heads of governments of Britain, India and Australia – Japan's key strategic partners – among the first to voice their sympathy for Abe's family and the Japanese people.
Who is Japan's former princess Mako?
China's foreign ministry spokesman Zhao Lijian in his regular press conference said Beijing hoped Abe "will be out of danger and recover soon".
The US Secretary of State Antony Blinken, currently in Bali for G20 talks, said Washington was "deeply saddened and deeply concerned" over the attempted killing Abe.
Abe, 67, was shot at around 11.30am in Nara while he was standing and making an election campaign speech ahead of Sunday's election for the parliament's upper house.
Eyewitnesses told NHK a first gun shot was heard when a man approached Abe from behind. No one appeared to be injured until a second gun shot was heard, at which point Abe fell to the ground.
Police said a 41-year-old man, Tetsuya Yamagami, was arrested immediately after the incident. He was said to have used a "home-made gun" and local media said he was a former member of the Maritime Self-Defence Force.
Tetsuya Yamagami, bottom, was detained near the site of gunshots in Nara Prefecture, western Japan, on Friday, July 8, 2022. Former Japanese Prime Minister Shinzo Abe, an arch-conservative and one of his nation's most divisive figures, was shot by Yamagami during a campaign speech on Friday in western Japan. He was airlifted to a hospital but officials said he was not breathing and his heart had stopped. Photo: AP
Among those around reacting to the shooting was Indonesia's Foreign Minister Retno Marsudi, who is hosting the enclave of top diplomats from the G20 grouping in Bali. She issued a statement conveying "her sympathies in the name of G20 foreign ministers to the Japanese foreign minister".
Tsai Ing-Wen, the leader of self-ruled Taiwan, described Abe as "not only a good friend of mine, but also a staunch friend of Taiwan's".
"He has supported Taiwan for many years and spared no effort to promote the progress of Taiwan-Japan relations," Tsai wrote on Facebook.
Former President Donald Trump said the attack was a "tremendous blow to the wonderful people of Japan, who loved and admired him so much".
Remembering the Great East Japan Earthquake and Fukushima nuclear disaster
India's Prime Minister Modi said he was "deeply distressed by the attack on my dear friend Abe Shinzo".
Abe served two stints as prime minister, including a nearly eight-year run from 2012 to 2020 – the longest uninterrupted stint in power for Japanese leader in its post-war era.
He first held the post from 2006 to 2007, before abruptly quitting. He said the intestinal ailment ulcerative colitis made it untenable to continue in the job.
But with the LDP ousted in 2009 following a decades-long rule of the country, Abe returned in 2012 and presided over a landslide victory.
He then launched a three-pronged "Abenomics" strategy to beat persistent deflation and revive economic growth with hyper-easy monetary policy and fiscal spending, along with structural reform to cope with a fast-ageing, shrinking population.
Police investigate the crime scene where Abe was shot. Photo: EPA-EFE
But by the summer of 2020, public support had been eroded by his handling of the Covid-19 outbreak as well as a series of scandals including the arrest of his former justice minister.
Japan has had a history of high-profile assassinations or assassination attempts. Among them was the killing of Prime Minister Inukai Tsuyoshi by naval officers in 1932, in a failed coup.
Japan is a country with some of the strictest gun laws among leading economies and shootings are rare.
Additional reporting by Reuters, AFP, Bloomberg
Sign up for the YP Teachers Newsletter
Get updates for teachers sent directly to your inbox
Sign up for YP Weekly
Get updates sent directly to your inbox