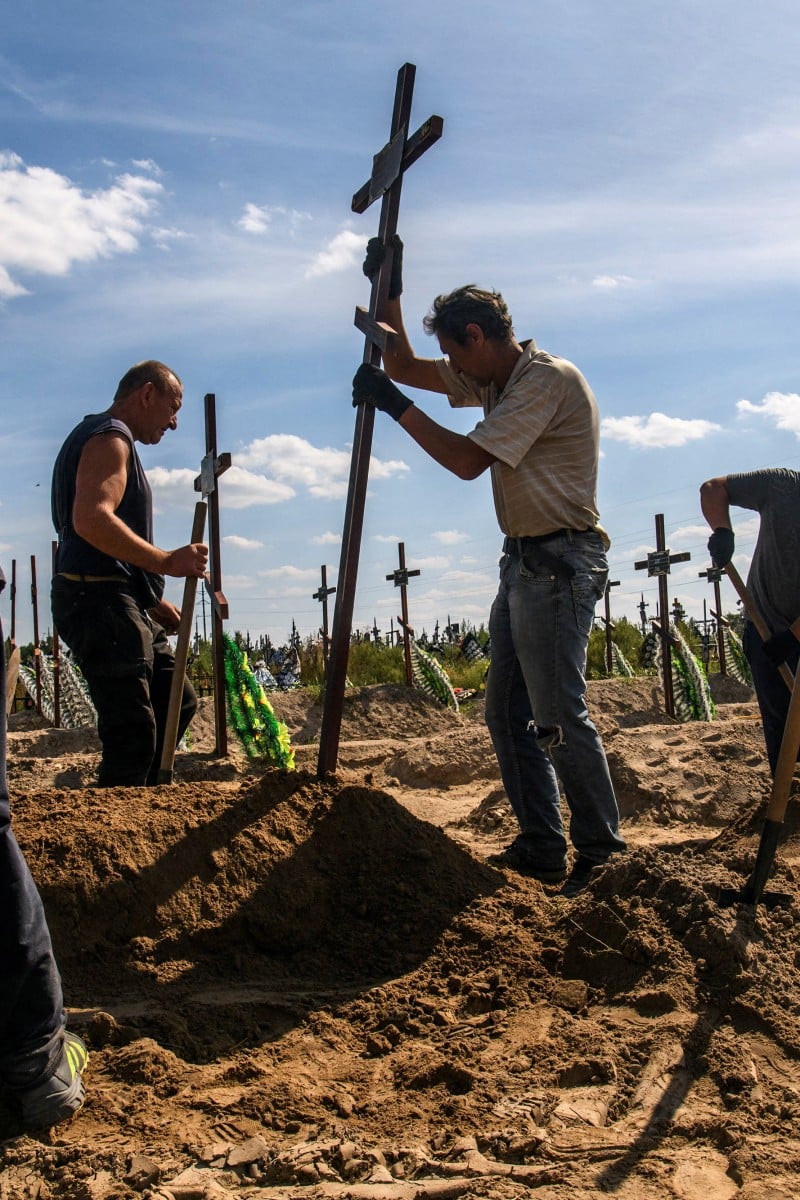 UN launches record US$51.5 billion emergency funding appeal for an estimated 339 million people
'Next year is going to be the biggest humanitarian programme the world has ever seen', said UN aid chief

From famine to the war in Ukraine and the ongoing coronavirus pandemic, 1 in every 23 people will need help in 2023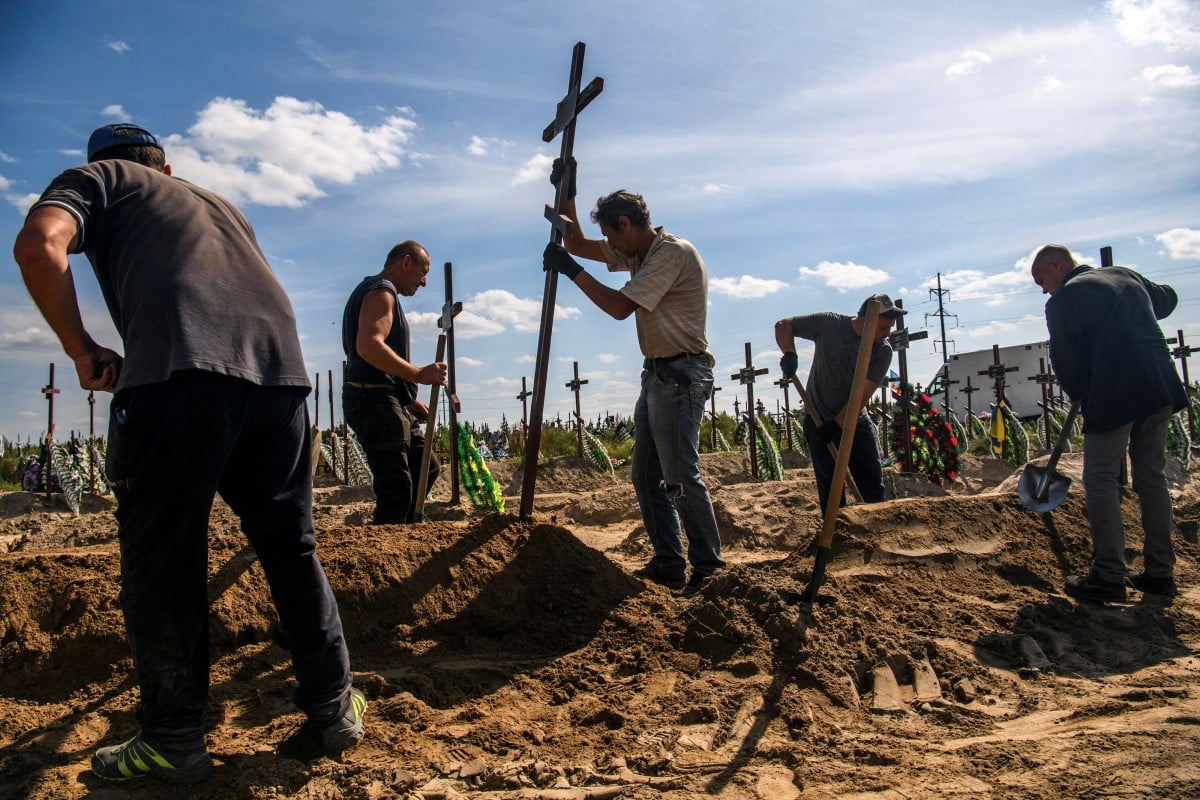 A volunteer places a cross onto a grave of one of fifteen unidentified people killed by Russian troops in the town of Bucha, Ukraine. The United Nations appealed for record funds for aid next year, as the Ukraine war and other conflicts push more people into crisis. Photo: Reuters
The United Nations appealed for record funds for aid next year, as the Ukraine war and other conflicts, climate emergencies and the still-simmering pandemic push more people into crisis, and some towards famine.
The United Nations' annual Global Humanitarian Overview estimated that 339 million people worldwide will need some form of emergency assistance next year – a staggering 65 million more people than the estimate a year ago.
"It's a phenomenal number and it's a depressing number," UN aid chief Martin Griffiths told reporters in Geneva, adding that it meant "next year is going to be the biggest humanitarian programme" the world has ever seen.
"More to offer" than war: Ukraine works on display at Madrid museum
If all the people in need of emergency assistance were in one country, it would be the third-largest nation in the world, after China and India, he said.
And the new estimate means that one in 23 people will need help in 2023, compared to one in 95 back in 2015.
As the extreme events seen in 2022 spill into 2023, Griffiths described the humanitarian needs as "shockingly high".
"Lethal droughts and floods are wreaking havoc in communities from Pakistan to the Horn of Africa," he said, also pointing to the war in Ukraine, which "has turned a part of Europe into a battlefield."
Ukrainian servicemen fire a self-propelled howitzer toward Russian positions on the frontline of the Donetsk region on November 30, 2022. Photo: Radio Free Europe/Radio Liberty/Serhii Nuzhnenko via Reuters
The annual appeal by UN agencies and other humanitarian organisations said that providing aid to the 230 million most vulnerable people across 68 countries would require a record US$51.5 billion.
That was up from the US$41 billion requested for 2022, although the sum has been revised up to around US$50 billion during the year – with less than half of that sought-for amount funded.
"For people on the brink, this appeal is a lifeline," Griffiths said.
The report presented a depressing picture of soaring needs brought on by a range of conflicts, worsening instability and a deepening climate crisis.
Russian pop star's criticism of war in Ukraine sparks debate after Instagram post
"There is no doubt that 2023 is going to perpetuate these on-steroids trends," Griffiths warned.
The overlapping crises have already left the world dealing with the "largest global food crisis in modern history", the UN warned.
It pointed out that at least 222 million people across 53 countries were expected to face acute food insecurity by the end of this year, with 45 million of them facing the risk of starvation.
"Five countries already are experiencing what we call famine-like conditions, in which we can confidently, unhappily, say that people are dying as a result," Griffiths said.
Municipal workers prepare food for residents in the so-called Nezlamnosti point in Kharkiv, Ukraine on December 1, 2022. The Nezlamnosti points are places of safety during long electricity and heat outages following Russian attacks on critical infrastructure. Photo: EPA-EFE
Those countries – Afghanistan, Ethiopia, Haiti, Somalia and South Sudan – have seen portions of their populations face "catastrophic hunger" this year, but have not yet seen countrywide famines declared.
Forced displacement is meanwhile surging, with the number of people living as refugees, asylum seekers or displaced inside their own country passing 100 million – over one per cent of the global population – for the first time this year.
"And all of this on top of the devastation left by the pandemic among the world's poorest," Griffiths said, also pointing to outbreaks of mpox, previously known as monkeypox, Ebola, cholera and other diseases.
Students wait for their parents after a directive from Uganda's Health Ministry to close all schools to curb the spread of Ebola at Naalya Senior Secondary boarding school in Kampala on November 25, 2022. Photo: AFP
Conflicts have taken a dire toll on a range of countries, not least on Ukraine, where Russia's full-scale invasion in February has left millions in dire need.
The global humanitarian plan will aim to provide US$1.7 billion in cash assistance to 6.3 million people inside the war-torn country, and also US$5.7 billion to help the millions of Ukrainians and their host communities in surrounding countries.
More than 28 million people are meanwhile considered to be in need in drought-hit Afghanistan, which last year saw the Taliban sweep back into power, while another eight million Afghans and their hosts in the region also need assistance.
Children in Ukraine return to school among the sounds of war
More than US$5 billion has been requested to address that combined crisis, while further billions were requested to help the many millions of people impacted by the years-long conflicts in Syria and Yemen.
The appeal also highlighted the dire situation in Ethiopia, where worsening drought and a two-year-conflict in Tigray have left nearly 29 million people in desperate need of assistance.
Faced with such towering needs, Griffiths said he hoped 2023 would be a year of "solidarity, just as 2022 has been a year of suffering."
Sign up for the YP Teachers Newsletter
Get updates for teachers sent directly to your inbox
Sign up for YP Weekly
Get updates sent directly to your inbox