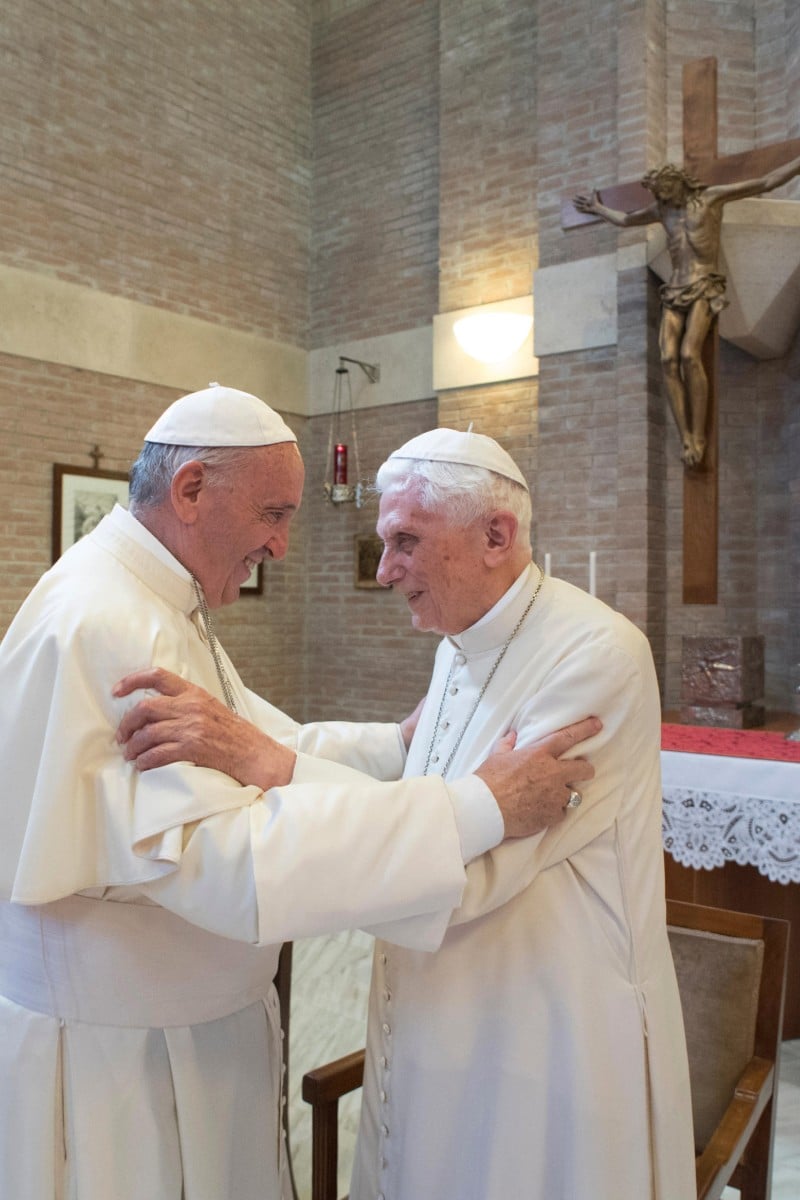 Pope Francis, head of the Catholic Church, pays tribute to recently-deceased pope emeritus Benedict
The former leader of the church passed away on December 31 at the age of 95. He was the first pope to resign in 600 years

Benedict came under fire for the way he handled crises in the church, including sex abuse scandals and a money-laundering scheme at a Vatican bank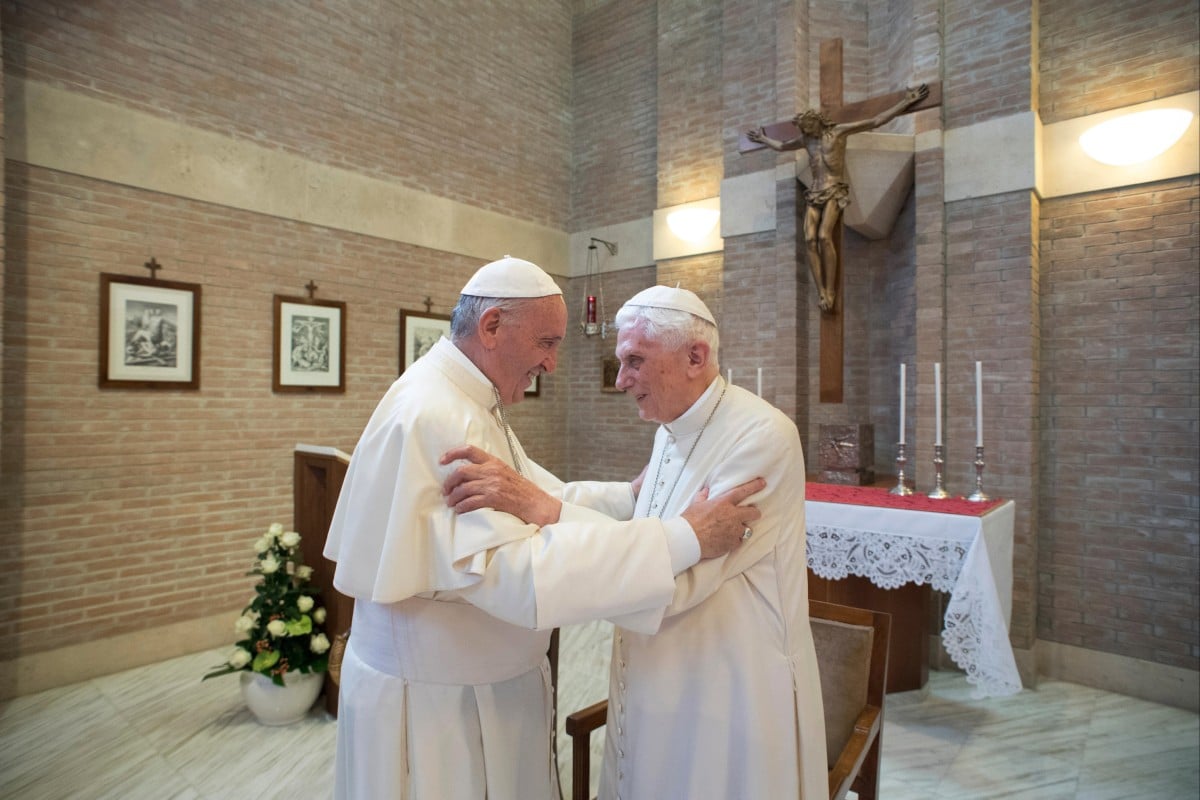 Pope Francis (left) embraces Pope Emeritus Benedict XVI (right) at the Vatican on June 28, 2017. Benedict, the German theologian who will be remembered as the first pope in 600 years to resign, has died, the Vatican announced on Saturday, December 31, 2022. He was 95. Photo: L'Osservatore Romano/AP
Pope Francis hailed the "beloved" Benedict XVI on Sunday in a New Year's Day service at the Vatican, the day after his predecessor died aged 95.
"Today we entrust the beloved pope emeritus Benedict XVI to the most holy mother (the Virgin Mary), to accompany him in his passage from this world to God," Francis said.
Benedict, a conservative intellectual who in 2013 became the first pontiff in six centuries to resign, died on Saturday at his home in a monastery inside the grounds of the Vatican.
Sikh temple's reopening in Hong Kong a reminder of the community's contributions to the city
His body will be moved on Monday morning to St Peter's Basilica, where for three days the public will be able to pay their respects before a funeral on Thursday overseen by Francis.
The ceremony will be "solemn but simple", the Vatican has said, after which he will be buried in the papal tombs under St Peter's Basilica.
The last papal funeral, of John Paul II in 2005, drew a million faithful and heads of state from around the world, although Benedict was a more divisive figure.
A brilliant theologian, he alienated many Catholics with his staunch defence of traditional values and as pope struggled to impose his authority on the church as it battled a string of crises, including over clerical sex abuse.
Pope Benedict XVI greets the crowd at a mass in Yankee Stadium in New York City on April 20, 2008. Photo: Philadelphia Inquirer/TNS
US President Joe Biden, a devout Catholic, praised Benedict's "devotion to the Church", while Russian President Vladimir Putin hailed him as a "defender of traditional Christian values".
His death brought to an end an unprecedented situation in which two "men in white" – Benedict and Francis – had coexisted within the walls of the tiny city state.
Benedict's health had been declining for a long time, and he had almost entirely withdrawn from public view when the Vatican revealed on Wednesday that his situation had worsened.
At a New Year's Eve service on Saturday evening, Francis paid tribute to his "dearest" predecessor, saying he was "so noble, so kind".
Singapore bans film on religious and LGBTQ issues, saying it could create 'social division'
Francis, 86, has raised the prospect that he might follow Benedict's example and step down if he became unable to carry out his duties.
In July, suffering knee problems that have forced him to rely on a wheelchair, he admitted he needed to slow down or think about stepping aside.
And earlier in December, the Argentine revealed he had signed a resignation letter when he took office should poor health prevent him from carrying out his duties.
Pope Francis leads the service marking the World Day of Peace at St Peter's Basilica in Vatican City. Photo: DPA
Born on April 16, 1927 in Marktl am Inn, Germany, Benedict was 78 when he became the first German pope of the modern era.
Flags on the town hall flew at half-mast Saturday in Marktl, where a special mass was organised at the church where he was baptised.
Local Karl Michael Nuck, 55, said his death "was probably a deliverance", while praising Benedict for resigning and defending his record.
Long close to John Paul II and a senior cardinal in the Catholic hierarchy, Benedict was a leading candidate to become pope in 2005 – but later said his election felt "like the guillotine".
The egg-citing reason for chocolate bunnies and eggs at Easter
Unlike his successor Francis, a Jesuit who delights in being among his flock, Benedict was more at home with his books, a cat-lover who delighted in study and playing the piano.
He was dubbed "God's Rottweiler" in a previous post as chief doctrinal enforcer, but struggled to contain numerous scandals in the church during his papacy.
Benedict was the first pope to meet with victims of clerical child sex abuse, but critics said he did not go far enough in addressing the problem and decades of cover-ups.
St. Peter's Basilica in Rome, Italy the day after the death of former Pope Benedict. Photo: Reuters
There were other controversies, from comments that angered the Muslim world to a money-laundering scandal at the Vatican bank and a personal humiliation when, in 2012, his butler leaked secret papers to the media.
After he quit, Benedict remained a flag-bearer for the conservative wing of the church.
With his death, those who battled Francis' more liberal outlook "lose a living symbol", noted Italian Vatican observer Marco Politi.
Sign up for the YP Teachers Newsletter
Get updates for teachers sent directly to your inbox
Sign up for YP Weekly
Get updates sent directly to your inbox