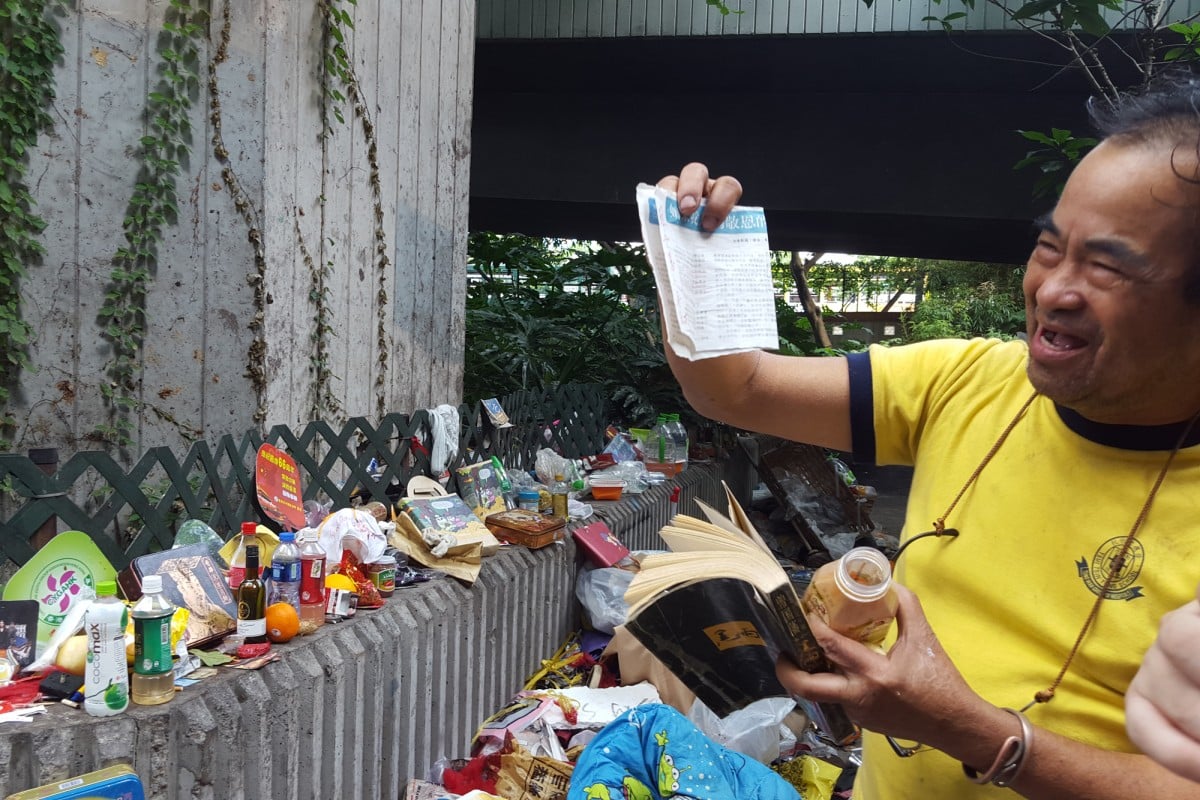 Mr Kwok shows off his favourite books.
Our city is facing an invisible epidemic of homelessness. According to Chinese University's Professor Wong Hung, the number of homeless people has risen significantly since 2004, with 1,000 "new homeless" now living on the streets.
Though there are many reasons a person might become homeless, the primary cause is the rise in property prices.
As Professor Hung notes, monthly rates for partitioned flats have almost tripled since the 2000s. Those who cannot afford the rocketing living costs often become street sleepers.
Mr Kwok, a friendly man in his 50s, has been living on the streets for five years. I spoke with him at his current residence, a discreet alleyway underneath a bypass in Sheung Wan.
His story is one of the most common: after losing his job, Kwok could no longer afford the rent on his flat and moved out.
Now, in his free time, he walks around the city and also reads. His collection includes several books and a stack of newspapers.
"I like to read, and I read a lot," he says.
He has also taken to decorating his area: piled along the wall and strung to the fence is a selection of random objects, which range from novelties like bright children's toys and paper lanterns, to more practical household items like alarm clocks and towels.
Staying rooted in one place is not easy, though. "I've run into trouble with the government before," he says.
"Once they cleared out everything and I was very angry."
According to Kwok, the police usually crack down on street sleepers annually to "preserve the city's image", but are generally willing to turn a blind eye as long as the homeless do not disturb pedestrians.
For the most part, street sleepers need to stay out of sight, and in Hong Kong, they rarely sleep in in the city centre. Most, like Kwok, settle in a hidden location and remain very reclusive. There are others who travel from place to place.
There are organisations street sleepers can turn to. Kwok is a regular at St Barnabas' Society and Home, which provides free meals, showers, and resting spaces for the poor and homeless.
Francis Hon Wai-fan, communication and project officer at St Barnabas', has noticed a rise in the number of people seeking help from the organisation.

"St Barnabas' began as a group of people distributing soup to the homeless," she says.
"In the evenings, the centre provides hot meals for street sleepers and for those living in sub-divided housing. Now, on Sundays, up to 80 people come in for dinner."
Apart from sanitary and health concerns, one of the biggest challenges of living on the streets is the loneliness.
The isolation many street sleepers face can have negative psychological effects, such as making them more prone to depression and addiction.
To help prevent these problems, St Barnabas' tries to foster a sense of community and routine.
The centre offers religious services, festival celebrations and group activities ranging from singing in a choir to hiking.
Joe Lam Kwok-wing, a minister at St Barnabas', says: "Our goal is to empower people to move forward.
"There have been many stories of people who have been able to move out and get back on their feet. If they manage to find a job, they usually move into new flats."
However, things don't always work out. "Sometimes people leave and we can't stop them. Maybe they don't like the food or the atmosphere here.
"Usually, they move to other locations and sometimes find other food banks," says Lam.
The best way for students to help out is through volunteering. Most homeless shelters need assistance with cleaning and administrative work. Above all, the street sleepers who come into the centre to rest are usually in need of some company.
Though usually hidden from public view, the homeless of Hong Kong are real people. Their stories are not simple, their struggles are not petty, and their situations are not pleasant.
It is time to address homelessness with the gravity it deserves.
Read more:
Who's helping McRefugees?
Talking Points: Until more shelters are built, where can homeless people spend the night?
Sign up for the YP Teachers Newsletter
Get updates for teachers sent directly to your inbox
Sign up for YP Weekly
Get updates sent directly to your inbox