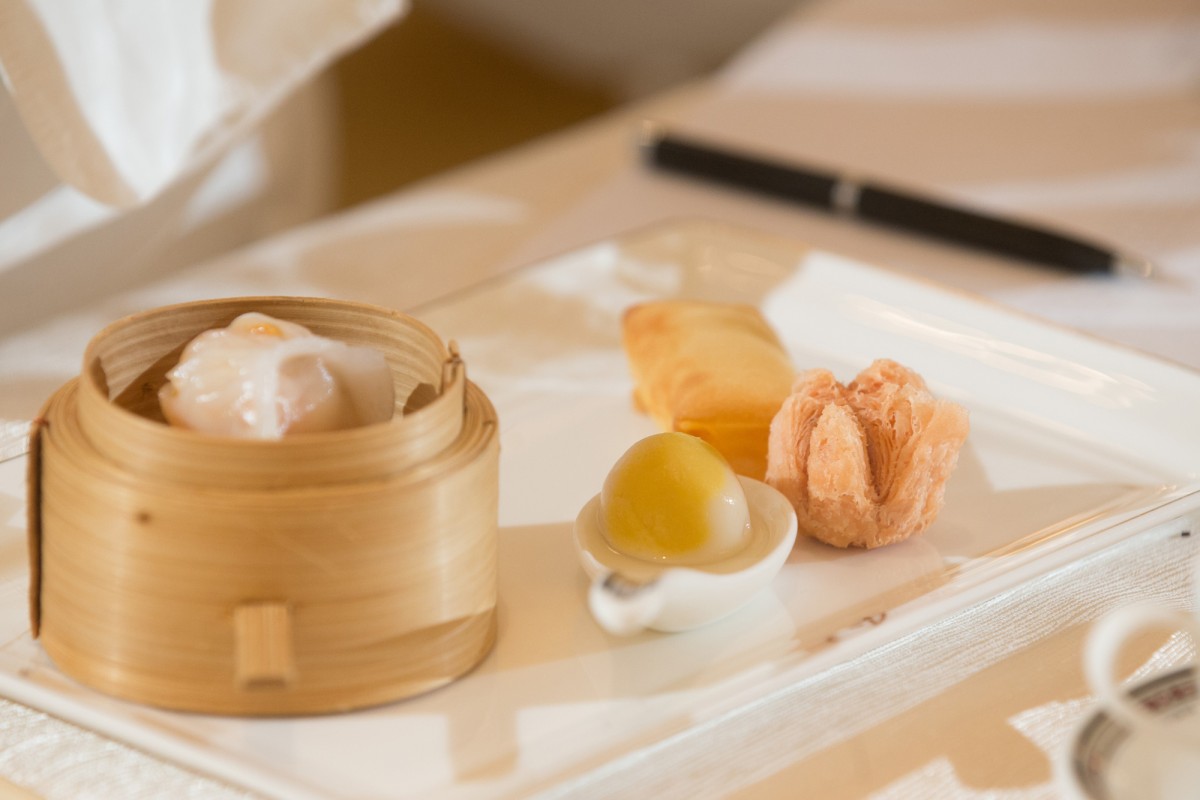 Wu Chenglong's shrimp dumpling, tangyuen, lotus puff and spring roll took him to a delicious victory.
Picture the scene: five amateur chefs working against the clock in the kitchens of a luxury hotel. Their mission: to wow judges with bite-sized portions of food. This was the final of this year's Dim Sum Young Talent Competition, co-organised by Young Post and The Peninsula Hong Kong.
The pressure was on as the new cooks battled to impress four judges and claim the top prize of HK$25,000 and a year's chef apprenticeship at The Peninsula.
The five students from Chinese Culinary Institute donned chef whites, and had their knives at the ready as they prepared to face the final challenge last week.
They were given three hours to prepare and 15 minutes to cook four dim sum dishes.
The judges were the hotel's senior chef, Florian Trento, dim sum ambassador Yip Wing-wah, regional vice-president Rainy Chan, and the SCMP's senior food and wine editor, Susan Jung.
All the ingredients were in stock and prepared for the cooks, but this didn't mean things would be a breeze.
The youngest finalist, Wu Chenglong, a 17-year-old who recently graduated from the Chinese Culinary Institute, joined Michelin star-awarded dim sum restaurant Tim Ho Wan in September.
He wowed the judges, particularly with his signature lotus puff, and claimed victory.
"It's not easy to make, as you can only make the lotus blossom when you have the perfect oil temperature," said the champion.
The judges praised the dish and the budding chef.
"Excellent crunch and delicateness," said Jung. "Puff is one of the most difficult pastries."
Trento was impressed by Wu's shrimp dumplings.
"The skin is thin and fine. It's like something you'd be served in a restaurant," he said, adding that Wu's food had the best seasoning and level of workmanship.
Wu started working towards his dream of becoming a dim sum chef after he finished Form Three.
"My parents never stopped me pursuing my dream of becoming a chef. The way they see it: it's my life at the end of day," he said.
Dim sum tricks weren't the only useful skills the finalists learned in the competition's workshops.
Wu said he gained more confidence by having to present his dishes to judges and explain his techniques.
Time management was another crucial aspect of the competition. Wu showed his talent by finishing ahead of time and using the last 10 minutes to clean up his preparation area, washing the chopping board, and making sure everything was tidy and in order. His fellow contestants weren't so composed.
One of the finalists only managed to complete two dishes. Even first runner-up Yau Wing-ki, 19, panicked as time slipped away.
"My hands started to shake when the judge reminded it was the last 20 minutes," she said.
Even though dim sum involves many traditional cooking techniques, Yau thinks it still provides a lot of space for creativity.
"You can take inspiration from a whole lot of other countries' cuisines and create new dim sum dishes," she said.
One of the inventions she presented was a purple potato bun. Inspired by her love of purple potato, she cut the spuds into cubes, mashed them for a filling, and gave the bun an eye-catching half-white, half-purple skin.
Yip thought the bun was highly creative, even though the taste wasn't as strong as it could have been.
Nevertheless, Yip emphasised that Yau's creativity earned her high scores from the judges. "It requires original ideas to excel in dim sum. Alongside being able to master the traditional items, we appreciate when chefs develop their own ideas using unconventional ingredients."
The contest was as much of a challenge for the judges as it was for the finalists: they had to try nearly 20 dim sum dishes before making the final decision.
"It's hard work as I wanted to keep an open mind and be fair … but it was a lot of fun, too," said Trento.
Sign up for the YP Teachers Newsletter
Get updates for teachers sent directly to your inbox
Sign up for YP Weekly
Get updates sent directly to your inbox