Hong Kong extradition law: Students explain why they joined mass protest
Many say they are fighting to protect the city's freedoms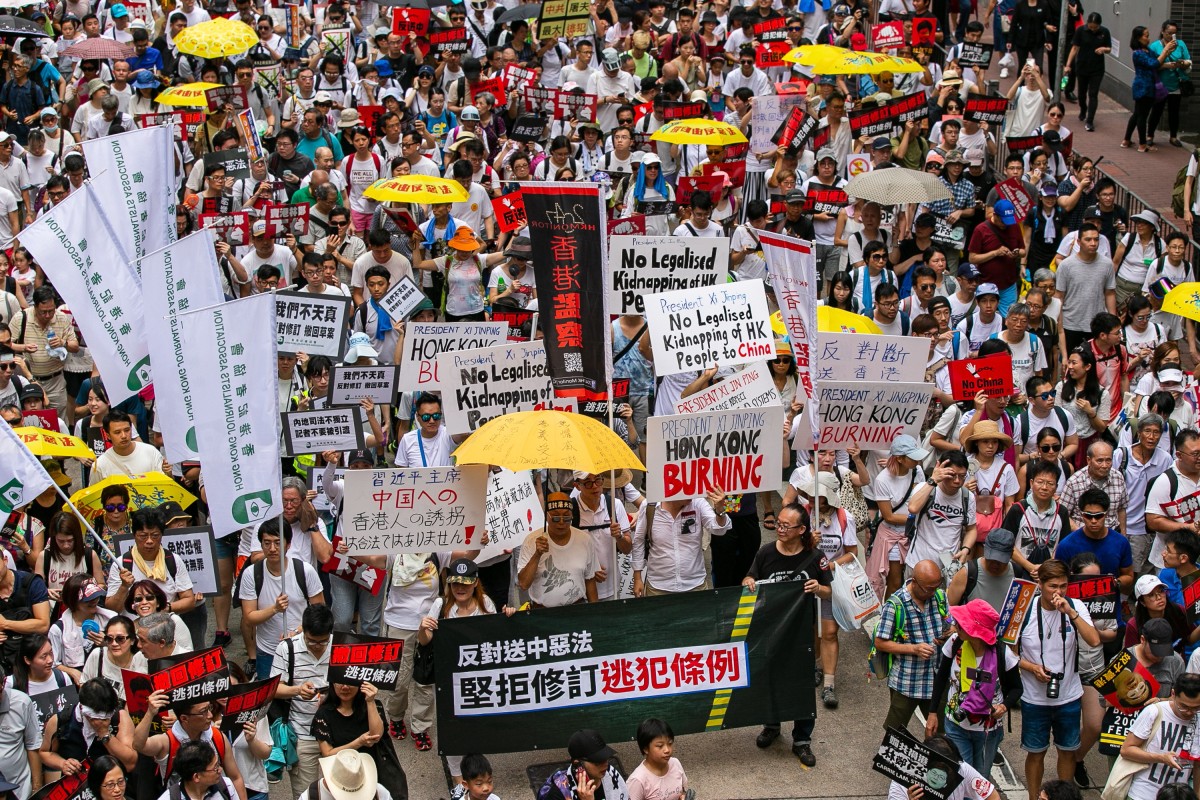 Alumni, students, and staff from at least 14 local secondary schools were seen at the march on Sunday.
Organisers said more than a million people took to Hong Kong's streets on Sunday to protest against the proposed extradition law. They poured in from all over the city, jamming MTR stations, forcing trains to be cancelled, and taxing police to their crowd-control limits. Police took a more conservative view of numbers, saying around 240,000 people attended the march at its peak.
Many people who tried to join the march at various points along its route from Victoria Park's Central Lawn to the Legislative Council complex were turned away by police. However, even though marchers started ahead of the planned 3pm start, there were still people in Victoria Park well after 7pm.
Lam Yeung-yin and Alexander Chu, who were among the last batch of people at Victoria Park, had waited there for about four hours.
"The entire Hong Kong is out here, that's why I have come, too. It shows how much effort we are all putting in to keep the law from being passed," said Yeung-yin, 16, a student from HHCKLA Buddhist Ching Kok Secondary School.
When asked about what had kept him motivated during the long wait, he said: "Even though it's very hot today, everyone here has been very patient. They didn't give up, so it made me persist as well."
Yeung-yin added that this was his first protest, and he felt it showed how united Hongkongers were.
Alexander, 15, a student from FDBWA Szeto Ho Secondary School, told Young Post the extradition bill was outrageous.
"Hong Kong's freedom has been declining, most notably after the Umbrella Revolution. I really detest the fact that Beijing has been suppressing our freedom," he added.
The first-time protester also said: "When we were waiting [at Victoria Park], we thought that if the law is passed, we can no longer enjoy any freedom in Hong Kong… Being in the crowd waiting [in the heat] is nothing when compared to the consequences we would have to bear if the law is passed."
Alumni, students, and staff from at least 14 local secondary schools, including Diocesan Boys' and Girls' schools, Methodist College, and St Paul's Convent School (Secondary Section), were seen at the march.
"This may be our last time to stand up for our home, liberty, and our rule of law ... The march today is for our future," Charlotte Yee, 17, told Young Post.
The Maryknoll Convent School (Secondary Section) student hoped the march would show government officials and the world that Hongkongers were united, and that they would fight for their home at all costs.
"My parents were concerned about my safety, she added, "but they still allowed me to join the march ... because they think that young people should care more about the society and the world."
Another Form Six student from MCS, who preferred not to be named, said she also joined the protest in the hope that Hong Kong would remain a city governed by "the rule of law, NOT the rule of man". She hoped Hong Kong would continue to be an international city "where people from all walks of life [would] come and leave without fear of being extradited to mainland China".
Four junior students from Sacred Heart Canossian College, Kiara Chu, Joey Leung, Louie Pau, and Christy Leung, said they took part in the protest because they were also worried about Hong Kong's future.
"Passing the proposed amendments to the extradition law would threaten Hong Kong's 'one country, two systems' principle," said Kiara, 16.
Christy, also 16, agreed. "One country, two systems would then become a concept which exists in name only, and Hong Kong's independent judiciary would be undermined," she said.
Fifteen-year-old Louie joined the protest because of her strong sense of identity. "As a Hongkonger, it is our duty to defend our people's freedom."
Joey, 16, shared similar views. "We'd like to voice our opinions and contribute something to Hong Kong, even though we're just teens."
Young Post also spoke to some key members of Hong Kong Fugitive Offenders Ordinance, a group of secondary school students who have been raising awareness of the proposed amendments to the extradition law, before the march began.
Matthew Lee Koon-yin, 19, said he decided to be part of the alliance because he cared about the future of Hong Kong, his "home", and he wanted to stand up for justice.
His fellow member, Yoanna Szeto Yan-yin, agreed. "How can we accept when our home becomes nothing like home any more? I've long wanted to play a part in helping Hong Kong, even if the effect might not be huge," the 17-year-old said.
Another member, Zack Ho Chun-ming, 17, said he understood that not everyone would like to take part in the march. "But as a Hongkonger, I think we should at least be aware of the changes in our city as well as its future development," he said.
Edited by M. J. Premaratne
Hong Kong extradition law: Rallies to be held around the world to protest against controversial bill