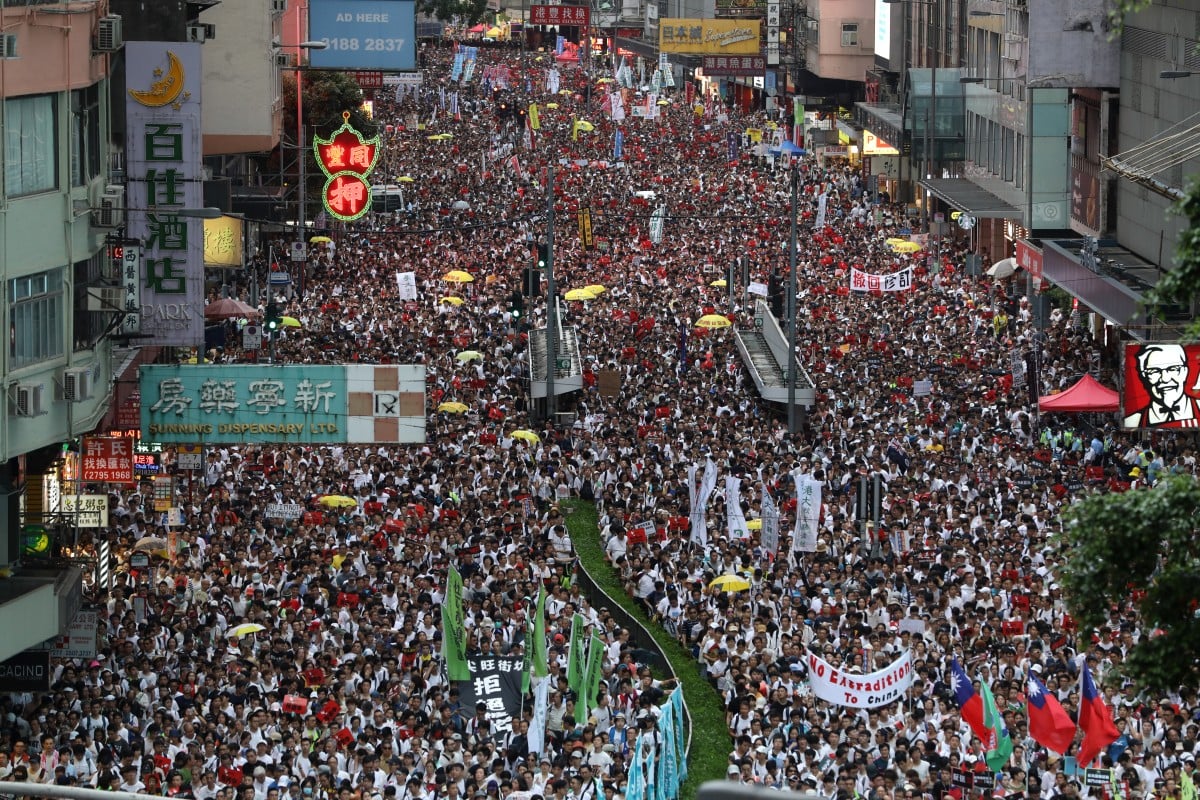 Hundreds of thousands of people marched to Hong Kong government headquarters on June 9 to protest against the extradition bill.
A series of steps by the Chinese and Hong
Kong
governments in recent years have prompted a growing uneasiness among Hongkongers
 about their future, a concern that burst out in a protest by hundreds of thousands of people last weekend.
Many in the city worry the freedoms they enjoy under a "one-country, two-systems" framework are being chipped away at, as both governments use carrots and sticks to draw Hong Kong closer to China's orbit.
The former British colony was returned to China in 1997 under the framework, which guarantees it the right to retain its own social, legal and political systems for 50 years.
September-December 2014: Protesters seeking direct elections for Hong Kong's leader lay siege to government headquarters for 79 days but fail to win any concessions. The movement inspires a new generation of political activists but also builds cynicism about the power of popular movements to effect political change.
October 2015: Four people connected with a Hong Kong publisher and bookshop that published books banned in China go missing. A fifth person disappears in December. Chinese authorities later say they were detained for investigations into criminal activity. The case raises questions about freedom of expression in Hong Kong.
July 2017: Carrie Lam becomes Hong Kong's chief executive, or leader.
January 2018: Gui Minhai, one of the booksellers who disappeared in 2015, is arrested on a train in China while traveling with two Swedish diplomats. Gui, a Swedish citizen, had been released in October 2017.
September 2018: A high-speed rail link opens between Hong Kong and mainland China. Passengers clear Chinese immigration inside the station in Hong Kong, prompting protests from some opposition lawmakers that Chinese law would apply in the immigration area.
September 2018: Hong Kong bans the Hong Kong National Party, which advocates independence for the territory, on national security grounds. The ban is seen as an unprecedented step to quash separatist voices.
October 2018: Hong Kong-based Financial Times editor Victor Mallet has his application to renew his work visa rejected. Authorities won't say why, but it comes after Mallet introduced the leader of the Hong Kong National Party at a Foreign Correspondents' Club event in August.
October 2018: China opens a 55-kilometer-long bridge linking Hong Kong and Macau to the mainland. President Xi Jinping presides over a ceremony to open the link.
February 2019: China announces plans to create a Greater Bay Area encompassing Hong Kong, Macau and neighbouring Guandong province in the mainland to foster economic development. The move is seen as an effort to deepen ties among Hong Kong, Macau and the mainland.
April 2019: Lam's government introduces amendments to Hong Kong's extradition laws that would allow criminal suspects to be extradited to China. Opponents say the changes would damage the territory's legal independence and suspects would not be guaranteed fair trials.
April 2019: A Hong Kong court convicts nine leaders of the 2014 pro-democracy demonstrations known as the "Umbrella Movement." Hong Kong judges were reportedly under pressure from China to hand down heavy sentences to deter future protests.
June 9, 2019: Hundreds of thousands march through central Hong Kong to protest the proposed changes to the extradition laws.
June 12, 2019: A planned reading of the bill at Hong Kong's Legislative Council is delayed on June 12 as protesters demonstrate outside the government offices. The confrontation turns violent with protesters throwing bricks and metal rods at the police, and the police using batons, pepper spray and 150 rounds of teargas, bean bag rounds and rubber bullets. Protesters accuse the police of using excessive force, a claim later backed by Amnesty International. The government lables the protest as a riot and police begin arresting suspects. Naming it a riot means those found guilty can face  up to 10 years in prison. Five of those arrested were taken from public hospitals where they had gone ato seek medical assistance, raising questions as to how the police knew they were there. Lam announces the bill's second reading has been suspended.
June 13, 2019: The city slowly returns to normal, as roads in the area slowly reopen, and some train services resume. Protesters seem undettered. A few hundred gathered in areas surrounding the Central Government Complex, and held peaceful demonstrations against the extradition bill.  
June 15, 2019: Protester Marco Leung, 35, falls to his death from Pacific Place in Admiralty where he unfurled banners calling on Lam to withdraw the bill. The site of his death becomes a shrine during the protests, with thousands of people laying white flowers and lighting candles in his honour. At least 6,000 people, mostly mothers, attended a rally against the bill at Chater Garden in Central. The government announces that the bill is completely suspended with no plan to restart the process.
June 16, 2019: Protesters wearing black t-shirts march on Legco. Organisers say around two million people were on the streets. Police said they only counted peak traffic of the march on the predetermined routes. But protesters shut down Hennessey Road and the roads next to that too. Protesters make public their five demands: 
Complete withdrawl of the bill

Carrie Lam's resignation

Release of all those arrested in connection with the protest.

An investigation into the police actions on June 12.

Retraction of the characterisation of the protest as a riot
June 17, 2019: Umbrella movement leader Joshua Wong Chi-fung is released from prison. Fresh out of jail, he said that he would join the fight of millions of Hongkongers against the extradition bill until the government backs down. Hong Kong's medical sector lawmaker said that he had proof that police can access the Hospital Authority's database to check for injured protesters who were admitted into the public hospital system. 
June 18, 2019:  Carrie Lam apologises for her handling of the bill, but comes short of withdrawing the legislation, despite the demands of the nearly 2 million protesters that marched just days earlier. Hong Kong's public hospital operator also denies leaking patient data to the police. 
June 21, 2019: The siege of Police Headquarters. Furious protesters lay siege to the police headquarters for 15 hours, demanding a complete withdrawal of the bill and the exoneration of arrested protesters. Protesters pelt the building with eggs, while officers maintain a hands-off approach all day. 
June 22, 2019: Scores of people who support the police gather in Chater Garden to protest the accusations against Hong Kong's force and to call for people to respect it. Hong Kong Secretary for Justice Teresa Cheng Yeuk-wah rejects Hong Kong protesters' to not charge their comrades who took part in clashes during an anti-extradition bill protest last week. 
June 26, 2019: About 1500 protesters marched to 19 G20 country embassies to deliver letters, urging governments to speak about Hong Kong matters at the upcoming summit in Osaka, Japan. Their request to each country's government was to support the full withdrawal of the Extradition Bill and the Establishment of an Investigation Committee on Police Brutality. 
Hong Kong extradition law: Live updates from Legco complex as reading of fugitive bill approaches
Hong Kong extradition law: Students explain why they joined mass protest
Hong Kong extradition law: Hundreds of thousands protest against controversial bill
Sign up for the YP Teachers Newsletter
Get updates for teachers sent directly to your inbox
Sign up for YP Weekly
Get updates sent directly to your inbox