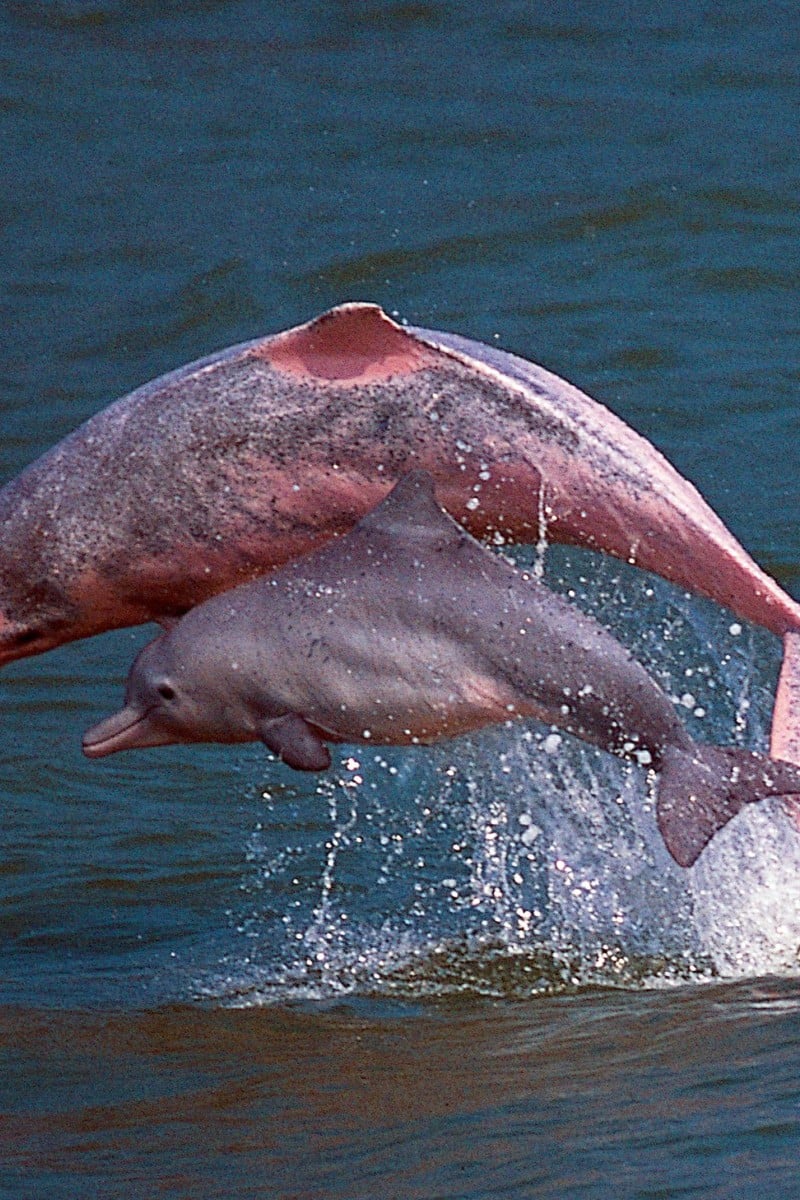 Our city's famous Chinese white dolphins, also known as pink dolphins, could completely disappear from our waters if we don't act now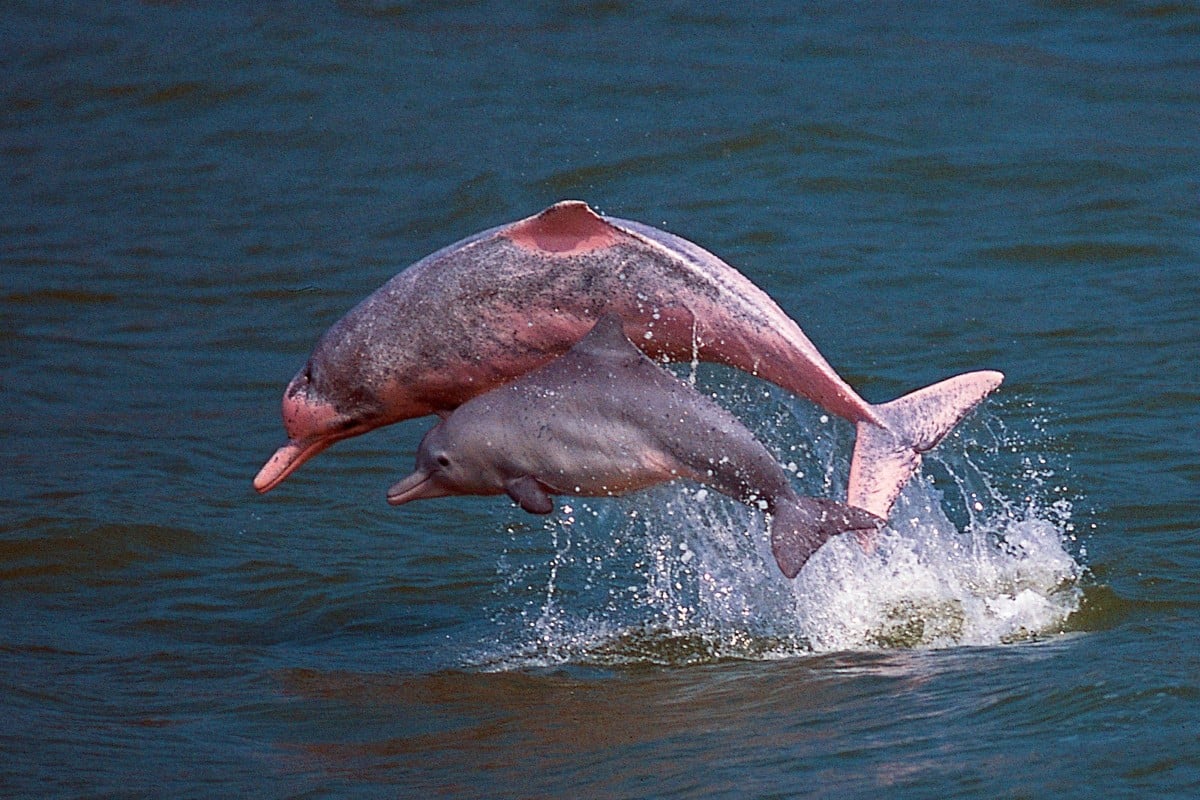 Save us before we turn green!
As Hong Kong rushes to expand the airport and finish the bridge to Macau, everyone seems to have forgotten about the animal most affected by it all - pink dolphins.
But a reader from South Island School wrote to the editor, asking fellow Hongkongers to be more aware of what is happening with these special animals. You can see their letter on the right hand side of the page.
The number of Chinese white dolphins, also known as pink dolphins, off Hong Kong's shores has dropped from 158 counted in 2003 to only 60. Activists say that if a third runway is built at Hong Kong International airport, the dolphins could disappear altogether.
"We think that if that project goes ahead, then it will probably drive the dolphins away from Hong Kong waters," says Samuel Hung, chairman of the Hong Kong Dolphin Conservation Society, who has been going out to sea at least twice a week to track dolphin activity for almost 20 years.
He says the loss of dolphins could be caused by a few things, including overfishing and pollution in the water. "But I think the major contribution comes from the increase of high-speed ferry traffic," he said. He thinks the dolphins have either gone to mainland waters or might have died off.
Dolphin home waters have also been affected by the building of a 50-kilometre bridge connecting Hong Kong to Macau.
The bridge sits on the horizon behind Tai O fishing village, on Lantau Island, from where lots of dolphin tours go out daily.
Hung says land reclamation has taken over some of the dolphins' home waters, forcing them out, while the building noise also chases them away. 
Organisations you can get behind to help Hong Kong's pink dolphins:
Tourist boat operator Wong Yung-kan, who was born in Tai O and has lived there most of his life, said residents used to dislike the dolphins because they ate catch from fishermen's nets, when fishing was the village's most important trade. 
"Now the fishing industry has reduced in size, we have had to change our line of work from fishing to taking tourists out on boats to see dolphins," says Wong, 67.
Dolphin-watching makes up 10 per cent of Tai O's tourism business. 
But Wong says he is optimistic for the future - but if the worst happens, villagers will adapt as they did before.
"If this species has to go extinct, there's nothing we can do about it. We can find another way to make a living. People know how to cope with change," says Wong. 
The government did not answer the news agencies questions but said the potential impact of a third runway on pink dolphins had been "properly assessed and addressed".
"To compensate for the permanent loss of Chinese white dolphin habitats arising from the land formation works, the designation of a new marine park of approximately 24 square kilometres in the waters north of the third-runway project has been proposed," the statement from the Agriculture, Fisheries and Conservation Department said.
But campaigners and animal conservationists criticised the plan, saying the marine park would not be built until at least 2023, when reclamation work for the third runway is expected to finish.
"We don't even know whether the dolphin can hang on and survive and wait," Hung says. "They don't realise that there is more disaster waiting for them."
Last month a parent of one of the students at our school, Mrs Walker, who is also a representative from the Hong Kong Pink Dolphin Watch, talked to us about the dangers that dolphins face every day. 
She told us that there are about 61 Chinese white dolphins left in Hong Kong's waters and that they are on the verge of extinction. 
In 2003, there were about 158 dolphins. In the last 12 years, the numbers of dolphins has decreased by 91 or more to around 60 now. 
Five years ago, in 2010, 17 dolphins were found dead. People may think or say that this is still okay, and it's natural for some to die. But dolphins can only reproduce once a year and then they spend about three years tending and nurturing their young. So 17 deaths is quite significant.
There are more than a couple of reasons why these peaceful creatures are dying out. One is to do with pollution. Sewage ends up in the water, and the dolphins swim through it. As they swim through this polluted water, it enters their bodies. When female dolphins feed their young with their milk, the milk has some of the absorbed toxins from the water. So essentially, dolphin calves are drinking poisoned milk.
Another problem is overfishing. Dolphins only eat fish. This is a huge problem in Hong Kong because we take too many fish out of the sea, meaning there are hardly any left for the dolphins to eat. 
What's more, we also dump rubbish into the sea. Some dolphins may eat or get stuck in this rubbish. Some recent examples are Ringo and Ropey. 
Ringo has a line running from her face to her dorsal fin that was caused by an unknown piece of rubbish.
Ropey, on the other hand, got tangled up in something that caused his dorsal fin to be pulled back. Ropey and Ringo are the lucky ones. Some dolphins die after being strangled by rubbish or being seriously injured by boat propellers.
I hope that these clever, friendly dolphins do not share the same fate as the baiji dolphins, or Yangtze River dolphins, which are now extinct. It would be really sad if we lost another interesting type of dolphin to extinction.
Soham Chopra, 11, South Island School
Sign up for the YP Teachers Newsletter
Get updates for teachers sent directly to your inbox
Sign up for YP Weekly
Get updates sent directly to your inbox