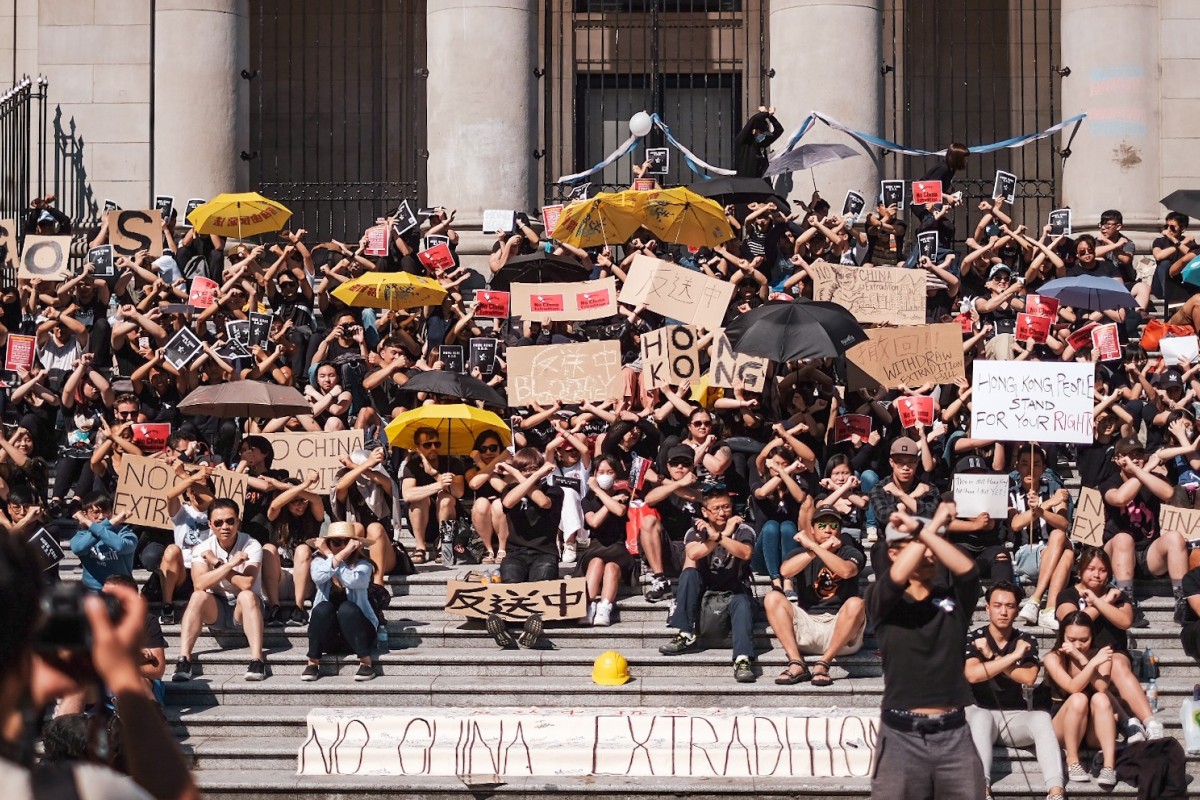 Students gathered in front of the Vancouver Art Gallery in Canada for a sit-in protest.
Hundreds of people attended protests, assemblies and news screenings over the weekend in multiple cities across the globe to oppose Hong Kong's proposed extradition bill and condemn what they see as the police's excessive use of force during last the clashes on June 12. 
There were a total of 39 gatherings in countries such as Australia, Britain, Canada, South Korea and the United States. Some of the rallies were organised by university and secondary school students from Hong Kong. Most participants wore black and held signs and banners that read, 'No China Extradition', 'Support Hong Kong', 'Carrie Lam resign', 'Don't shoot our people' in a show of solidarity with the nearly two million marchers who took to the streets in Hong Kong on Sunday, June 16.
"I felt the responsibility to support my hometown and the protesters that risked their lives to protect the city," said Christy Leung of the University of Queensland, who was one of the organisers of a march in the Australian city.
The 21-year-old said their ultimate goal was to urge governments of different countries to express their concern about the situation in Hong Kong and exert pressure on the Hong Kong government to completely withdraw, rather than suspend, the bill and look into the use of force by police on demonstrators.
"Combining the power of protesters in Australia and countries around the world, we want to express our frustration with the [Hong Kong] government's ignorance toward public opinion and abuse of power," Leung said.
An organiser from Vancouver named Joe, who preferred not to reveal his last name, said Carrie Lam's written apology on Sunday was merely a political technique to provide a buffer to international pressure. He said international students in Canada can exercise their freedom and human rights, which made him want to speak up and assist those who suffer from injustice in Hong Kong.
"As I watch protests and police brutality unfold on the news, it's easy to feel hopeless and helpless...But I want to let Hongkongers know they're not alone on the road to freedom," said Joe, who has just graduated from high school in Vancouver, Canada.
Some demonstrators went on a 48-hour hunger strike in the US city Los Angeles. Among them was Lau Hak-wan, a psychology professor at the University of Hong Kong and University of California, Los Angeles.
In his interview with local media Apple Daily, he said many of his friends in the US had returned to Hong Kong to participate in the demonstrations, but he decided to stay in order to raise awareness of the issue in America.
"People might think going on a hunger strike is useless. We're not trying to get the sympathy of the ones in power, we are not that naive, but we're doing the most we can here in Los Angeles," Lau said.
Hong Kong extradition law: Chief Executive Carrie Lam offers personal apology on poor handling of bill
Hong Kong extradition law: Police chief clarifies labelling of June 12 protests as a 'riot'
Hong Kong extradition law: Journalists Association files complaint accusing police of violence against media at fugitive bill protests
Sign up for the YP Teachers Newsletter
Get updates for teachers sent directly to your inbox
Sign up for YP Weekly
Get updates sent directly to your inbox