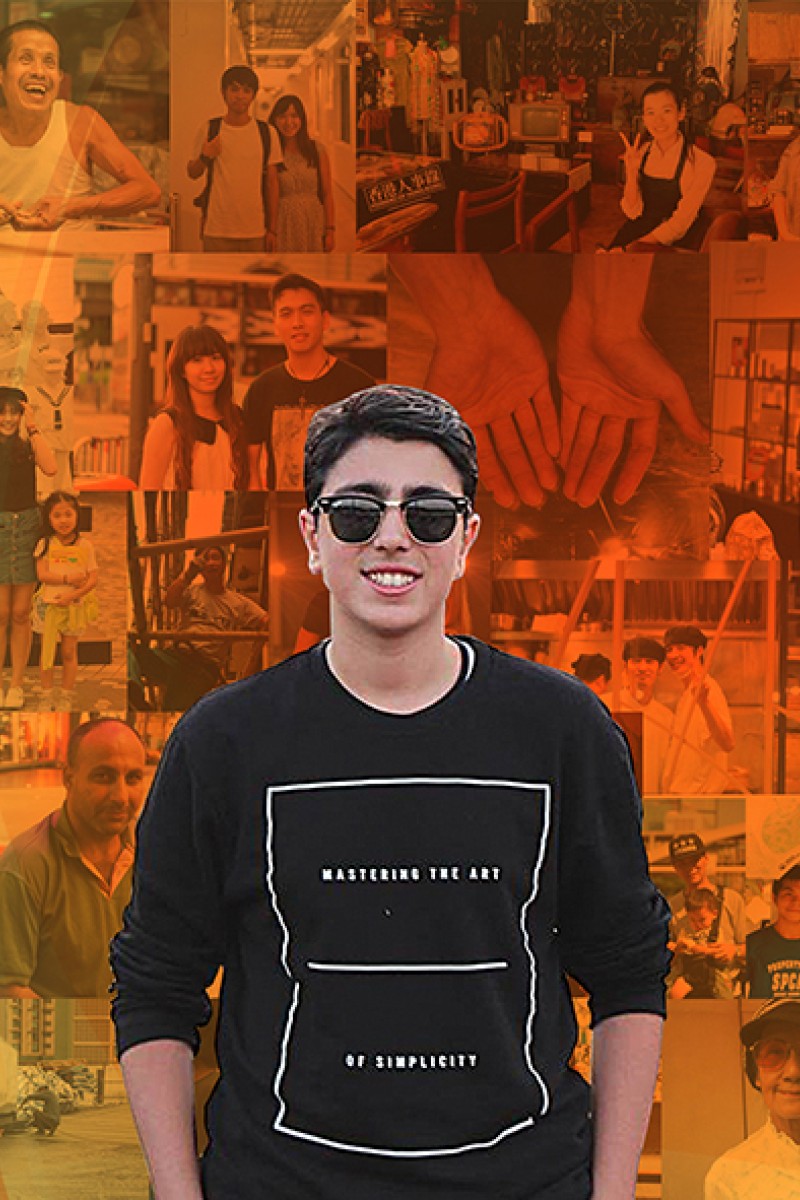 A HK blog inspired by Humans of New York is gaining steam by featuring photos of students from across the city. YP reader Daanyal Ebrahim meets Devain Doolaramani
By Daanyal Ebrahim, with additional reporting by Tiffany Choi
|
Nearly 13,000 kilometres away, over the Pacific Ocean , lies New York. The huge US city is filled with people from all over the globe, each with their own story to tell.
That's why it was the perfect place to start the movement, Humans of New York (Hony). It's a photoblog that documents and shares the inspiring and unique stories of citizens. And now Hong Kong is getting in on the action.
Humans of New York and Humans of Hong Kong (HoHK) both feature photographs of different people along with a short interview. Hit "like" on the HoHK Facebook page and your feed will regularly feature new photos and quotes, introducing some of the many faces and stories of this city.
Founder Devain Doolaramani is currently studying for the IB at Island School.
He lived in New York for 16 years, and was inspired by photographer Brendan Stanton's Humans of New York. When Devain's family relocated to Hong Kong, he wanted to see whether the Hony concept would work here, too.
In October 2014, he proposed the idea of "Humans of Island School" to his school's Students' Union as a way to spread school spirit.
After four months, this had grown to Scholars of Hong Kong, showcasing the talents, interests and hobbies of local students.
In April 2015, Humans of Hong Kong was born. Devain founded the Facebook page to encourage others to share their unique, real-life stories and views.
"I took the idea of sharing unknown stories from Humans of New York - but the stories I share are different than those that they share," Devain told Young Post.
In the beginning, HoHK only focused on students from international schools due to the language barrier, but it has started to involve local non-students as it grows.
The goal of Humans of Hong Kong is to unite the city and share stories, advice, talents, and any other things that might broaden the readers' knowledge.
Featured students get an opportunity to have their voice heard, and fans can read stories that they wouldn't have otherwise found.
"I think people can get a new outlook on life because they are learning something new with every quote," Devain says.
It's not always easy to interview random people: "Some people are in a rush, or don't want to be featured for privacy reasons," he adds. Nevertheless, HoHK is quickly growing in popularity, with more than 4,100 Facebook fans currently tuned in to the page's regular updates.
The hundreds of likes and comments on each post is all the encouragement Devain needs.
And the group's Facebook fans seem eager to do more than just follow. When he reached out for volunteers to help him grow the page, he received responses from both students and non-students.
At the moment, Humans of Hong Kong mostly features faces found in schools. But as the HoHK team expands, so does the project's ambition to involve more Hongkongers.
"We want to keep expanding - covering more and more people, sharing more stories, bringing the Hong Kong community together," Devain explained.
In the near future, Devain wants to expand his team so more stories can be documented. When people submit photos, they should be high quality and preferably taken with a real camera instead of a smartphone.
This is because Devain believes a good photo is much better at attracting attention from readers on Facebook.
An interesting quote is equally important - HoHK wouldn't work without the words behind the pictures.
As Devain and his team keep adding to HoHK, there are limitless opportunities to hear unique stories, share opinions and get to know fellow Hongkongers a little better. Devain hopes to encourage the people of Hong Kong to be outspoken, expressive, but above all, just be themselves.
Find Devain's HoHK project at Facebook.
Sign up for the YP Teachers Newsletter
Get updates for teachers sent directly to your inbox
Sign up for YP Weekly
Get updates sent directly to your inbox