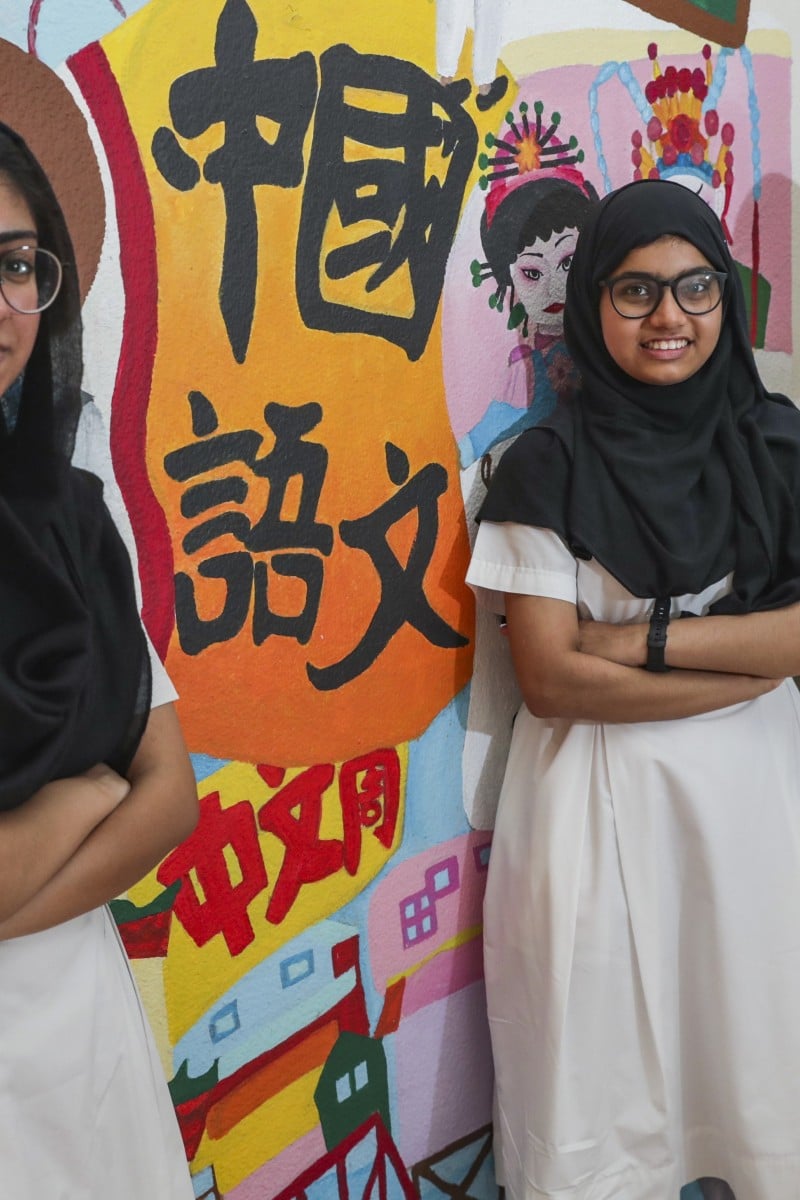 Fears raised that students who do not speak Chinese are being let down by curriculum that prevents them reaching higher standards in local language
South China Morning Post
|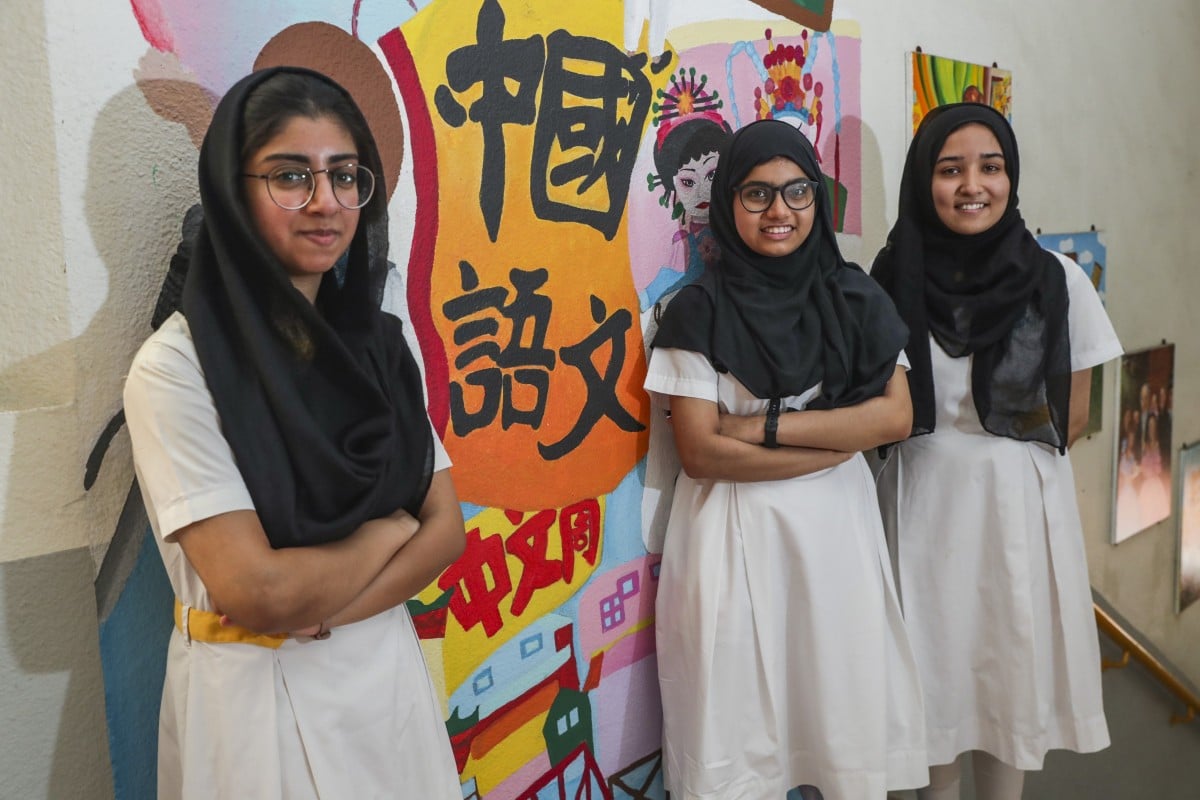 Bisma Naz, pictured (left to right) with Rani Maryam and Alina, feels she and others in a similar position could receive more help with learning the Chinese language.
Eighteen-year-old Bisma Naz saw her hard work pay off on Wednesday when the results of her university entrance exams exceeded her expectations.
The Pakistani-born and locally raised teenager was surprised to rack up 24 points in this year's Hong Kong Diploma of Secondary Education examinations (DSE).
Naz was among the 55,000 full and part-time candidates who took this year's exam, in which students were graded for most subjects on a scale of 1 to 5, with 5* and 5** being the best available.
HKDSE 2019: Exam results reveal 12 top scorers with 5** in seven subjects
"I work hard to get good grades at school and receive scholarships so that I can use the money to buy supplementary books for improving myself," said the student of HKTA The Yuen Yuen Institute No 3 Secondary School.
She attained level 5* for English, 5 for liberal studies and geography, and 4 for mathematics and history.
"I know I will get a pass for everything but I wasn't really expecting myself to do that well. The scores really show that hard work does pay off," said Naz, who studied for 10 hours every day.
Despite her better-than-expected results, Naz and many other ethnic minority students still faced difficulties with their studies, including uncertainties in pursuing university courses, because of what they have described as a lack of support for learning the Chinese language.
Naz picked a degree course in education or the arts at the University of Hong Kong (HKU), as she knew it recognised her GCSE in Chinese.
The GCSE is taken by many ethnic minority students as an alternative to DSE Chinese, a core subject for Hong Kong students taking the university entrance exam.
Time for change: this Sikh Hongkonger, a Chinese University medical student, wants to transform attitudes towards ethnic minorities
But according to Phyllis Cheung Fung-mei, executive director of Hong Kong Unison, a non-profit organisation assisting ethnic minorities, while the GCSE was designed to be easier than DSE, it was harder to get some universities to recognise the qualification.
"Although all UGC-funded (University Grants Committee) universities accept these alternative qualifications with minimum requirements, not all programmes have clear guidance on the conversion of alternative Chinese examination results to DSE scores.
"Hence, students do not know what the final DSE points are and are disadvantaged when they apply to schools.
Another Pakistani student, who wished to be known only as Alina, said the recognition issue surrounding GCSE Chinese results had limited her choices of university courses.
Scoring a total of 19 DSE points, the teenager recorded level 4 in Liberal Studies, 3 in English and Biology, 2 in Mathematics, and 1 in chemistry, Alina added she was "very scared" about her DSE results.
Letters from the Dorm: Part of studying overseas is accepting that I am now an ethnic minority
"I was expecting a little more, but it turned out that it didn't go so well. I'm thinking I might change my courses because my scores cannot meet the requirements of the courses I want," the 19-year-old said.
Alina hoped she could still pursue general studies for primary school at Education University, or a science degree at HKU.
Alina and another Pakistani student, Rani Maryam, said they also faced obstacles studying subjects taught bilingually, as they had problems understanding the technical aspects when classes were conducted in Cantonese, and they had to take extra tutorial classes organised by the school.
What it's like to grow up an ethnic minority in HK, and why the Diversity List is needed to address our city's discrimination
"We were very frustrated. We wanted to give up and feel so hopeless sometimes," said Maryam.
Test results for this subject also highlighted the disparity between local and ethnic minority students.
"Sometimes the local students get 90 plus marks out of 120, but for foreign students we mostly get 40 or 50 something marks. We actually felt so bad seeing the mark difference," she added.
Discrimination, misconceptions, career options, and why these HK students don't want to be labelled "ethnic minorities"
"If we want to understand these subjects more clearly, I think we have to learn it in one language," added Alina.
Despite the setbacks, these students did not see their DSE results as obstacles to their future.
Maryam said she would remain optimistic and consult her teachers for advice.
Ethnic minority students in HK lack support and Cantonese assistance at local schools
"If I am already disappointed now, I wouldn't be able to make good solutions. I'm just trying to think positive," said Maryam, who scored 20 marks for her DSE.
"I don't really consider it as a failure, there are other things I still can study in the future."
Maryam planned to get an associate degree and will look into enrolling in science or teaching courses.
Sign up for the YP Teachers Newsletter
Get updates for teachers sent directly to your inbox
Sign up for YP Weekly
Get updates sent directly to your inbox