The student group made their decision official over the weekend, inviting secondary school students to stay away from lessons alongside the Hong Kong Federation of Students next Friday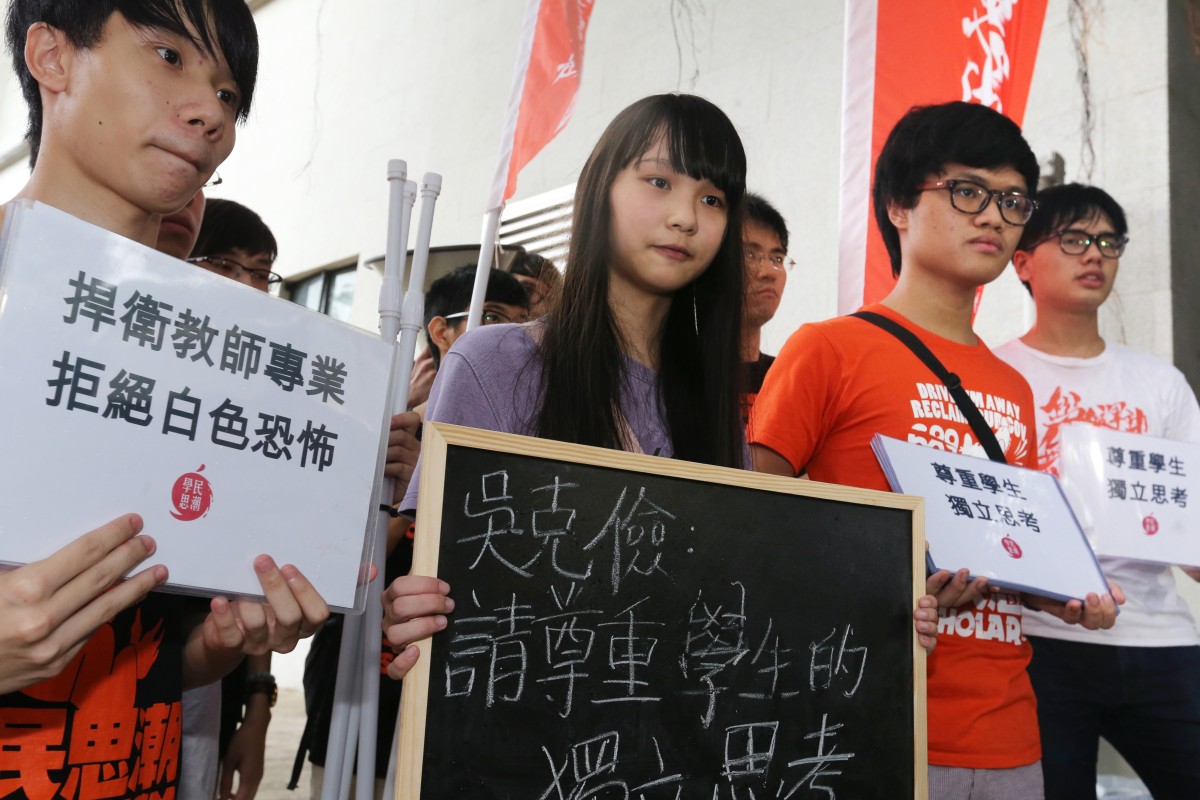 Chan Chi-kai, 19; Agnes Chow Ting, 17; and Chung Lai-him, 19, have a message from Scholarism.
Scholarism announced it will organise a one-day class boycott in secondary schools on September 26.
The decision by the student group was to support the class boycott organised by the Hong Kong Federation of Students. "The federation's class boycott will start on Monday and end on September 26. We chose to have our class boycott on the day to show that we plan to escalate the action," says Agnes Chow Ting, a core member of Scholarism.
On Saturday, members of the student political group gathered outside the government headquarters to announce this decision. The members covered their eyes with red cloth as they read out a pledge for the class boycott to show that young people are not blinded by Beijing's ruling.
Chow stressed that the class boycott is not to encourage students to quit school. "I hope more than 100 students will not attend class on the day and join the demonstration. We have invited a number of academics to host classes on the street. We'll boycott class but we are definitely not boycotting learning," she said.
There is a huge amount of pressure on secondary school students to decide whether they should participate in the class boycott, and Chow hopes students will discuss the issue with their parents.
"Scholarism has already prepared a document for parents to sign to support their children boycotting class. If students are not able to leave school on that day, they can wear a yellow ribbon to school to show their support, and attend the demonstration after class," she says.
The location where students will demonstrate will be announced on Friday.
In response to the upcoming class boycotts, Secretary for Labour and Welfare Matthew Cheung Kin-chung said secondary school students are immature and they should discuss with their parents how they should express their political views. "Students should put school as their number one priority," he said.
How do you feel about the class boycotts? Give us your opinion by taking our survey!


Watch our video interviews from the 9.22 university class boycott
Sign up for the YP Teachers Newsletter
Get updates for teachers sent directly to your inbox
Sign up for YP Weekly
Get updates sent directly to your inbox