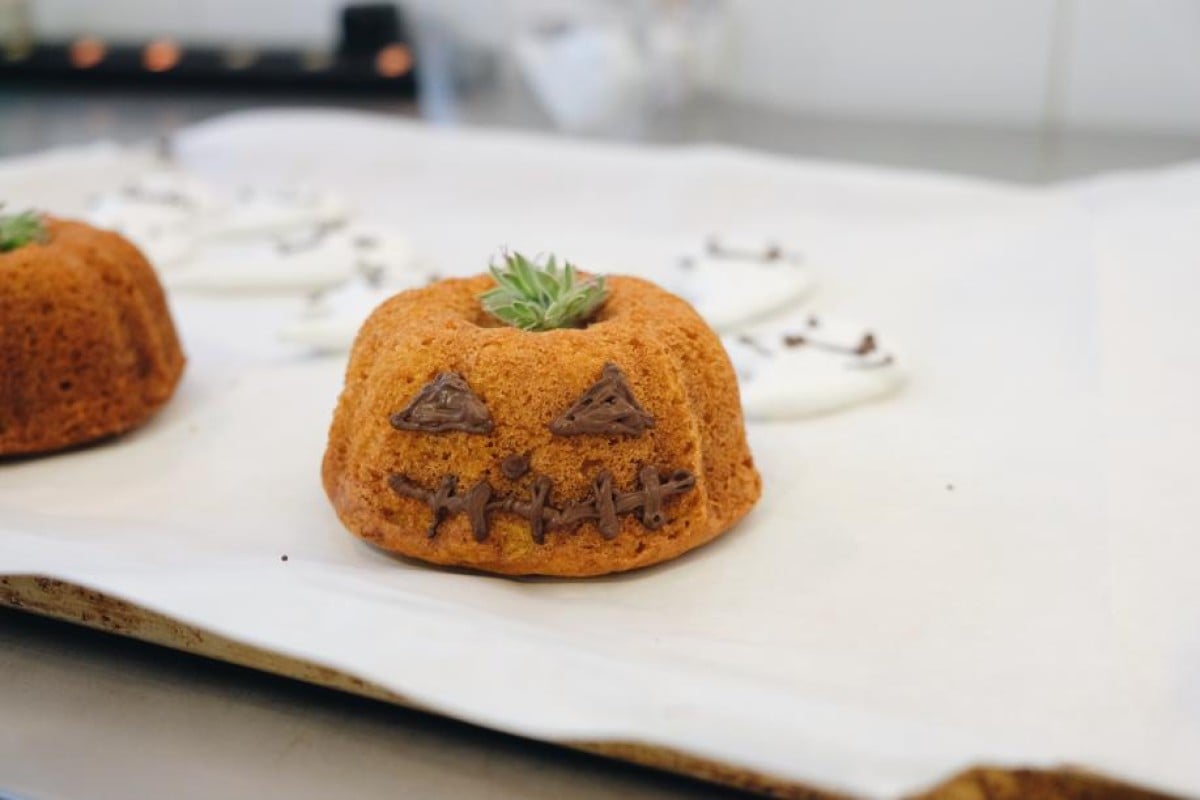 This spooky-looking pumpkin cake was made with no milk or egg!
With less than a week to go until Halloween, a local young pastry chef set out to prepare some festive treats – with a twist. Every delicious delicacy she made was vegan. This means she doesn't use any animal products in her cooking, including eggs and milk.
A pumpkin cake that looked like a jack-o'-lantern, was made mostly with pumpkin purée, and a ghost-shaped vegan meringue was made of aquafaba, or chickpea water, to replace the egg white used in a regular meringue.
The brains and hands behind these spooktacular desserts is Yuki Chan Hoi-ying, who earlier this year founded Hong Kong-based vegan artisanal cake brand The Vege Lab. Chan, 22, graduated from the University of Hong Kong with a degree in social sciences in June, but has since started down a career path that is not at all what she expected.
The top 7 vegetarian and vegan restaurants to try in Hong Kong this World Vegetarian Day
Chan started her vegan baking journey after she spent time in Sydney as an exchange student last year. 
She had been a vegetarian – she ate no meat or fish, but hadn't cut out egg or dairy from her diet – for two years by then, and was surprised to see how much more animal-free food she could find in Australia compared to Hong Kong. "Vegan food was everywhere in Sydney – from in the local farmer's market to cafes around the corner," she said.
Inspired by how popular veganism seemed to be there, Chan decided to channel her passion for an animal-product-free diet into baking by following online recipes and swapping animal products with animal-friendly ones instead.
The self-taught pastry chef now sells more than 15 styles of cakes and treats on her website. She also supplies some local coffee shops with desserts each week.
How to make sure you get all your essential nutrients on a vegetarian diet
Chan said she knows there are not many places in Hong Kong that offer vegan options. This is true especially for restaurants that serve local cuisine. However, she believes more people are becoming aware of veganism, and are becoming more willing to give it a try.
"Veganism is not as popular in Hong Kong, but it's getting better now. People are more into vegan food now." Chan, who has more than 4,500 followers on her Facebook page, said she gets compliments on her desserts all the time, and queries about how she makes them.
Many people are curious to know how she is able to bind all her ingredients together and prevent her cakes from being dry without using eggs and milk. "I use organic chia seeds and flaxseeds to give my cakes a fluffy texture and extra nutrients," she said. "And I usually use soy milk, almond milk, cashew milk, or oat milk instead of dairy milk."
She added that these products make her cakes better for the environment, which is also one of the reasons she decided to become a vegetarian, and later a vegan. "I wanted to protect the environment and the animals, and I wanted to do something for the Earth, so I chose to cut animal products out of my food."
Talking Points: Should the government enforce a meat-free day each week?
Chan is now five months into running her cake company full-time. Despite having made a career choice that is far from anything her fellow graduates made, Chan said she is happy and still wants to keep pursuing her passion – and that others should do the same when the time comes for them to decide what to do with their lives.
"I think it is okay to give yourself more time to explore your passion and to give different things a try until you find something you really enjoy doing. You never know where your passion will take you."
Edited by Nicole Moraleda
Sign up for the YP Teachers Newsletter
Get updates for teachers sent directly to your inbox
Sign up for YP Weekly
Get updates sent directly to your inbox