Throughout the week, Hong Kong students have been boycotting classes to protest against Beijing's ruling on the 2017 chief executive election. While the situation in Hong Kong has simmered to near boiling point, on mainland China there's been a severe lack of media coverage. Shenzhen resident, web reporter Young Wang breaks it down.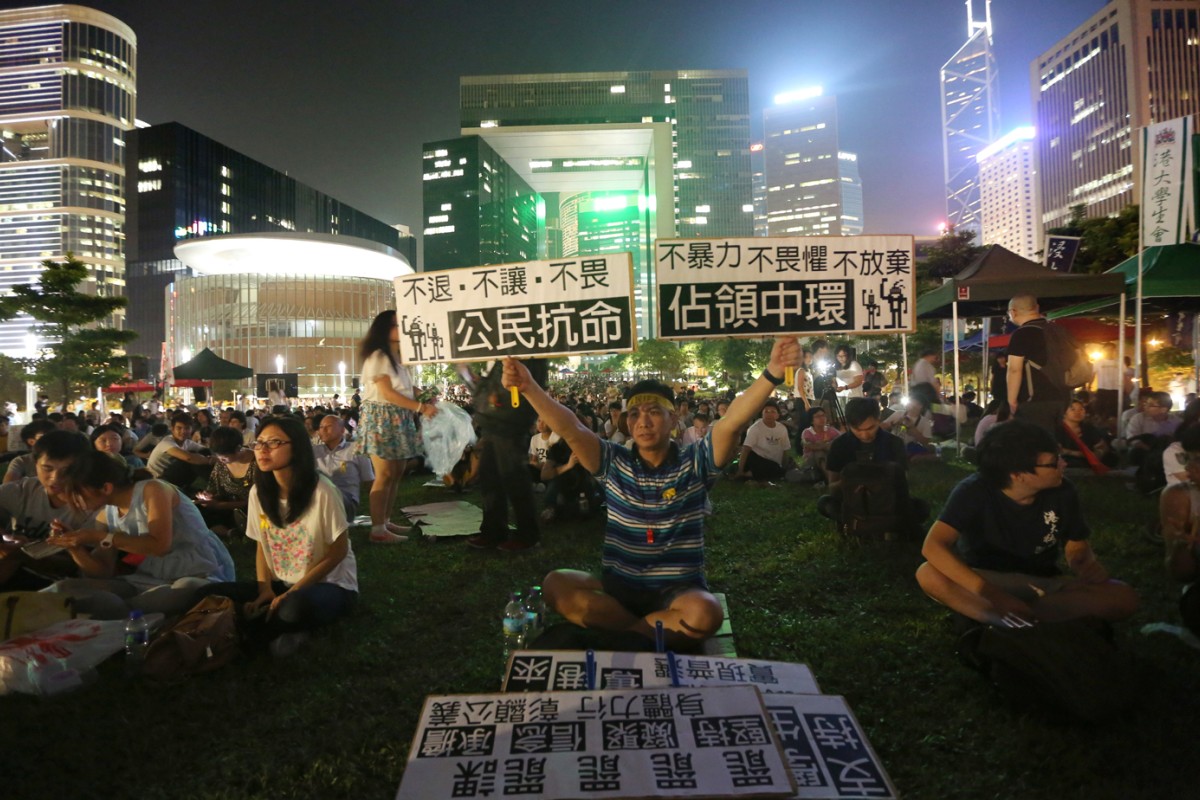 Students protesting at Tamar Park on Thursday night.
Hong Kong students have been boycotting classes for a week to protest against Beijing's ruling on the 2017 chief executive election. They hope their voices are strong enough that the Beijing government might listen and eventually change its mind about its restrictive ruling.
Has Beijing heard their voices? I don't know, but ordinary Beijingers probably know nothing about this week's events.
On Monday and Friday, I reported on the protests live from CUHK and Tamar. I posted some photos onto my Wechat Moments (a mobile phone text and voice messaging service much like Whatsapp) later saying Hong Kong students are on a strike. I got dozens of replies asking me what they are protesting against. 
A friend in Beijing who works for a national media outlet said, "I wouldn't know this is happening if I hadn't seen your post."
Maybe it's just that my friends on mainland don't follow Hong Kong news, I thought, while I went online to look for coverage from across the border. To my surprise, almost none of the mainstream media mentioned a thing about the week-long boycott, including the Southern Metropolis Daily, which has a reputation for outspoken reporting.
It's not in newspapers, not on news websites, and not on TV.
The only prominent "coverage" came from the highly controversial Global Times, who published an editorial on Monday saying, "They've [democracy activists] put all of their energy into fighting the central government, but they should shift their focus to the root of Hong Kong's problems, which cannot be blamed on the central government or mainland tourists."
I then switched to Sina Weibo, the Chinese version of Twitter. Even with today's events escalating since morning, by Saturday night, protests in Hong Kong still hadn't made it to the hot topics on Weibo.
Not only that, I don't see any Big V - popular microbloggers – posting about it. Some users who live in Hong Kong, or have friends in Hong Kong, posted what they have seen or heard. Some posts were censored while others survived. However, they didn't get many responses or reposts. The most popular one was posted by singer Denise Ho Wan-see, with a photo of her speaking on the stage at the rally, thanking the students and citizens. More than 200 comments under her post vary from "Hong Kong needs freedom! Support Denise!" to "students are (just) the guns of politicians".
So, generally speaking, it seems mainlanders neither know much about what Hongkongers are fighting for; nor do they care. The only friend of mine who has shown interest is a reporter, who used to live in Hong Kong and still has close connection with Hong Kong media.
Sign up for the YP Teachers Newsletter
Get updates for teachers sent directly to your inbox
Sign up for YP Weekly
Get updates sent directly to your inbox