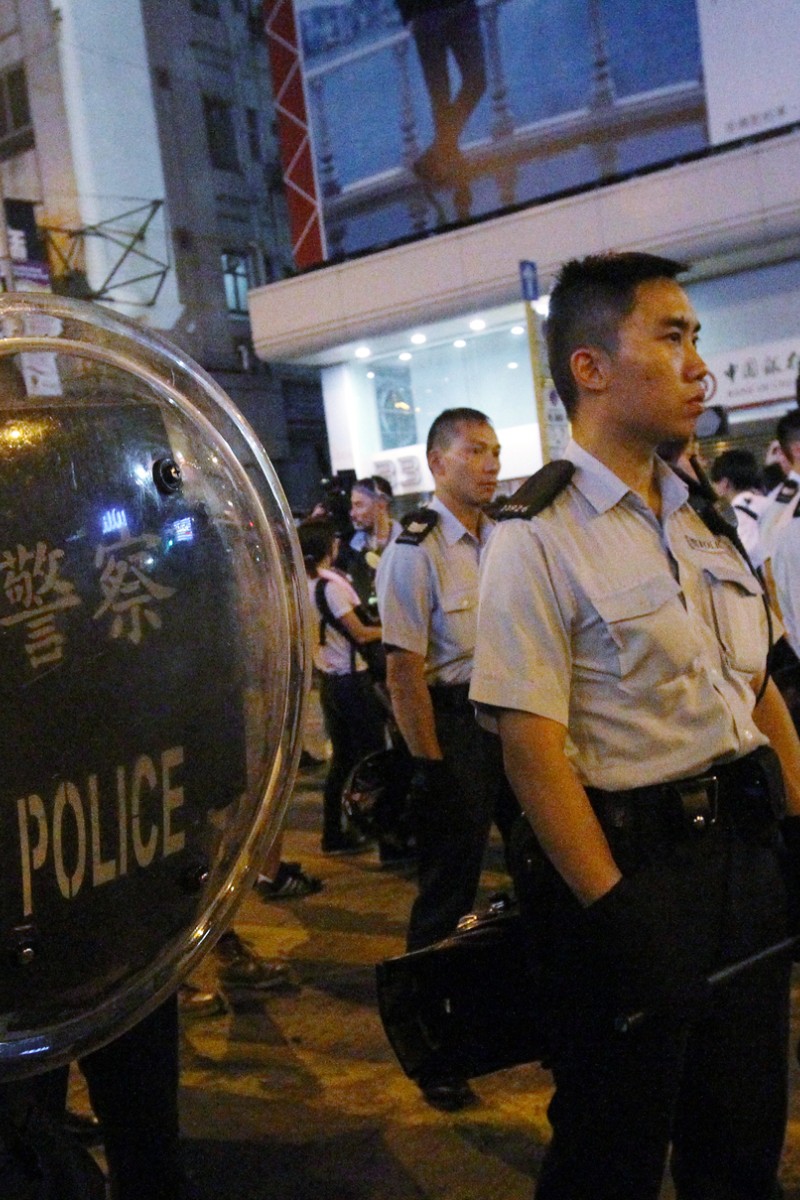 As the intensity of Occupy Central increased last week, we asked three students to share with us their experience and thoughts on the movement and how it affected them
By Jessie Pang, Hong Kong Baptist University
|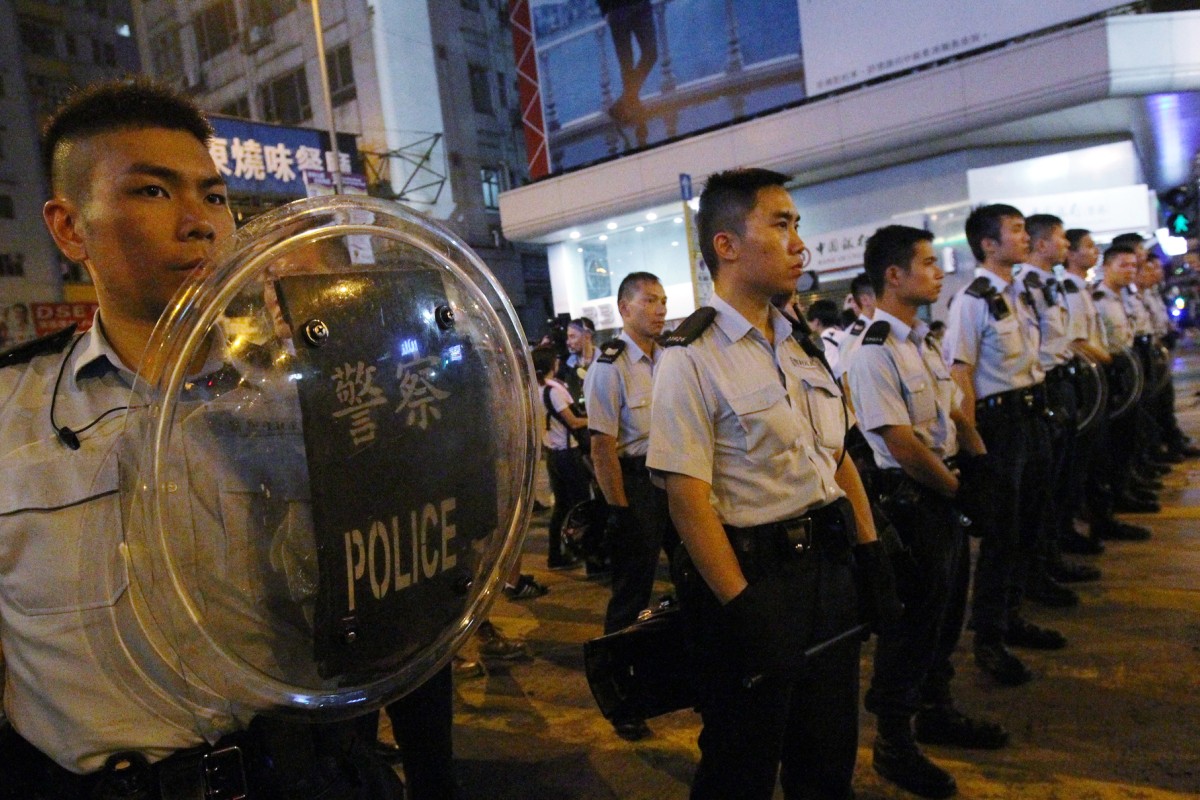 Police officers stand guard in Mong Kok
I have been involved in the class boycott and Occupy Central for 18 days already. To be honest, I didn't plan to join Occupy Central - once, I'd thought about joining its volunteer team. However, Occupy Central became the only option to many of us after recent events and the government's refusal to halt the current unjust and unideal political reform proposal. 
I joined the class boycott because I really want true universal suffrage in 2017. Winston Churchill said, "It has been said that democracy is the worst form of government except all the others that have been tried." Although democracy can't solve all the social problems in Hong Kong, the people of the city need to be able to choose people in the government, so they can believe they are really acting in their interests and act according to people's will, instead of ignoring them and just making the same, empty statements over and over like a recording.
Joining the class boycott has, of course, affected my studies. But then anything that's not actual school work – dating, serving on a committee, a part-time job, etc – affects your studies. According to Professor Hui Po-Keung, who talked about how to boycott classes without stopping learning: "If you do not process the things you learn, you are not learning, you are just copy-and-pasting things others have already learned. In other words, you are still boycotting class; you are boycotting yourself from learning." While I've been taking part in the class boycott, I've been learning new things from the public lectures every day. I've even found a new love of learning, which  will continue to foster my university studies. 
Many had argued that the class boycott wouldn't bring any change; others doubted many people would even participate. It's not wrong to consider consequences of such action; but if everyone thought this way, our society wouldn't be as free as it is. I am glad that so many universities and even secondary students joined the class boycott. Discussing and learning together has changed us all. The desire for universal suffrage will stay in this generation forever. To me, this is another achievement for the class boycott.
Many of us thought things would come to an end peacefully on Friday (Sep 26). I didn't expect much to change, so I left at 6pm. But then HKSF and Scholarism committee members, and other protestors entered Civic Square. Most of my friends were still there; some had even stormed Civic Square. That night turned out to be a nightmare. No one expected the police to use so much force to clear the area. There were rumours everywhere, every few minutes, and nobody knew what was going on. I couldn't sleep at all and cried a lot, but there wasn't much to be done. I just kept watching the news broadcasts, checking Facebook and Whatsapping my friends who were there. They were all so fearless and selfless. One even wrote his life had collided with democracy and freedom. In the end, one of my friends was detained by the police and many were hurt by the pepper spray. Seeing how the government treated her citizens and how determined my friends were, I felt very guilty morally so I made up my mind to join the Occupy campaign regardless of the consequences. 
Next morning, I rushed back to Tim Mei Avenue and started to team up with Young Post to report on the scene, on things as they happened. This was the only thing I knew, and could do for my friends. I was a bit scared but the fear was soon consumed by hope. It was a scene full of hope. People were helping and cheering each other up. Many volunteered to help: to direct crowds, hand out supplies, work at the first-aid station, or help the back-up team. Citizens also kept donating supplies needed by the protestors. People often say the city is dying, but I can tell you that the city has been reborn in the past seven days. It has become a utopia that everyone wants to live in. We have proved to the world that Hong Kong's core values are not money and money, but freedom and democracy. 
Many said those who join the Occupy Central campaign are blind followers. They are wrong. While taking photos for Young Post's Humans of Occupy Central project, I chatted with many protestors. They all come from different walks of life and have different reasons to attend the protest. The most impressive answer was from Fat Chai, a vocalist with indie band NewYouthBarberShop. He said he had come because he wants true universal suffrage. It's just that simple. This simple reason was what drove many Hong Kong people to take part in this civil disobedience, even if it meant paying a high price. How can you not proud of being a Hongkonger? 
There have been many rumours about what's happening in the occupied areas, especially after Mong Kok was occupied. I have lived in Mong Kok since I was born, and had never realised how much people stereotyped Mong Kong and Mong Kok people. I occupied Mong Kok almost every day. It was very peaceful until the anti-occupy central campaign protesters and masked mobs came and attacked people beginning Friday night (Oct 3).
I wasn't there. However, hundreds of photos and videos show that they punched Occupy Central protesters, tore down banners, slashed tents with scissors and even sexually assaulted female protesters. I was very angry. If you don't agree with what the protesters are doing, you can always choose to express your views in other peaceful ways. The use of violence should be condemned no matter which side you take.
To make matters worse, the police weren't able to protect the protesters. Instead they seemed to show favour and some even cooperated with the mobs. Many witnesses saw officers arrested people and then quickly released them after. A man was even caught by a reporter to be arrested and released three times on the same day. Nevertheless, the police mentioned nothing about that in their press conference. They just kept saying that things happened because the Occupy protesters were unwilling to leave. I was very disappointed by their performance and no longer trust or respect the police anymore. They also made me realised the adult world is much more complicated and darker than I originally thought. They changed ideas and views I have learnt since I was a kid. How can I continue to teach the next generation about what's right and what's not when I'm no longer sure myself?
Lastly, I sincerely apologise to people whose jobs, businesses and lives are affected by the Occupy campaign. We know there's no way for us to compensate your loss. However, I still hope you will be tolerant and support us. If we lose this fight, this generation will lose their faith and passion in pursuing democracy. And if the youth loses hope, the city will die for sure.
 
Also, take a look at the other two student blogs
- Charlotte Chan, German Swiss International School: Your protests have those of us who just want to work
- Nastassja Chan, Sha Tin College: It is the best of times, it is the worst of times
Sign up for the YP Teachers Newsletter
Get updates for teachers sent directly to your inbox
Sign up for YP Weekly
Get updates sent directly to your inbox