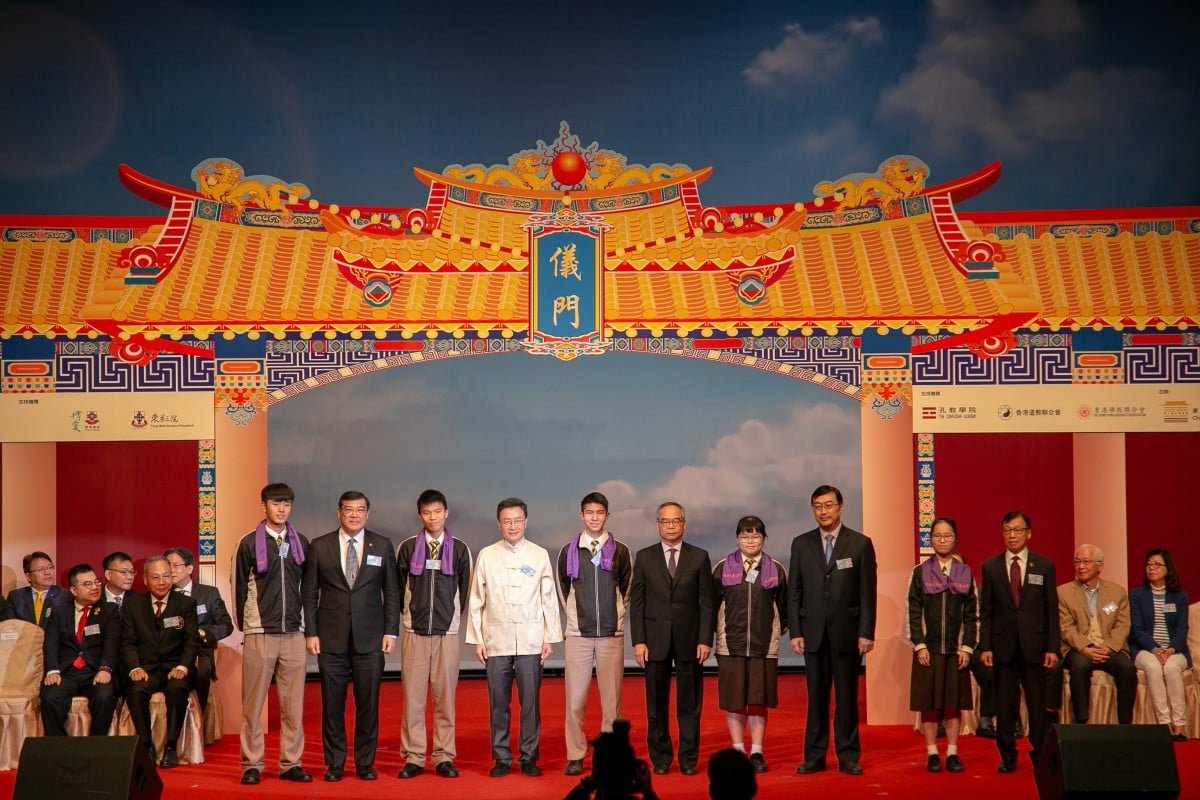 Student representatives stand on stage in front of the yi men, joined by several guest speakers.
More than 2,000 students in Hong Kong took part in the city's first mass coming-of-age ceremony at Queen Elizabeth Stadium on Wednesday.
Students aged 16 or above from 18 local schools were invited to walk under a 12-metre-high "Gate of Rites" or yi men, to mark their transition from adolescence to young adulthood.
It was Hong Kong's first large-scale coming-of-age ceremony, co-organised by the Home Affairs Bureau and the Chinese Temples Committee. The event was the highlight of this year's Chinese Temples Culture Festival, held every two years to promote Chinese culture and customs.
7 real-life skills that will make growing up and going to university better for you
"We hope the students will shine with positive energy and strive to cultivate their own talents, and to be responsible to their family and society," said Lau Kong-wah, the Secretary for the Home Affairs Bureau, in his opening speech.
Feng Yon-tong, a student from The Buddhist Tai Hung College, said she had always longed for adulthood, but wasn't aware of the responsibilities adults have to face until she turned 16 recently.
"Being an adult can be quite hard, but it is a stage everyone has to go through. I think we should seize the day; we can still have fun when we're adults," the Form Three student said.
Letters from the Dorm: Here's what it's like when you become an adult in the real world
The event also featured the talents of local singer Phil Lam. As well as performing at the event, the Hong Kong-Canadian pop star talked about his own struggles as a teen on the cusp of adulthood; after signing to a local record label, his contract was put on hold in 2009, stalling his career.
Lam recounted how, rather than giving up, he took the time to learn another musical instrument and hone his songwriting skills, so that when the record company came calling again, he would be ready for them.
He encouraged students to think positively, and value the support they get from their families.
In a pre-event interview, Ip Cheung-ching, chairman of the Culture and Promotion Working Group of the Chinese Temples Committee, told Young Post about the origins of the traditional coming-of-age ceremony, based on the Book of Rites written by Chinese philosopher Confucius.
The ritual can be traced back to the Zhou Dynasty (1046-256 BC), when 20-year-old males and 15-year-old females would participate in a Guan Li or Ji Li to signify their transition into adulthood.
HKDSE 2018: This year's top scorers, their dreams, ambitions, and concerns for the people of Hong Kong
These typically took place in an ancestral hall, but grander ceremonies might be held in a Confucian temple.
During the ceremony, the young people would have to wear traditional dress and be crowned by an elder in the family, usually their father. These crowns would be made of different materials, indicating what kind of duties a young person could carry out. A leather crown, for example, meant the wearer could hunt or use weapons, so he could feed his family and protect the country.
Once the ritual was complete, the teenager would be officially recognised as an adult by their family and community.
Smiling Boris on taking the initiative to find your inspiration, defying your limits, and the importance of #AdoptDontShop
While this practice was very common, the age at which it took place varied from region to region. In the Chiuchow community, for example, boys would already be considered an adult at the age of 14. It was also common for communities to hold the ceremony when the participants were even younger, to encourage them to start families as soon as possible. This was to meet China's demand for more manpower to cultivate the land.
The old ritual placed an emphasis on collectivism - the idea that the group is more important than the individual, a value that teenagers nowadays may not hold dear. Ip said Wednesday's event was meant to mentally prepare students for the challenges of adulthood, and to encourage them to consider not only their own development, but also that of society.
"This event is put together by borrowing the essence from the traditional ritual," said Ip. "We want students to be aware of the responsibilities they have as an adult, and to give back to the community."
Edited by Charlotte Ames-Ettridge
Sign up for the YP Teachers Newsletter
Get updates for teachers sent directly to your inbox
Sign up for YP Weekly
Get updates sent directly to your inbox