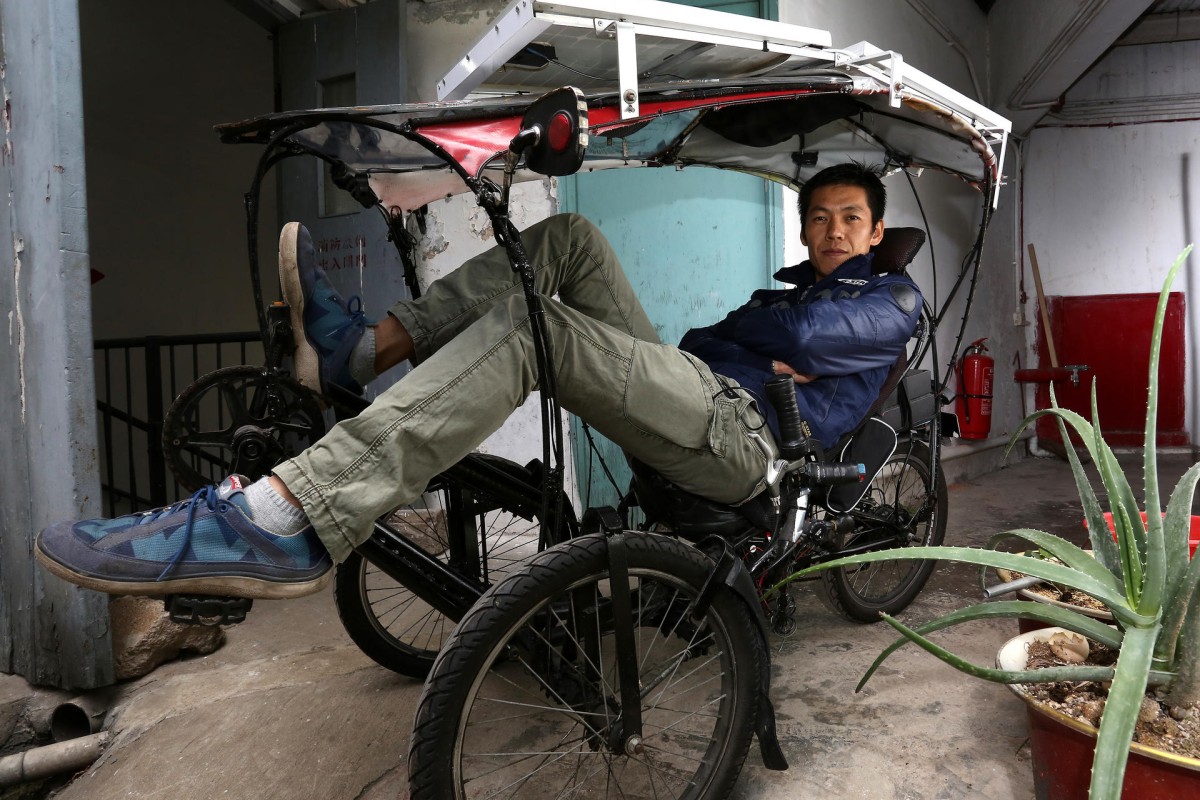 Gary Chan kicks back on his solar-powered recumbent bicycle.
If you find yourself walking through Kwun Tong after midnight, don't be surprised to see someone pedalling along on something that looks like a Harley-Davidson, or a bicycle that has signal lights like a car. Those are some of the incredible creations of Gary Chan Pui-gay, Hong Kong's bicycle maniac. "I don't mind people calling me that because this is how crazy I am about bikes," Chan says. "I make a new bike every year and now I have eight of them."
Perhaps surprisingly, it was a rude cyclist that first motivated Chan to get busy inventing. "Back in 2005 a man yelled at me for brushing by his bike. He told me I can never afford a bicycle like that," he says. "Those words lingered in my mind for days, and I decided to make myself a bike that would outshine his. Of course I never ran into that guy again, but his harsh words drove me to build bicycles."
The first step to making his bike was collecting scrap metal and old bicycle parts. Chan got plenty of help with collecting materials from friends who work in the recycling business, but he had no idea how to weld them together. It was a skill he didn't have … yet.
"I worked at a printing factory and there was a welding workshop next door. I watched the people working there and then asked them to let me try, and soon I was able to weld metal parts together," he says.
Chan came up with the idea for his first bike while working out on a pedalling machine at the gym. Then he was inspired by the local romance film Turn Left, Turn Right, and created a bike with two sets of handlebars facing in opposite directions.
Chan's latest baby is a solar-powered number. The bicycle has signal lights and a small motor powered by solar panels. It's his greatest creation so far - but it also got him into trouble with the law.
Earlier this year, Chan was charged with driving an unregistered vehicle. He was fined HK$3,000 for riding his solar-powered bike, and had his driver's licence suspended for a year.
"The government always says they support creativity, green living, and riding bikes, but current laws and regulations don't seem to support that," he says. "I have learned my lesson; I will remove the motor next time I ride it."
His bikes are the centre of attention whenever he hits the street, but Chan says they are better to look at than to ride. "They're made from scrap metal and old parts, so I'm not sure how long they'll last," he explains.
"I never dare ride them very far. But I think they are the perfect demonstration of creativity, green living and cycling, three concepts that will be embraced in the future."
Chan's bikes have been put on display at the Oil Street Art Space, the Jockey Club Creative Arts Centre, and many other exhibition venues, and prove especially popular with youngsters.
"Kids love my bicycles, and I have had many requests from parents to start bike workshops. I am still looking for a venue for that. Next year I'll visit schools with my bikes to talk to students about living green, being creative and riding bicycles."
Sign up for the YP Teachers Newsletter
Get updates for teachers sent directly to your inbox
Sign up for YP Weekly
Get updates sent directly to your inbox