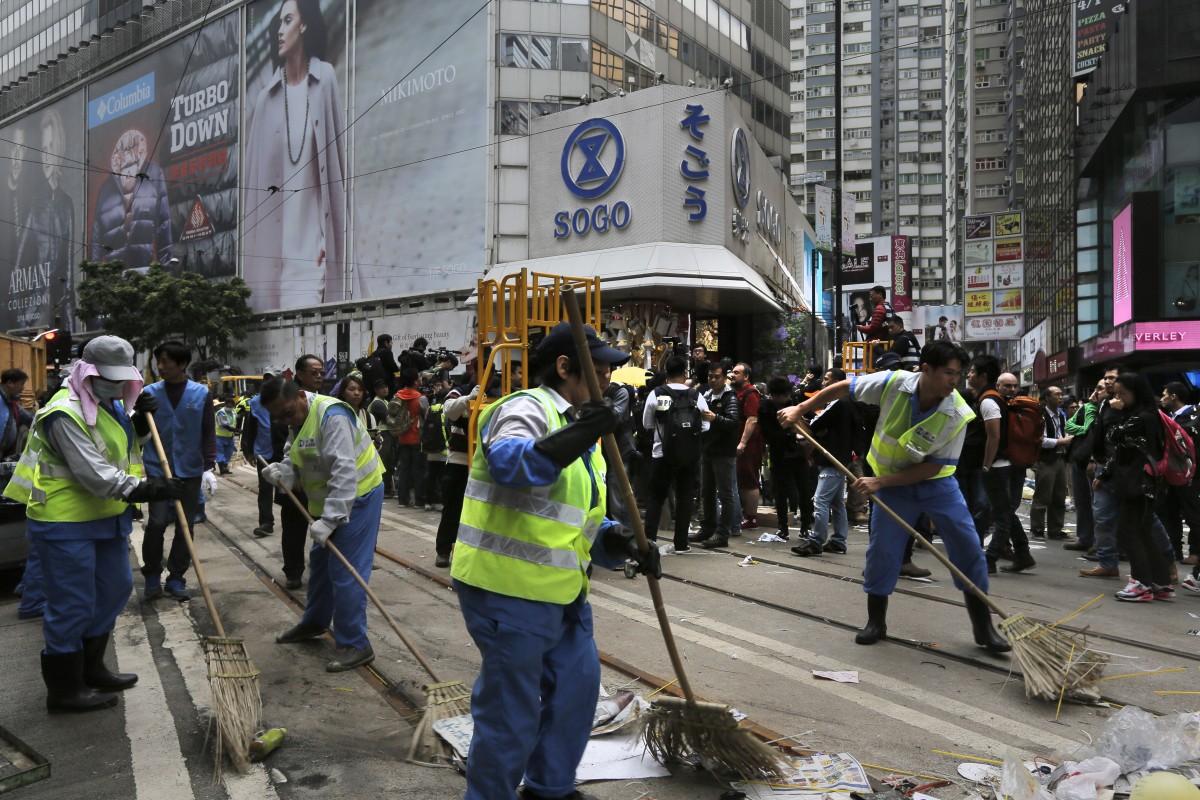 Workers sweep after police cleared barricades and tents at Causeway Bay today.
Hong Kong police cleared the last Occupy camp in Causeway Bay this morning, which Chief Executive Leung Chun-ying said marked the end to the mass protests that paralysed key areas of the city since September 28.
At 10.20am, police officers started clearing obstacles at the pedestrian crossing outside the Sogo department store.
The area was cleared in two and a half hours, and buses were running on Yee Wo Street shortly after 1pm. Protesters' tents outside the Legislative Council complex were also cleared at 3pm today. "If protesters continue to occupy the area they will affect other people who also want to express their views," said Legislative Council president Jasper Tsang Yok-sing. He said some protesters had hot pot outside the Legco building the night before, which was against the rules of the venue and would affect hygiene and security.
Leung told reporters today that Hong Kong people should rethink what kind of democracy they want. He said a democracy without laws is not a real democracy, but a state of anarchy.
At least 17 people were arrested, including lawmaker Chan Ka-lok and a man in his 90s, known as "Grandpa Wong". Both Wong and Chan had already been arrested during the clearance of the Admiralty Occupy site last Thursday.
Student leaders have launched a "non-cooperation movement" as a continuation to the protests, calling on Hongkongers to pay their taxes in small increments and to delay paying rent until the last possible minute.
"Occupy is taking on different forms. While the government has no timetable for universal suffrage, we do have a timetable to fight for it and challenge the legitimacy of the government," secretary general of the HKFS Alex Chow said on Sunday.
Hong Kong Federation of Students member Ian Chan, who had been occupying Causeway Bay since the beginning of the movement, was also arrested.
Meanwhile, Scholarism convenor Joshua Wong, HKFS deputy leader Lester Shum and 30 other people arrested on November 26 during the clearance of the Mong Kok Occupy attended a hearing at the High Court yesterday. There will be another hearing on January 8, when the department of justice has to decide whether to prosecute them for contempt of court.
Sign up for the YP Teachers Newsletter
Get updates for teachers sent directly to your inbox
Sign up for YP Weekly
Get updates sent directly to your inbox