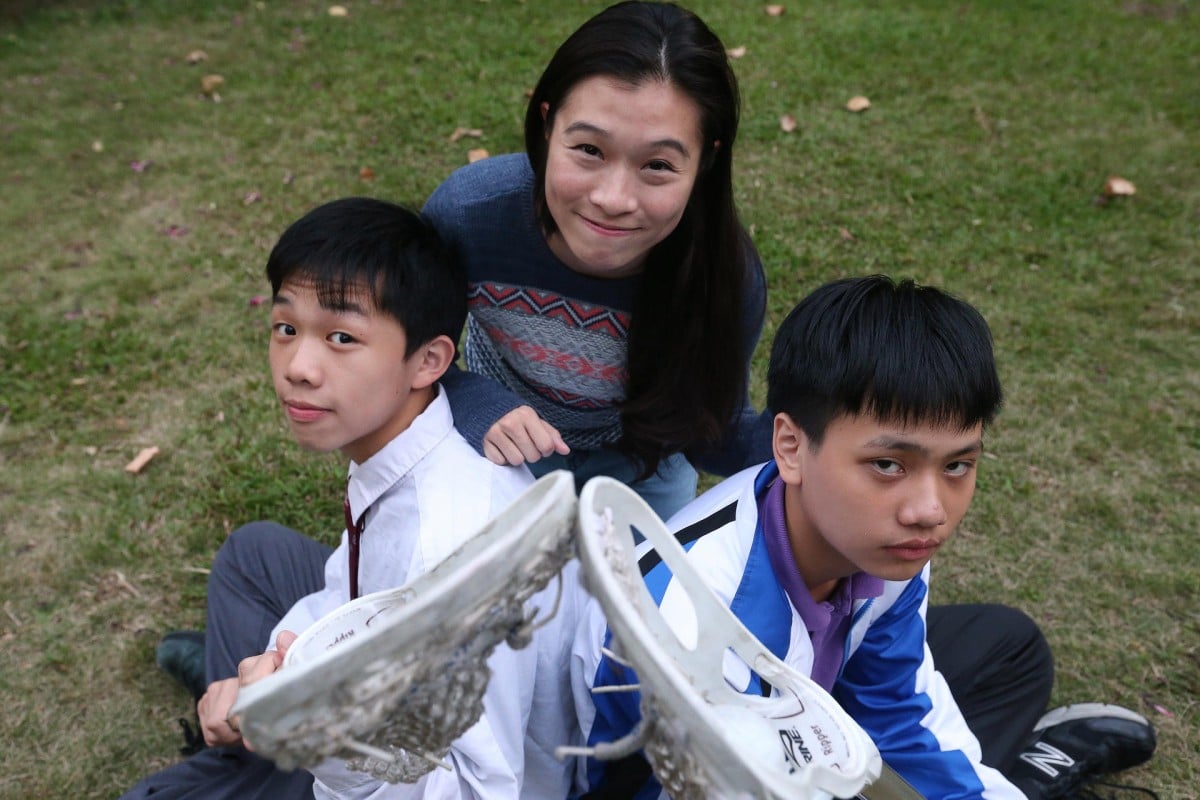 (From left) Oscar Leung, Kim Lau, and Wong Ka-shing have learned that sport can bring out the best in people.
We know that sport has the power to unite people around the world. But a group of local students are learning that it can also change lives.
Forty youngsters who study in Tsing Yi began playing lacrosse in the summer as part of a new social initiative. Even though many had never even heard of the sport, they soon fell in love with it.
"I didn't know there was a sport called lacrosse," says Oscar Leung, a Form Three student at CCC Yenching College. "I just wanted to lose some weight and make some new friends."
Oscar was not alone in being a little puzzled by lacrosse. The sport was first played by native Americans and Canadians hundreds of years ago. Players carry long sticks with a small pouch at the end, which they use to pass a ball, trying to score goals in their opponents' net, just like in football or basketball.
The sport is known for being fast-paced and sometimes dangerous; players must wear lots of safety equipment, including helmets and shoulder pads.
Oscar became involved with lacrosse as part of Project Cradle, which educates teens through sport and mentorship. It is jointly organised by the Boys' and Girls' Clubs Association of Hong Kong, Social Initiative Group and the Hong Kong Lacrosse Association. The cradle in the name refers to a baby's bed as well as the action of dribbling with a lacrosse stick.
Oscar has found that playing lacrosse has taught him valuable life lessons, like how to communicate and solve problems.
"I used to have a poor relationship with my mum, and we always argued. But after playing basketball and now lacrosse, I have gradually learned how to communicate with people," says the 14-year-old.
"I'm feeling more positive and persistent and I spend more time with mum. Honestly, I think all teenagers should take part in sport. We tend to solve problems on impulse, but patience is what we actually need. Sport teaches us to act more maturely."
Oscar's schoolmate, Wong Ka-shing, is also involved with the project. Previously shy, the Form Two student says it has helped him step out of his comfort zone.
"I love the excitement of playing lacrosse. Team sports force you to get to know your teammates, or you will be ineffective on the field," says the 13-year-old. "At least now I have real people to talk to, instead of just staying at home surfing the internet."
Kim Lau Sin-tung, the project officer of the programme and a former Hong Kong rugby team member, agrees that sport is one of the best ways to teach youngsters important life lessons.
"I have been a rugby player for more than 10 years. Sport has given me so many positive values I can apply to the rest of my life," says Lau, who won a bronze medal for Hong Kong in the rugby sevens at the 2009 East Asian Games.
"You must be very determined. When you set targets, it makes you want to achieve them. It gives you the motivation to carry on."
Lau wants to pass on her experience to those involved with Project Cradle.
"I'm happy to play the role of mentor to the teens. They come to me and are willing to chat. I'd like to do what my coaches have done for me in the past - to influence life with life."
One of the founders of the project, Raymond Mak Ka-chun, hopes lacrosse will help young Hongkongers for years to come.
"Teenagers are the pillars of Hong Kong's future," he says. "We hope to give them exposure and opportunities through the project. Hopefully we can go on for years and expand to some other districts."
Sign up for the YP Teachers Newsletter
Get updates for teachers sent directly to your inbox
Sign up for YP Weekly
Get updates sent directly to your inbox