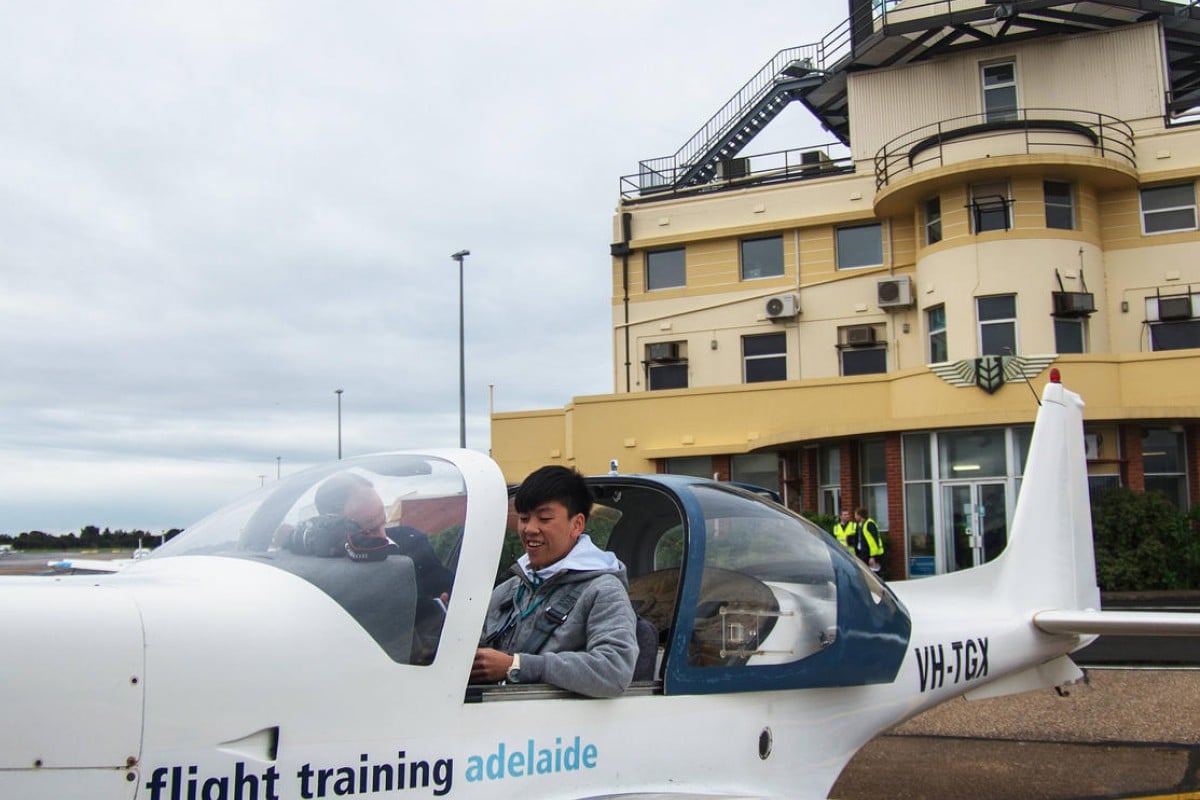 Mars Tam Yuen prepares for his flight.
Mars Tam Yuen was nervous. He'd done his homework, but still, he was about to realise a dream.
He has wanted to be a pilot since Form One. Earlier this year, he took part in Cathay Pacific's "I Can Fly" programme, which encourages a love of flying.
In July, the 15-year-old Po Leung Kuk Lo Kit Sing (1983) College student spent a week in Adelaide, Australia, with 69 other secondary school and university students.
And when they got to Parafield Airport, Mars was the first one chosen to get into the cockpit, and that got his heart pumping. He showed his pilot a detailed map of the airport he had prepared, and the two talked about which runway they were going to use.
"I did some research on Parafield Airport before we came to Adelaide, as well as on the model of aircraft that we would fly," Mars says. "I also looked on YouTube to see if people had uploaded videos of them flying that plane at this airport, or videos of the take-off and landing process.
Mars got into the Grob G115 plane, buckled up, adjusted his seat and put on his headphones to receive instructions from his pilot and the airport's control tower. It was an amazing experience.
"I was so lucky … I feel like I'm one step closer to my dream. It was a good opportunity for me to be able to observe a real pilot up close: what he does before taking off and after landing. It was marvellous! I got to witness a complete flight."
And the students didn't just sit and watch. Once the pilots had stabilised the plane after take-off, they let the students do some pitching (tilting the plane up or down) and yawing (turning it left or right).
Lokky Lee Wai-lok, a 16-year-old student from Fanling Kau Yan College, imagined that operating such a heavy machine would need a lot of effort, but to his surprise, the aircraft was actually quite sensitive. "A small movement could noticeably affect the plane; and you have to be prepared for the wind, which could also affect your plane's stability," he says.
That's why, as Mars put it, "to be fully prepared helps." Charlie Kwong Chak-wai, Mars' schoolmate, certainly agrees.
Charlie, 19, is also a huge fan of aeroplanes and had spent a long time preparing for this opportunity. After the students in the I Can Fly programme arrived in Adelaide, Charlie met a Cathay Pacific cadet pilot. They talked about how much Charlie had learned about aviation and how he had practised flying by playing a flight simulator game, among other things.
Charlie felt a lot less anxious when the cadet turned out to be his instructor and pilot on the day it was his turn to fly.
"He knew I was prepared for this," says Charlie, who ended up doing more than other students. He and his instructor landed the plane together, and he also got to switch off the engine.
As well as being a site for the student scheme, Parafield Airport was one of the filming locations for the hit 2003 TVB series Triumph in the Skies, which Charlie said was his inspiration in primary school.
"I thought being a pilot is so cool," he says, "but realised only later that it also means challenge and responsibility."
Sign up for the YP Teachers Newsletter
Get updates for teachers sent directly to your inbox
Sign up for YP Weekly
Get updates sent directly to your inbox