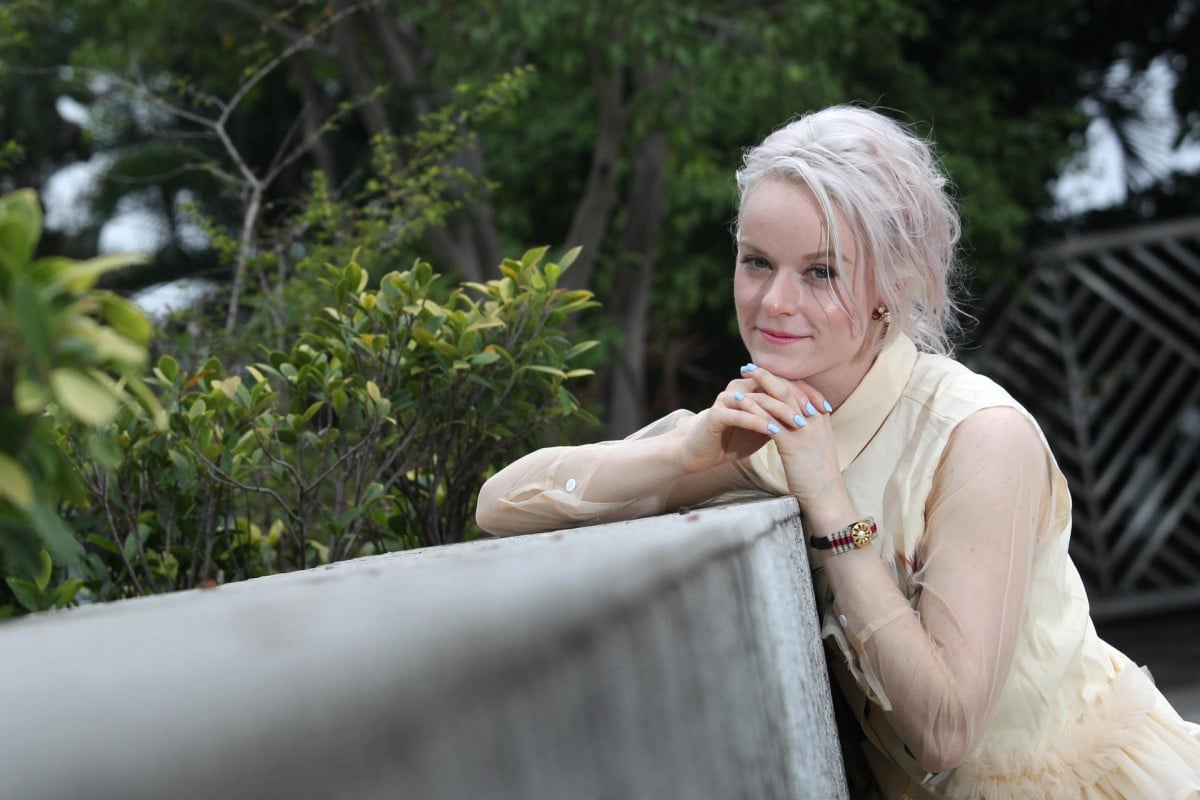 Corinna Chamberlain plays Light the fairy in The Bluebird of Happiness.
Don't be intimidated by Corinna Chamberlain's fierce kung fu fighting. Chan Ming-yan, as she's more commonly known, is not the fiery type at all. The Hong Kong-born New Zealander is a self-proclaimed custard bun: white in appearance, yellow (Chinese) at heart, and quite sweet.
Chamberlain got to show a different side of herself in TVB's recent drama, Come On, Cousin! The show is a spin-off of 2013's Inbound Troubles, which first brought the blonde actress to fame.
After three months of filming with TVB and touring Canada, Chamberlain's back to doing what she loves most, in a character that's more like her own self.
She'll be starring as the fairy Light in upcoming musical, The Bluebird of Happiness. Written by Jaime Del Mundo with original music by Rony Fortich, Bluebird is the story of two children searching for happiness.
Sitting in the canteen of her alma mater, the Hong Kong Academy for Performing Arts, where the play will be performed, the 33-year-old speaks about being happy.
"We just get too caught up in the next thing we want. But what about everything that we do have?" asks Chamberlain, who speaks fluent Cantonese and, surprisingly, American English.
She recalls the time she spent in Cambodia and seeing children there playing with rubbish. "Being happy doesn't mean I have to have everything. What I have now I can creatively enjoy. It's an attitude, a choice."
Watch Melanie interview Corinna while they play Word Sneak:
A singer, dancer, and actress, Chamberlain has a hectic schedule that keeps her out late most evenings. But however late she gets home, her mother is always waiting for her on the couch so she can give her a hug and have a quick chat before going to bed. Besides family, Chamberlain says her Christian faith is her deepest source of happiness.
What's been making her happy recently, though, was being back on stage. Filming for TV is a big challenge because a drama is not shot in the same order as the audience sees it.
"You have to get yourself ready so your emotions will be right for that scene, and that it'll be cohesive with the previous scene, which you might film three months later," Chamberlain explains.
There's also less teamwork involved, because actors don't rehearse a lot before going on set. In contrast, a theatre show itself is a complete journey because actors' emotions build up with what they've experienced during the performance. Anything could go wrong during a live show, and the actors have to work together to solve it.
Chamberlain says that's a fun challenge though, like the time the zipper of her costume broke, and she and her partner had to change an entire dance routine to hide it. "That's kind of electric. It wakes all the actors up," she says.
Working with the young cast for Bluebird has also reminded her that good acting comes from learning to be a child again. "Don't be so logical, you know?" says Chamberlain, who used to love playing make-believe at home. "You're just totally in that world. Your living room becomes a different place and you believe it so much."
Chamberlain's also bringing her love for musical theatre into her second album, which she will release next year. Her latest single Buy Buy, which speaks about consumerism, is a flashy tune with saxophones and trumpets blasting in big band style.
With this album, Chamberlain hopes to share the positive things she's been experiencing. "Music really affected me when I was growing up, and that's what I want to do, too – to be able to share really honestly and grow up together [with my fans]."
Bluebird of Happiness will run December 19-21 at the Hong Kong Academy for Performing Arts.
Sign up for the YP Teachers Newsletter
Get updates for teachers sent directly to your inbox
Sign up for YP Weekly
Get updates sent directly to your inbox