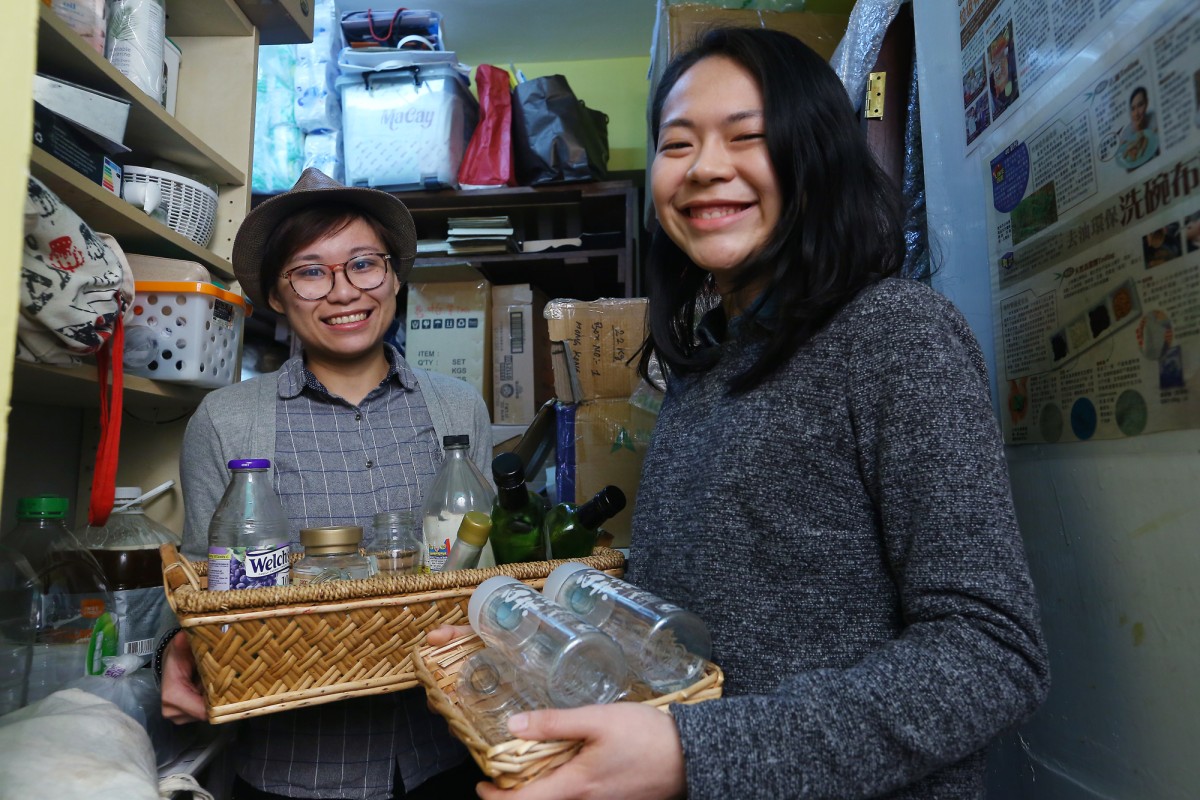 Zoë Leung (left) and Kaya Guo are all about natural beauty.
Most people in Hong Kong know about the three R slogan - reduce, reuse, recycle. But there is still a lot of waste in the city. Kaya Guo and Zoë Leung are among a new generation of green fighters who have made it their mission to save the Earth.
Many people blame the lack of space for not recycling. But Guo, who lives in a crowded area like most Hongkongers, thinks there is no excuse when it comes to saving the planet.
"I have a small corner at home where I collect plastic, paper and metal cans," says Guo. "Most of my neighbours dump their rubbish in the bin. But I take mine down to the ground floor and put them in the recycling bin every night. How much effort does it take just to take the lift down to the ground floor? But most people still use the regular bins. They are still not aware of the danger of landfills."
Leung points out that using recycling bins does not necessarily mean the waste is recycled. "There have been reports in the media about government-hired companies dumping waste from recycling bins into landfills," says Leung. "I never use recycling bins on the street or in public areas because they are cleared by these companies. To make sure the waste is recycled, take your rubbish to the Community Recycling Centres. You can find the list on the Environmental Protection Department's website."
Another recycling tip from Leung is to remove the cap and the sticker from a plastic bottle before putting it in the recycling bin. This cuts down the amount of work for the workers at recycling plants.
Like most girls in Hong Kong, Guo spends a lot on beauty products. At least, she did, until she found out what they were doing to her skin. "Check out the ingredients of beauty products. They are usually chemicals," she says.
Guo's search for natural beauty products led her to Organic We. It's a green lifestyle store. There, she learned to make soap, shampoo and beauty products from natural ingredients such as olive oil, herbs, flowers and other plants. "Now I work as a soap maker at Organic We to help develop natural skin products. All of our customers had skin problems from using chemical-based products and we offer them an alternative," she says.
Leung has some advice for giving presents. "We exchange gifts with friends at Christmas like most people do. But we don't buy any gifts. We pick an item from home that we no longer use and pass it to another friend. One man's trash is another man's treasure. You can enjoy the holiday and care for the planet at the same time," she says.
Sign up for the YP Teachers Newsletter
Get updates for teachers sent directly to your inbox
Sign up for YP Weekly
Get updates sent directly to your inbox