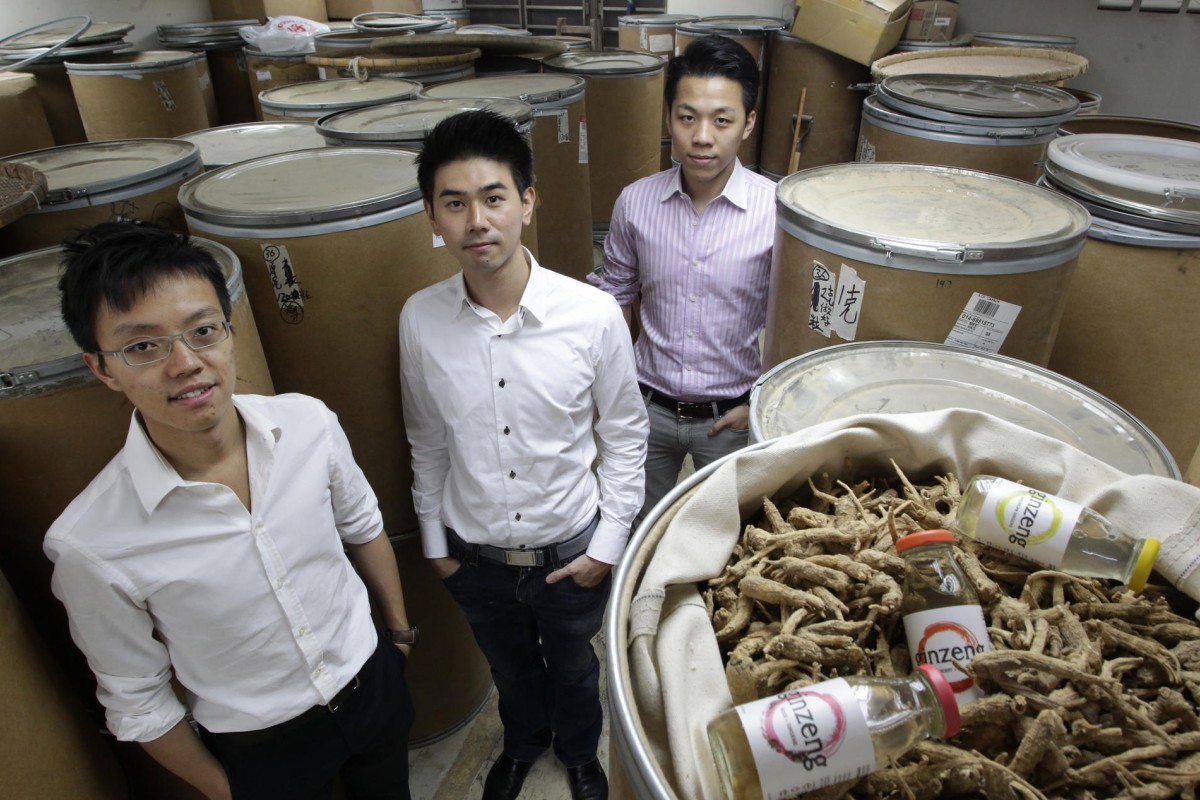 (From left) Alan Chan, Vincent Kwok and Jess Yeung want to bring ginseng to a younger audience.
If you take a stroll down Wing Lok Street in Sheung Wan, you'll find, among old dried seafood and bird's nest stores, several rusty ginseng shops.
Walk into one of them, and a bitter smell of Chinese medicine instantly overwhelms you. White-haired workers sit among piles of American ginseng, sorting the herb's dried roots according to quality, before cutting them into thin slices.
In this unlikely place, three young friends had the idea to produce a ginseng drink targeted at Hong Kong's youth.
Alan Chan Kin-ting says the city suffers from "fatigue syndrome", with everybody needing coffee to get them through the day. His university friend, Vincent Kwok, agrees. Kwok was an auditor at a global accounting firm.
"The first day at work, I got off at midnight. Before the first week was over, I was leaving the office around 3am," he says. "And we had to get back to work by 10am."
Jess Yeung Yan-chung was roommates with Chan and Kwok when they studied at University College London in Britain. Because his parents sold American ginseng in Hong Kong, Yeung would give his friends packets of ginseng powder to keep them healthy.
American ginseng is believed to boost the immune system. Kwok didn't like it, associating the drink with tart Chinese medicine. But after Yeung returned to Hong Kong to help with his family's business, and came up with an idea last year to produce a ginseng drink with cool packaging to attract young consumers, Kwok and Chan got on board.
The drink, which they call GinZeng, comes in three flavours: original, rose and goji berry. It also contains American ginseng slices which can be swallowed as you drink.
"It's a matter of trend," says Kwok. "Some people want to drink coffee because that's what businesspeople do, and they start by drinking mocha. With our drink, we hope to first generate interest [in ginseng]."
The three 26-year-olds all come from families with business backgrounds, and wanted to build something themselves. They each invested HK$300,000, formed TLP (Three Little Pigs) Enterprise, and began searching for the right manufacturer.
Originally, they sourced the bottles from a remote village on the mainland. But while the bottles were cheap, many would crack during the heating process, ruining the whole batch of drinks. In the end, they settled on a Taiwanese drink manufacturer and bottle-maker.
"I think we lost tens of thousands of dollars with the bad quality bottles," says Yeung.
The next step was to get their drink into stores. Chan tried to contact a buyer at City'super with no luck, but Yeung sent some samples to the chain anyway.
They soon received a call from the supermarket, agreeing to stock GinZeng. Ultimately, the trio hopes the drink will be sold at convenience stores, and start earning profits within five years.
The three admit their families' business backgrounds played an important role in getting them this far.
"We're fortunate in that we don't have to worry about our families' financial burdens," says Chan.
Still, it requires a big vision and lots of hard work to turn dreams into reality.
"We're making something from zero, and unlike auditing, there are no rules to follow," says Chan.
Sign up for the YP Teachers Newsletter
Get updates for teachers sent directly to your inbox
Sign up for YP Weekly
Get updates sent directly to your inbox