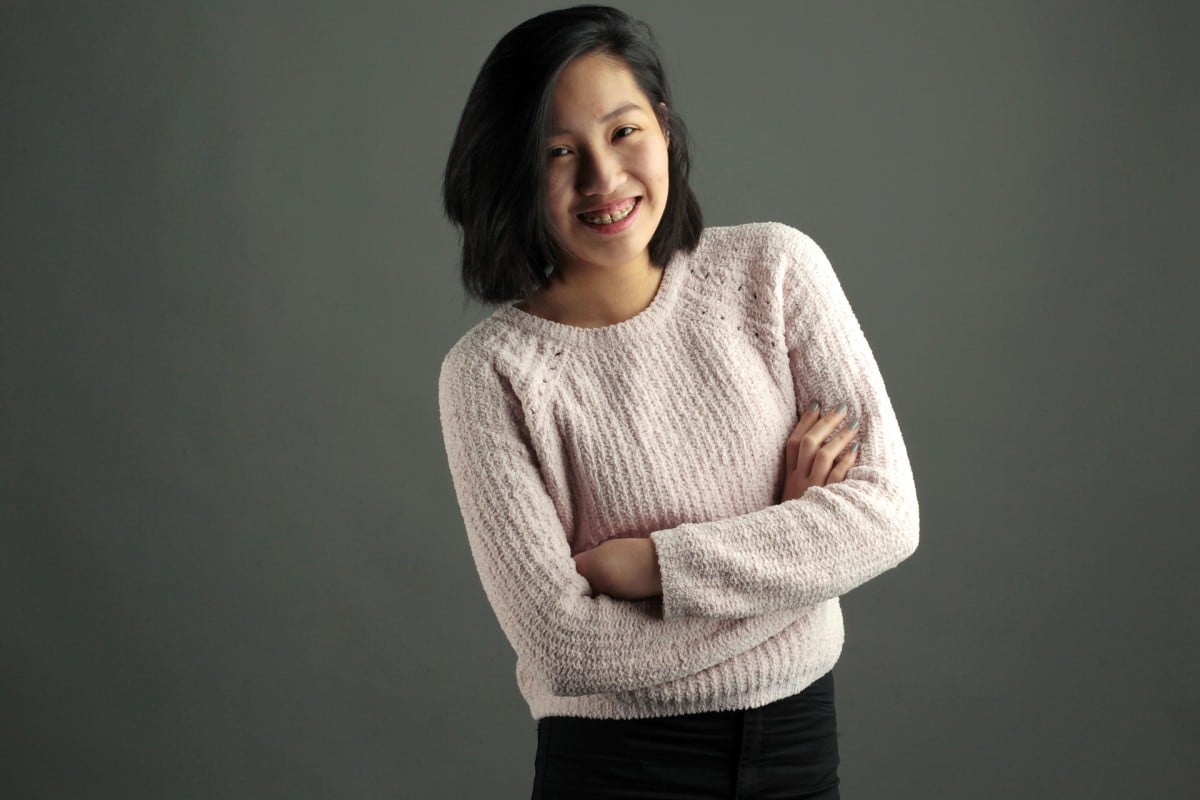 Jessica Chan says once she has a topic, her writing "flows really naturally".
In winning the fourth annual South China Morning Post and RTHK Top Story competition - Junior Category, Jessica Chan Jing Ga not only brought the "Reborn" theme into her story, but also let it guide her writing style. 
Jessica, a 17-year-old student at Headington School in Oxford, England, remembers entering the competition two years ago. She came second then, and looking back on her story now, she realises how far she has come as a writer.
"That was a really 'cringy' story," she says, describing a story filled with what she now calls clumsy adverbs. "You know, when you read a story and you think, 'Oh, that was written by a kid'? Kind of like that." 
But two years of writing have helped Jessica hone her skills and develop her own voice and style. "I like being to the point," she explains. She doesn't like to overuse adverbs or waste time in description. And when writing for the competition this time, she says that having a to-the-point style helped. "Before, I went way over the word limit," she says, recalling her 2012 entry. "This time I had an easier time cutting everything down."
But having a more succinct writing style isn't always beneficial. "It's not really good for essay writing," Jessica says, laughing, "but it works well for short stories."
For inspiration, Jessica looks to authors who she feels have a more natural style. She enjoys the Harry Potter series, and wants to channel that ease of reading into her own style. "I really like J. K. Rowling," she says. "I like how her dialogue is really conversational and realistic, and you can really get into Harry's head." When she wrote her own story, she wanted her audience to be able to identify just as closely with her characters. "I'm not really sure I'm there yet, but I'm trying," she says.
For this year's short story entry, Jessica recalled an idea she'd had during a creative writing workshop at the University of Hong Kong. The theme that day had been about forgetting.
 "I always thought reincarnation would be nothing if you didn't have your memories, because then you just wouldn't know and it would be pointless," she says. By remembering her thoughts on forgetting, Jessica began to form the basis for her "reborn" story. Using some aspects of a storyline from a previous piece, she settled into her theme and began to flesh out her characters.
Jessica, a former student at St Paul's Convent School, says coming up with the idea can be the most challenging step. 
"Normally the hardest thing is just to try and think of something to write about, and I'm not really good at that," she says. But for this competition, she was already off and running with her ideas of reincarnation and memory. "Once I have something or an idea, it flows really naturally," she explains.
 Her next step in writing is research. She finds that reading up on the main ideas she wants to include gives her more ideas and choices when writing. 
Her love of research may help her in the future, as she is considering studying medicine. "I do want to be a writer, but I also want to be rich," she jokes. But no matter what she chooses to study, she intends to continue writing in her spare time. 
For anyone looking to find their own writing style and unique voice, Jessica recommends reading as much as possible from many different sources. "Try to read something that's not so mainstream," she says. And don't worry if you feel frustrated by academic writing in school; Jessica says she feels the same way. "Essays are not my forte at all," she admits, but advises not to let that bother you: "Keep writing, and don't listen to your English teachers!"
Sign up for the YP Teachers Newsletter
Get updates for teachers sent directly to your inbox
Sign up for YP Weekly
Get updates sent directly to your inbox