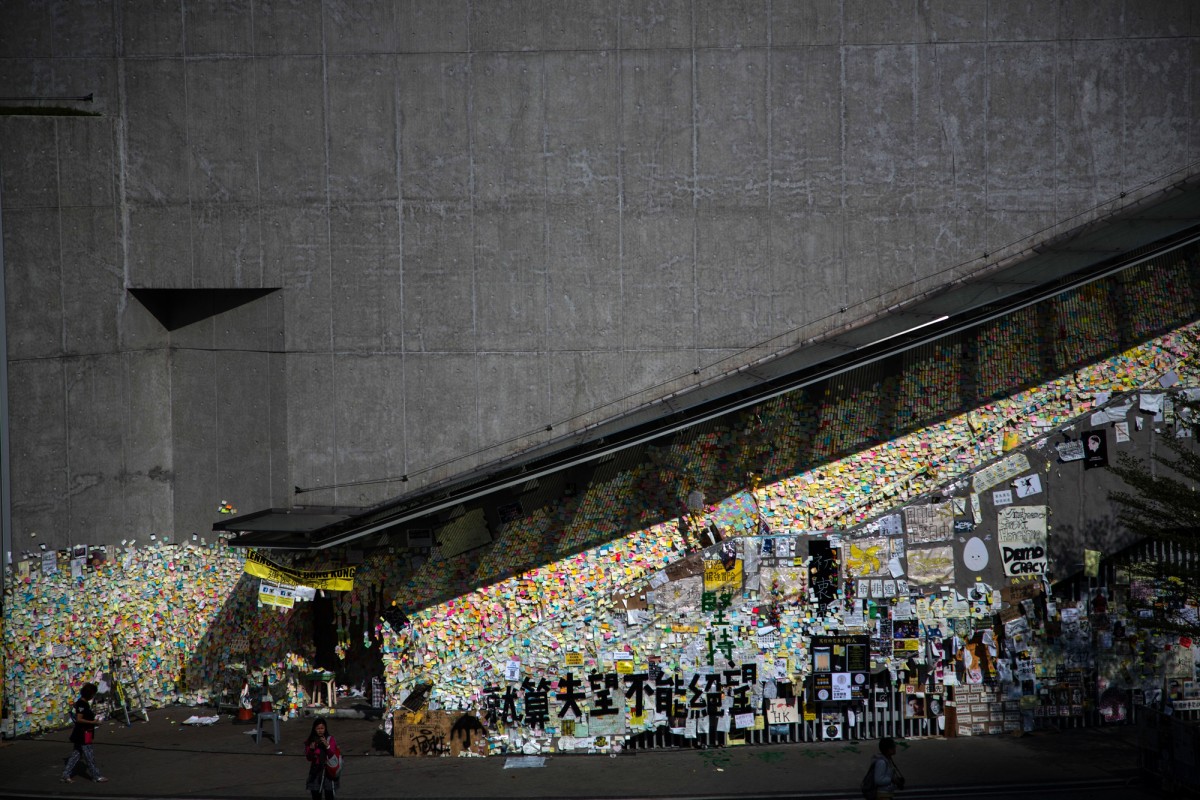 Many messages were plastered onto walls during the Occupy protests.
A Hong Kong teenager who was arrested and sent to a children's home after she drew a flower on a wall famous for pro-democracy messages has been released on bail, authorities said Thursday.
The announcement came after the 14-year-old girl's lawyers accused authorities of "disproportionate" measures against teenage protesters seeking fully free leadership elections.
The girl was arrested last week for chalking a flower on the "Lennon Wall" and sent to a children's home Monday for three weeks as a court considers whether to remove her from her father's care.
The application before the court alleged that she is being neglected by her family but the girl's lawyers strongly rejected the charge citing a lack of evidence.
"She previously had to be in a children's home but there is now no need (for her) to stay there," a police spokeswoman told AFP on Thursday, without elaborating further.
The police spokeswoman said that the girl has been released on bail before her case is heard again on January 19.
Her bail conditions include a nightly 10 pm curfew unless she goes out with her father, sister or a social worker, according to local media reports.
The girl's lawyer, Patricia Ho, said earlier that the decision to place minors in children's homes was usually only undertaken in extreme cases and was an attempt by authorities to "impose a climate of fear".
The "Lennon Wall" is a staircase by a major thoroughfare in Admiralty district which was blocked by democracy protesters during more than two months of rallies and plastered with brightly-coloured notes of support for the movement.
Police cleared the protest site in early December.
In a separate case, a 14-year-old boy could also be removed from his parents' care after being arrested when police cleared a protest camp in Mong Kok in late November.
Neither of the teenagers have been formally charged.
Police have told AFP they do not have a total figure for the number of minors detained during the pro-democracy protests. But some as young as 13 were arrested at small Christmas protests in Mong Kok, according to police statements.
Sign up for the YP Teachers Newsletter
Get updates for teachers sent directly to your inbox
Sign up for YP Weekly
Get updates sent directly to your inbox