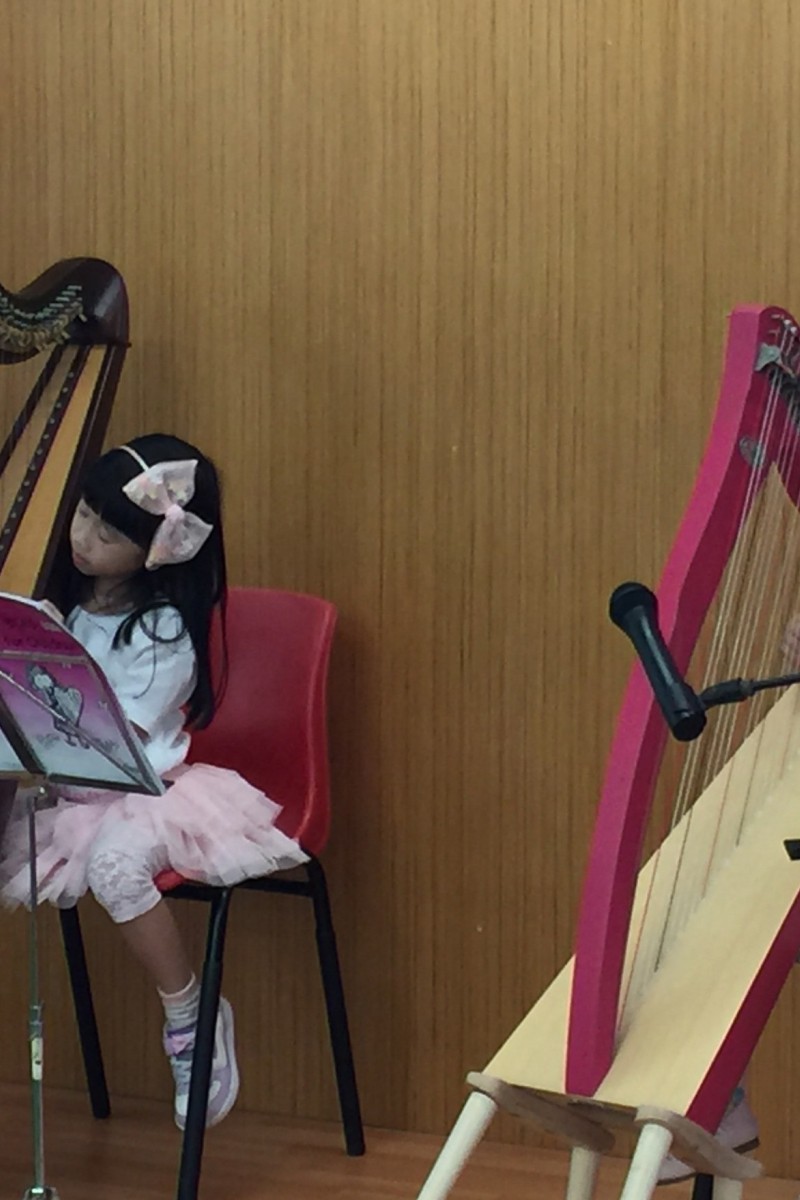 Harp teacher Shela Au, who is on a mission to share the magnificent sounds of her instrument with Hong Kong's 'matchbox-style' schools, tells us how it truly benefits the students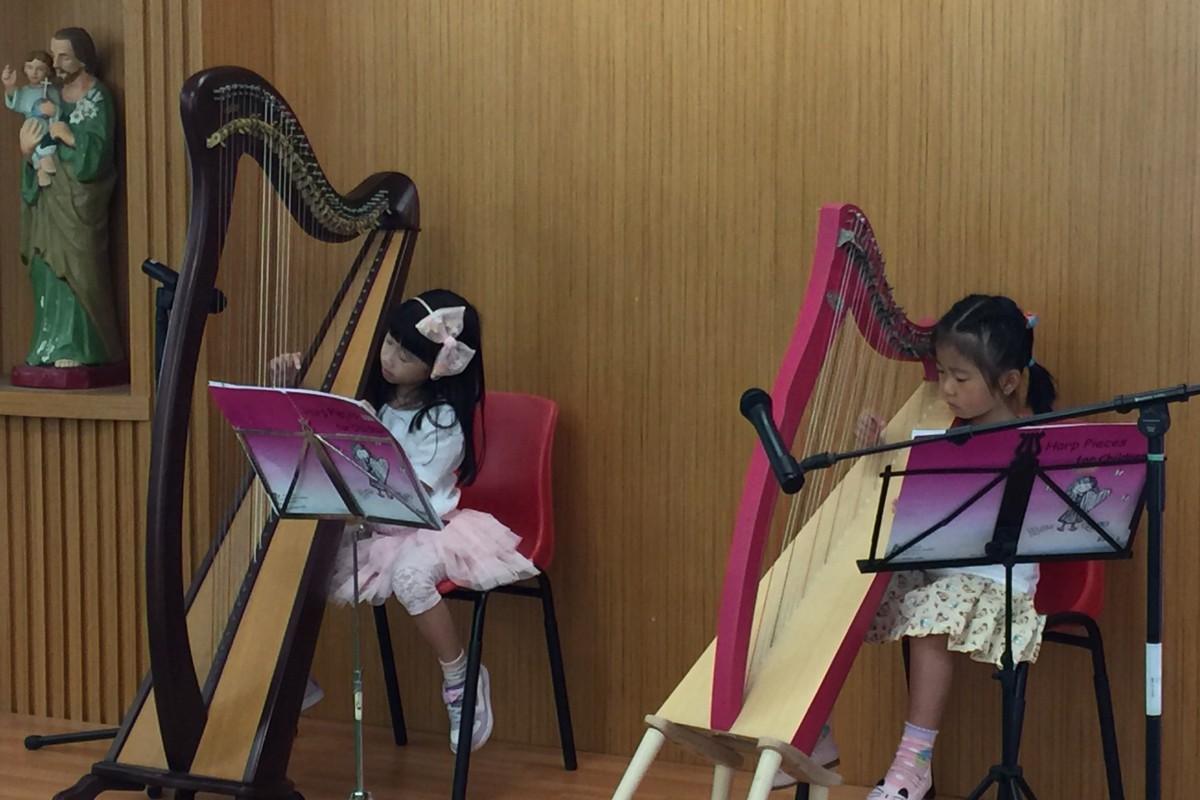 (L-R) Kaka Cheung Cheuk-ka and Summer Chu Zi-fei joins harp teacher Shela Au to perform.
Father Cucchiara Memorial School students sat on the edge of their seats and listened intently as young harpists and harp teacher, Shela Au, performed heavenly sounds before them on Tuesday.
Young Post spoke to some young audience members about their thoughts on the stringed musical instrument, and what their school did to cater to their interests.
Students were curious to learn more about the harp after seeing such a beautifully-polished performance.
Zoe Cheng Hei-yu, 8, was in awe of the harp's "heavenly sounds". "I hope this music can be played in the background of my dance training and performances. It would make me feel like an angel," she said.
Lucas Wong Ho-lam added that the performance made him want to learn the harp or similar stringed instruments. "It's full of strings but they sound so different from guitars. The music is very relaxing and pleasant. I would like to try it out," the eight-year-old said.
Au, a harp teacher from Hong Kong Harp and Piano (HARP) Academy and mastermind behind the performance, revealed why she decided to share her sounds with different "matchbox-style" schools – small schools constructed between the mid-1960s and 1980 in public housing estates; so small that they bear resemblance to matchboxes.
"For many students at Father Cucchiara Memorial School, getting to know the harp seems impossible because it's not easy to afford," said Au. "I'm here to tell them it's not as extravagant as people think and that everyone should have a chance to play it."
Unlike more familiar instruments, such as the piano, guitar and violin, the harp is less popular because it is quite pricey.
Au revealed that a basic model – suitable for a toddler – can cost HK$5,000.
A lever harp, which is what most people play, starts at HK$18,000, while a concert grand can cost a staggering HK$500,000, not including the fees for lessons and performances.
But Au believes every instrument should be equally accessible for all. In fact, this was a major factor in Au choosing to perform at "matchbox-style" schools, where she continues to share less-familiar music with students from mainly grass-roots families.
"I hope the harp offers students a few glimpses of what this instrument is like and how beautiful it sounds," said Au.
Au revealed the harp is extremely beneficial to young people's personal development.
"What makes the harp different from other instruments is its many strings ranging from 26 [beginners] to 47 [professionals], which need to be plucked with your fingers. It can equip people with a high level of hand-eye coordination," she said.
It also has calming qualities and can act as a means for students to take their mind off things.
"The harp's angelic sound helps you relax. I chose to learn it because of its beneficial impact, especially for coping with stress," said Au.
"I hope to share these benefits with young people and help them develop a positive attitude towards dealing with academic stress."
Father Cucchiara principal, Cheung Chok-fung, said harp lessons have been incorporated into the school's after-school activities.
"We are lucky because the HARP Academy lent us two harps," said Cheung. "By being exposed to different music, students can try new things. Learning an instrument can be exhausting and challenging, but such experiences are beneficial to their personal growth."
The harp initiative has benefited academically, too, Cheung said . "It can boost students' memory and help them focus better."
With such resounding praise, it's no wonder Au plans to "string" together more projects like this one.
Sign up for the YP Teachers Newsletter
Get updates for teachers sent directly to your inbox
Sign up for YP Weekly
Get updates sent directly to your inbox