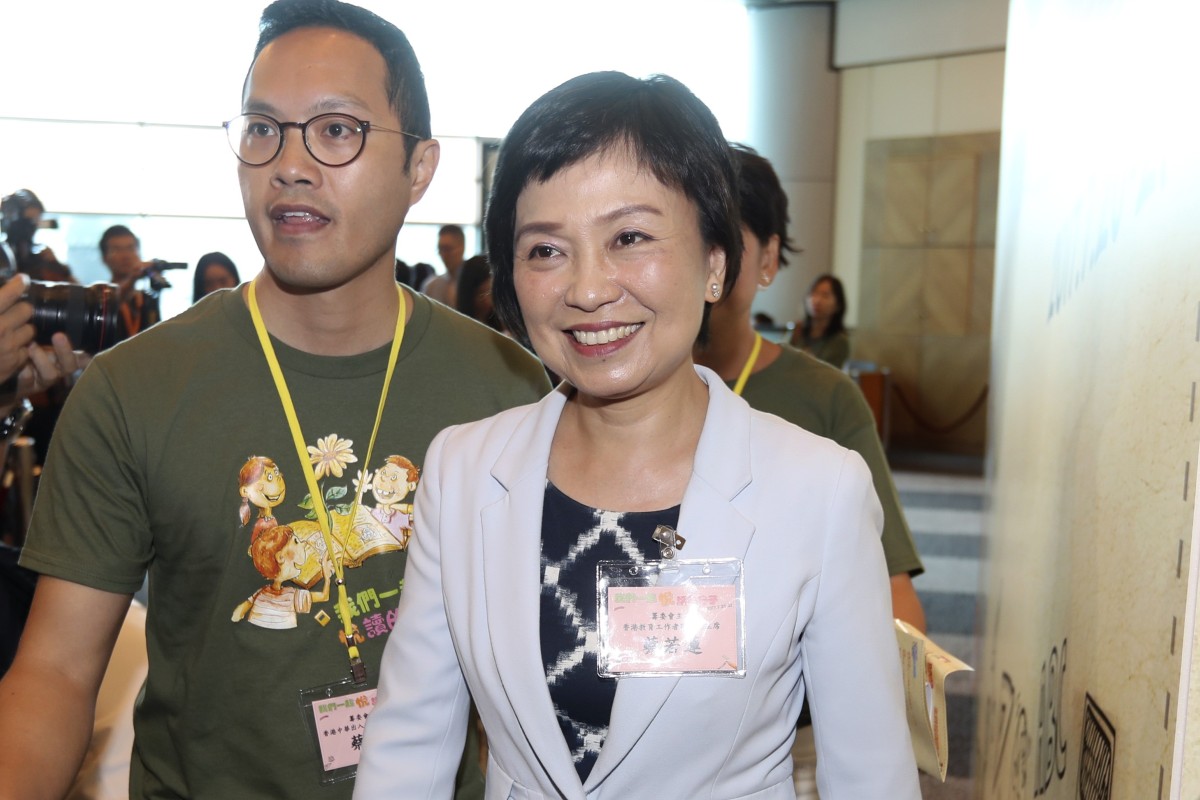 Christine Choi Yuk-lin, Vice-chairwoman of Hong Kong Federation of Education Workers has been appointed to the post of undersecretary for the Education Department.
The government announced a new team of undersecretaries today, including the controversial appointment of a pro-Beijing school principal as the new education undersecretary.
Dr Christine Choi Yuk-lin, former principal of Fukien Secondary School (Siu Sai Wan) and vice-chairman of Federation of Education Workers, has been appointed undersecretary for the Education Department. Her candidacy has been met with fierce protests as more than 17,000 people signed a petition against her getting the job.
Choi lost in a Legislative Council election last September to pan-democrat Ip Kin-yuen. Critics fear Choi's appointment would mean a comeback for the controversial national education curriculum.
Political party Demosisto and a few student groups went to Choi's office on Monday, demanding to speak with her. They staged a protest outside her office after their demand was ignored.
Meanwhile, Dr Chui Tak-yi, former United Christian Hospital CEO, has been appointed undersecretary for food and health. Back in May, Chui made an apology to local mother Tang Kwai-sze, after two specialists treating her for a kidney condition at the hospital in January and February failed to prescribe necessary drugs.
The new team also includes incumbents and promotees from within the current administration. One current member, Dr David Chung Wai-keung, undersecretary for Innovation and Technology, will keep his role. There are two promotees: commerce and economic development political assistant Dr Bernard Chan Pak-li will become the undersecretary for the same bureau; home affairs minister's political assistant Caspar Tsui Ying-wai will become undersecretary for labour and welfare.
Four civil servants will join the new cabinet: police director of crime and security Sonny Au Chi-kwong was named security undersecretary; civil engineering and development department project manager Liu Chun-san will become undersecretary for development; deputy transport and housing secretary Andy Chan Shui-fu will become the undersecretary for constitutional and mainland affairs; and environmental protection assistant director Tse Chin-wan was named environmental undersecretary.
The team is bringing in one outsider: Liberal Party's Joseph Chan Ho-lim will become the undersecretary for financial services and the treasury. He helped settle the dispute over Island School's bus drama in February.
Edited by Charlotte Ames-Ettridge
Sign up for the YP Teachers Newsletter
Get updates for teachers sent directly to your inbox
Sign up for YP Weekly
Get updates sent directly to your inbox