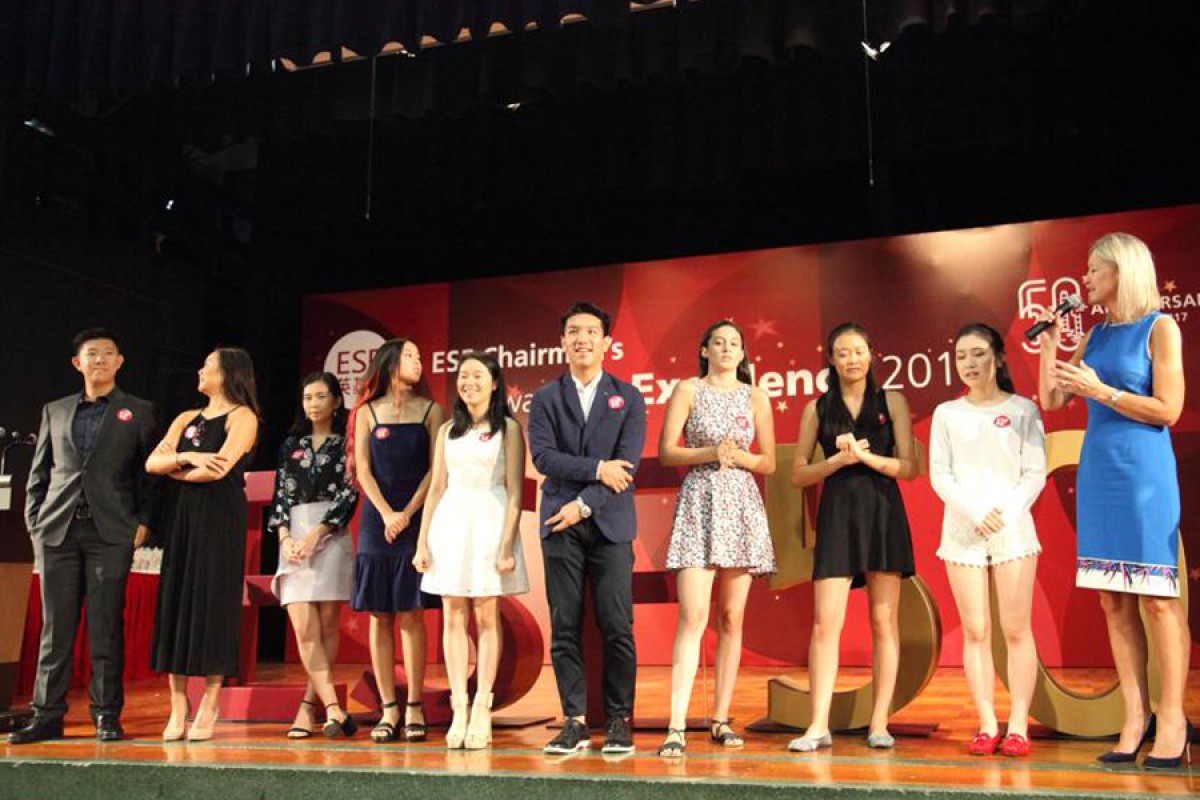 ESF CEO Belinda Greer (far right) praised the graduates.
Nine of this year's outstanding International Baccalaureate (IB) students shared their thoughts on the exam and offered advice to future students at the ESF Chairman's Awards for Excellence on Wednesday, which recognised the performance of the 222 ESF graduates.
Discovery College's Kengie Tang, King George V's Gladwin Ho and Michelle Lin, Island School's Claudia Lau and Deborah Kwong, South Island's Mandy Lee Kim-hyun and Vivian Kwok, Sha Tin College's Wesley Lor and West Island's Mila Lytherao all achieved top grades in the IB exam.
During the press conference, the nine students were asked for their advice for future IB students. 
"Don't forget about yourself, you must have a balanced lifestyle" said 18-year-old Michelle Lin, who plans to study dentistry at King's College in London. "Getting good grades is very important, but you should do sports, see your family and friends to release some of the pressure."
Gladwin Ho, who will study medicine at Chinese University, agrees. "As well as achieving balance between study and private life, having a positive mindset is crucial. I like to live by two quotes: Never give up, because quitters never win and winners never quit; and 10 per cent of life is what happens to you and 90 per cent is how you react to it," said Ho. 
They also commented on how to improve the current IB curriculum. 
Mila Lytherao, a future psychology student at Bath University in the UK, feels ESF schools should provide students with work experience. 
"I have previously worked at Sarah Roe School as a Special Needs education assistant with disabled children. So If schools collaborate with organisations to provide internships and jobs, it would help students understand what it's like in a working environment," said Lytherao. 
Belinda Greer, ESF's CEO, was impressed with the students. 
"You all must be very proud of yourselves. Across the ESF, 25 per cent of students taking the IB have achieved 40 or more points. Globally, there are five per cent who achieve the same feat," Greer told the students. 
Speaking at the later award ceremony, Greer gave some words of encouragement to the students, parents and staff. 
"At the London IAAF World Athletics Championships, many athletes are pushing themselves to their limits. Some win and lose by a matter of seconds or in some cases, by milliseconds. Like athletes, you will have your set-backs and failures. I want you all to take away this: your best will always be enough no matter what."
Edited by Charlotte Ames-Ettridge
Sign up for the YP Teachers Newsletter
Get updates for teachers sent directly to your inbox
Sign up for YP Weekly
Get updates sent directly to your inbox