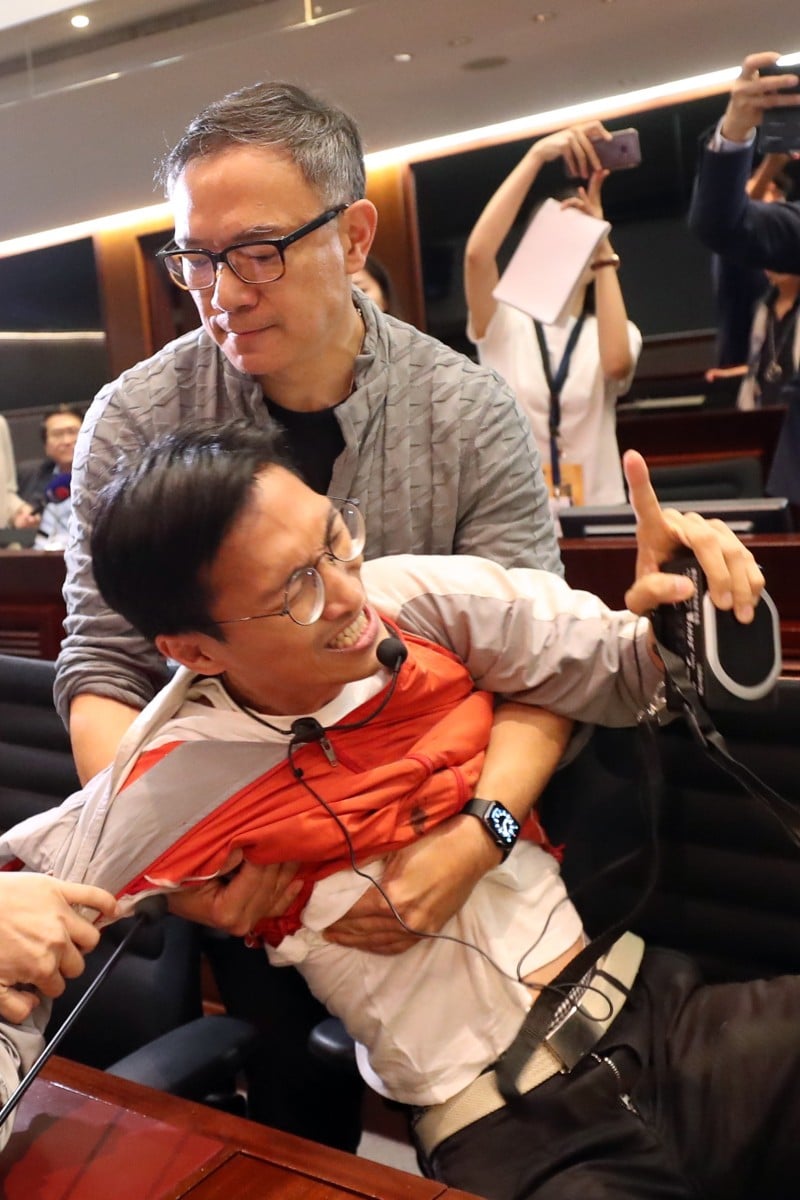 It can be hard to keep track of all the events since the anti-ELAB demonstrations first began, so here's a place to keep track of everything.
Associated Press and YP Staff
|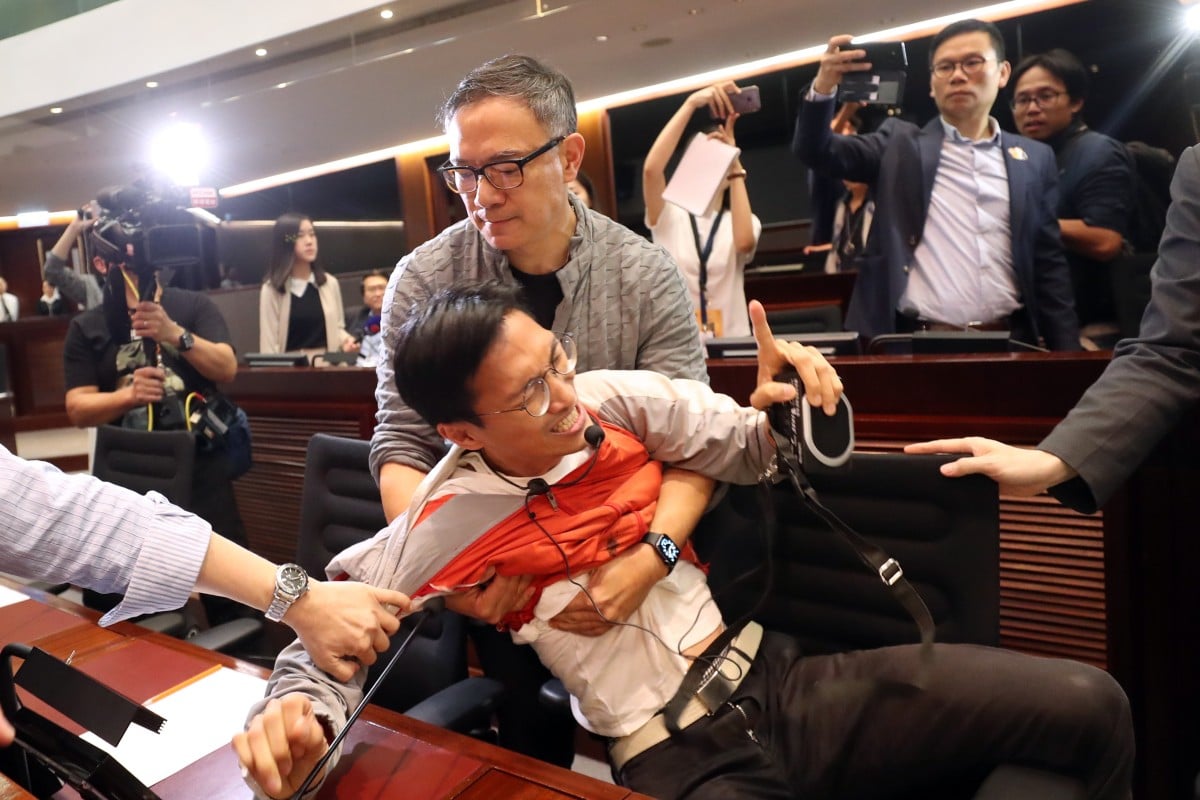 Pro-establishment legislator Paul Tse holds pan-democrat Eddie Chu during the fugitive offenders bill committee meeting.
A lot has happened in Hong Kong when it comes to protests in the last few months. What started as protests againt an extradition bill to mainland China have turned to marches against police violence, labeling the protests as 'riots', the arrest of protesters and the lack of police response following attacks by suspected triad members in Yuen Long. The YP team has compiled a timeline of every major event related to the extradition bill since April, and will continue to add to this guide so you can have a one-stop resource for all your protest information.
Background information to know:
A timeline of events, begining with Occupy Central in 2014
The murder behind the extradition law
Tens of thousands of people march peacefully against a local government bill that would allow, for the first time, extraditions to mainland China. It is one of the biggest protests in the city in recent years. There are fears the law will tighten Beijing's grip on civil society and allow it to pursue its political enemies in Hong Kong. The march ends without violence.
Tens of thousands march in Hong Kong to protest proposed extraditon law
Lawmakers once again ended up in disagreement during a committee meeting on the bill, as pro-democracy and pro-establishment camps disagree over the bill.
Legco chaos once more over Hong Kong's proposed extradition bill
Despite government tweaks to soften the law, tens of thousands more protest again on June 9, with brief clashes breaking out at the very end of the day. Organisers say more than one million people join the largely peaceful demonstration, the biggest since the 1997 handover of the former British colony to China. It descends into violence after midnight when police, using batons and pepper spray hoses, try to disperse small groups of protesters who hurl bottles and use metal barricades. The police put the march turnout at 240,000 and make 19 arrests.
Live report from mass rally against controversial extradition bill
Hundreds of thousands protest against controversial bill
Huge crowds block major roads and attempt to storm the Legislative Council, delaying the bill's second reading. Police use tear gas, pepper spray, rubber bullets and bean-bag rounds in the worst clashes since the handover. Nearly 80 people are injured. Police actions are widely condemned. 
Live updates of the protest on June 12
Carrie Lam speaks, number of injured revealed and protests continue into the night
Live updates the day after mass protest outside Legco
Student group condemns police for using excessive force, including tear gas and rubber bullets
Hong Kong leader Carrie Lam postpones the bill. 
A fresh demonstration calls for the full withdrawal of the bill and for police accountability followed alleged excessive use of force on June 12. Organisers say two million people take part. Police put the figure at 338,000. Protests are held around the world in support of Hong Kong. Protests continue the next day.
Live updates from epic 2 million anti-extradition law protest on Sunday, June 16
2 million Hongkongers in epic march against proposed law
Live updates the day after 2 million Hongkongers gathered peacefully to protest the controversial law
Protests go global as events held around the world in support of massive June 16 march
In the early hours of July 1, just ahead of an annual march to mark Hong Kong's return to China, young masked protesters take over key roads, sparking new clashes with police. Later in the day hundreds smash their way into the Legislative Council and ransack the building, daubing its walls with anti-government graffiti. It takes police several hours to regain control. Carrie Lam calls an early morning press conference regarding the event. Occupy leader Joshua Wong defends the protesters. 
Live updates as protesters march at annual July 1 rally 
Anti-ELAB protesters march on handover anniversary
City in shock as small group of protesters take over Legco on July 1 and police retreat
What happened at Legco on July 1 when protesters stormed the complex?
Carrie Lam calls 4am press conference following chaos at Legco on July 1
Democracy activist and 'umbrella movement' leader Joshua Wong says police have 'double standards' for different camps
Lam says the extradition bill "is dead" but protesters dismiss her comments.
In breaking news, Carrie Lam says fugitive law 'is dead'
Protests in Sha Tin's New Town Plaza shopping mall end in violence.
Protest in Sha Tin ends in violent clashes, 22 injured and 37 arrested
Senior citizens hold silent march against the extradition bill. Protesters make Time's list of 25 Most Influential People on the Internet for 2019.
Senior citizens hold silent anti-ELAB march to government headquarters
Anti-ELAB protesters make Time's 25 Most Influential People on the Internet list
Protesters are back on the streets and police fire tear gas and rubber bullets. In the Yuen Long area, masked men -- suspected to be triad gangsters -- attack protesters inside a train station.
Live updates from July 21 anti-ELAB protests
At least 36 injured at Yuen Long MTR station as mob dressed in white beat protesters
Lam condemns the violence on July 21.
Carrie Lam condemns both protesters and triad members for July 21 violence
It is revealed that two of the three men arrested in connection with the city's biggest bomb plot are members of Hong Kong independence groups. On the same day, police arrest 11 individuals for their roles in the Yuen Long attacks, and media groups urge the police to protect citizens.
Police ban Yuen Long protest in aftermath of MTR station attack, but organisers say march will go on
Heads of five disciplinary forces condemn violence and pledge 'unwavering' support to Chief Executive
Around 2,500 people held a peaceful protest in Hong Kong International Airport Terminal One, passing out leaflets to people arriving in the city. Police unions announce their opposition to independent inquiries into alleged excessive use of force, and it's revealed that a Chinese official urged HK villagers to chase away activists before the violence in Yuen Long.
Protesters stage peaceful sit-in at Hong Kong International Airport
Police unions oppose independent inquiry into alleged excessive use of force during recent anti-ELAB protests
Chinese official urged Hong Kong villagers to drive off protesters before violence at train station
In response to the attack in Yuen Long, protesters took to the streets, even after police regused to issue a letter of no objection.
Live updates from Yuen Long 727 protest
There are running battles between police and pro-democracy protesters close to Beijing's office in Hong Kong. Security forces launch volleys of tear gas and rubber bullets.
Marches to Causeway Bay and Sai Ying Pun are met with tear gas
Police to test water cannon-equipped anti-riot vehicles
Anti-government protesters cause disruptions on the MTR. 
The commander of the People's Liberation Army in Hong Kong says that the army is determined to protect China's sovereignty. The PLA releases a promotional video stating that troops in the city are able to protect its long-term stability.
Commander of city's PLA garrison says army is ready to protect China's sovereignty
Demonstrators erect barricades in the tourist district of Tsim Sha Tsui. Riot police use tear gas.
What happened on 3 August in Mong Kok, Tsim Sha Tsui and Wong Tai Shin
Protests are held in Tseung Kwan O and Kennedy Town. Police fire tear gas again in the luxury shopping district of Causeway Bay, where thousands of protesters have seized roads and put up barricades.
Hong Kong protests: Live updates from Tseung Kwan O and Island West
There is a city-wide strike and activists disrupt the subway system, paralysing much of the city and delaying scores of international flights. For a third consecutive night, police confront hardcore protesters. The clashes are the most widespread so far, breaking out at more than a dozen locations. Men in white shirts attack people with bamboo sticks in North Point. Police say 148 people were arrested, the largest daily number since the protests kicked off.
Hong Kong protests: Live updates as protsters disrupt MTR services and prepare for citywide strike
August 5 citywide strike turns violent at night
China warns that "those who play with fire will perish by it". Beijing also reaffirms its support for Carrie Lam and the police. Hong Kong Baptist University Student Union President Keith Fong Chung-in is arrested in Sham Shui Po for possession of 10 torch-like laser pointers, leading hundreds of protesters to beseige Sham Shui Po police station. Police fire about 20 rounds of tear gas to clear the crowd, who spray painted the station's walls and threw glass bottles and bricks into the complex.
Beijing reaffirms support for Carrie Lam and police at second press conference, rules out need to mobilise PLA
A 'stargazing' protest is held in Tsim Sha Tsui to protest the arrest of Keith Fong. Hundreds gathered outside the Hong Kong Space Museum to shine laser beams on its dome, mocking the police's claim that the laser pointers were dangerous weapons. Fong's arrest leads to a spike in laser pointer sales.
Laser pointer sales on the rise after student arrested for possession of 10
The Director of Hong Kong and Macau Affairs Office, Zhang Xiaoming, says there will be no independent inquiry into the unrest in HK and the allegations of police force, despite it being one of the protester's key demands and supported by many pro-establishment politicians and foreign leaders. Keith Fong is released, without any charges laid out against him. 
Beijing says no to independent inquiry
Keith Fong released without charges
Protesters begin the first day of a weekend sit-in at the airport. Upcoming marches in Wong Tai Sin, Tai Po and Sham Shui Po are given letters of objection due to public safety concerns. The Wong Tai Shin march is cancelled, and a march meant to take place in Island East is downgraded to a gathering in Victoria Park. Retired deputy police comissioner Alan Lau Yip-Shing, who oversaw operations during the 2014 Umbrella Movement and 2016 Mong Kok riot, is brought out of retirement. 
Marches planned for the weekend have been cancelled or downgraded
Hundreds of people join a mass sit-in at the airport. Elderly Hongkongers gather outside police headquarters in Wan Chai, and a 'Guard our Children's Future' gathering is held in Edingbrugh Place in Central.
Young and old take to the streets to beg police to put down their weapons
At least 45 people are injured after clashes in Tsim Sha Tsui, Sham Shui Po, Wan Chai and Kwai Chung. Protesters throw bricks and petrol bombs, while police use their batons and throw tear gas. A medic's eye is severely damaged in a clash between police and protesters. She claims she was shot with a beanbag round. Police say they need more evidence. Police fire tear gas in Kwai Fong MTR station, and at least four people are attacked in North Point by pro-establishment groups - some in T-shirts printed with 'Fujianese'.
A crowdfunding campaign by Stand With HK raises more than US$1.9 million dollars (HKD$14,894,385) for a worldwide ad campaign 'informing the world of the war crimes committed by the Hong Kong communist government'. Police hold a press conference in which they attempt to explain their actions the previous day. Thousands of anti-government protesters occupy the airport, many wearing eye patches to show their anger at the woman who was shot in the eye. The airport cancels all flights out of Hong Kong for the rest of the day.
Carrie Lam holds a press conference in response to the previous day's airpot sit-in, in which she warns protesters they are pushing the city "into an abyss". Protesters occupy for the airport for another day, more than 300 flights are cancelled. The night turns violent as protesters assault two individuals from mainland China, one of them a journalist from
Global Times. 
Riot police arrive at the airport. 
Airport demostrators apologise for their behaviour on Telegram, though some pro-democracy netizens maintain their actions were justified. A new court order prevents demonstrations from taking place in most areas of the airport. Beijing says it sees the "first signs of terrorism" among HK's pro-democracy protesters. 
People report having their phones checked for video and photos of the protest while crossing the border into mainland China. Police ban a planned Civil Human Rights Front march from Victoria Park to Chater Garden, allowing only a rally in Victoria Park.
K-pop group GOT7 cancels their show in Hong Kong due to concerns for member Jackson Wang's safety. Wang, born in HK, made comments in support of the mainland Chinese government and received threats online. In addition, Crystal Liu Yifei, the star of Disney's live-action
Mulan, 
makes comments on Weibo stating that she supports the Hong Kong police force, prompting calls for boycotts of the movie. 
Hong Kong teachers march in support of the anti-extradition protesters in a rally titled "Protect our Next Generation, Speak for our Conscience". A pro-police rally is held on the same day at Tamar Park. 
A march held by the Civil Human Rights Front sees more than 1.7 million people march on Hong Kong island. Although the police only approved a rally in Victoria Park, the number of protesters forces them to spill out onto the streets. The police did not condemn the protests and described the day as peaceful. The event caps off a weekend of no tear gas, the first in 11 weeks.
A man attacks three people near a Lennon Wall in Tseung Kwan O after they express their views regarding the protests. Carrie Lam holds a press conference in which she says she is open to dialogue, but refuses to give in to protester's demands for an independent inquiry into alleged excessive police force and to completely withdraw the extradition bill. Twitter and Facebook suspend thousands of accounts believed to be run by the Chinese government whose main goal was to spread false information about and insult the protesters. In an event unrelated to the protests, two police are arrested after assaulting an elderly arrested man in the hospital.
A sit-in at the Yuen Long MTR station, to mark one month since attacks on protesters by mobs in white shirts, turned violent as protesters set off fire extinguishers and fire hoses at police. 
Sit-in in Yuen Long leads to violence 
Secondary students hold a peaceful gathering to show their support for anti-extradition bill protesters and plan a class boycott, beginning September 2. Pro-Beijing politicians form an anti-bullying group, out of fears that children of police will be targeted in school. A #SupportMulan campaign is launched on Twitter by Chinese state media.
Live updates from the secondary school students gathering
School bullying concern group formed by pro-Beijing politicans
#SupportMulan campaign takes hold
Peaceful demonstrators form pro-democracy 'human chains' along the MTR lines. The MTR corporation announces it will toughen its stance against anti-government protesters, even closing down stations where protests will be held. A female anti-extradition bill protester says she was illegally strip searched by police.
Live updates as human chains form
MTR announces tougher stance against protesters amid pressure from Beijing
Female anti-extradition protester speaks out about illegal strip search
Protests turn violent once again, as protesters cut down smart lamp posts and throw bricks at police in Kowloon Bay. 
Protests turn violent with petrol bombs and tear gas
For the first time, police fire a warning shot into the air and use water cannons against protesters, claiming they feared for their lives. 
65 people arrested during a weekend of protests
Carrie Lam holds a press conference in which she reaffirms that she won't give in to protesters' demands. 
Police ban the Civil Human Rights Front protest planned for Saturday (and the organiser is attacked by masked men with baseball bats, but is uninjured), and the woman whose eye was shot in Tsim Sha Tsui speaks out for the first time. 
Pro-democracy advocates Joshua Wong, Agnes Chow and many others are arrested in a surprising move by the police. The son of a policeman is bullied online and his personal details are revealed after he criticises his school's anti-government concern group. An off-duty policeman is ambushed and stabbed by three masked men at Kwai Fong MTR station, but it is not stated if the motives are related to the protests or anti-government movement. 
Police roll out the water cannons, which contain a blue dye, for the first time, as protesters throw petrol bombs. 
Tung Chung and Tsing Yi stations are vandalised after demonstrations at the airport turn sour. 
Secondary school and university students across Hong Kong take part in a class boycott in solidarity with the anti-extradition bill protesters. A Hong Kong court overturns the election ban on pro-democracy activist Agnes Chow.
On the second day of school boycotts, police allegedly tackle a student to the ground. Protests continue at other secondary institutions. An anti-extradition bill demonstrator passes out after police subdue him in Prince Edward MTR station. 
Students at Chinese Foundation Secondary School hold a gathering after allegedly being threated with expulsion for participating in the boycott. In some of the biggest news since the protests began, Carrie Lam announces she will formally withdraw the extradition bill.
Students and alumni in Tuen Mun form a human chain in protest of Carrie Lam's announcement, insisting that all five demands must be met. The government begins an international ad campaign aimed at explaining the protests to a global audience.
Student protests continue, as more secondary schools join in the peaceful human chains and call for school boycotts.
Hong Kong sees more violence as a peaceful march to the US consulate leads to vandalism, tear gas and a fire set outside Central MTR station.
Participants from 17 secondary schools around Hong Kong hold another human chain peaceful protests, calling on Carrie Lam to listen to the five demands of the protesters.
Sign up for the YP Teachers Newsletter
Get updates for teachers sent directly to your inbox
Sign up for YP Weekly
Get updates sent directly to your inbox