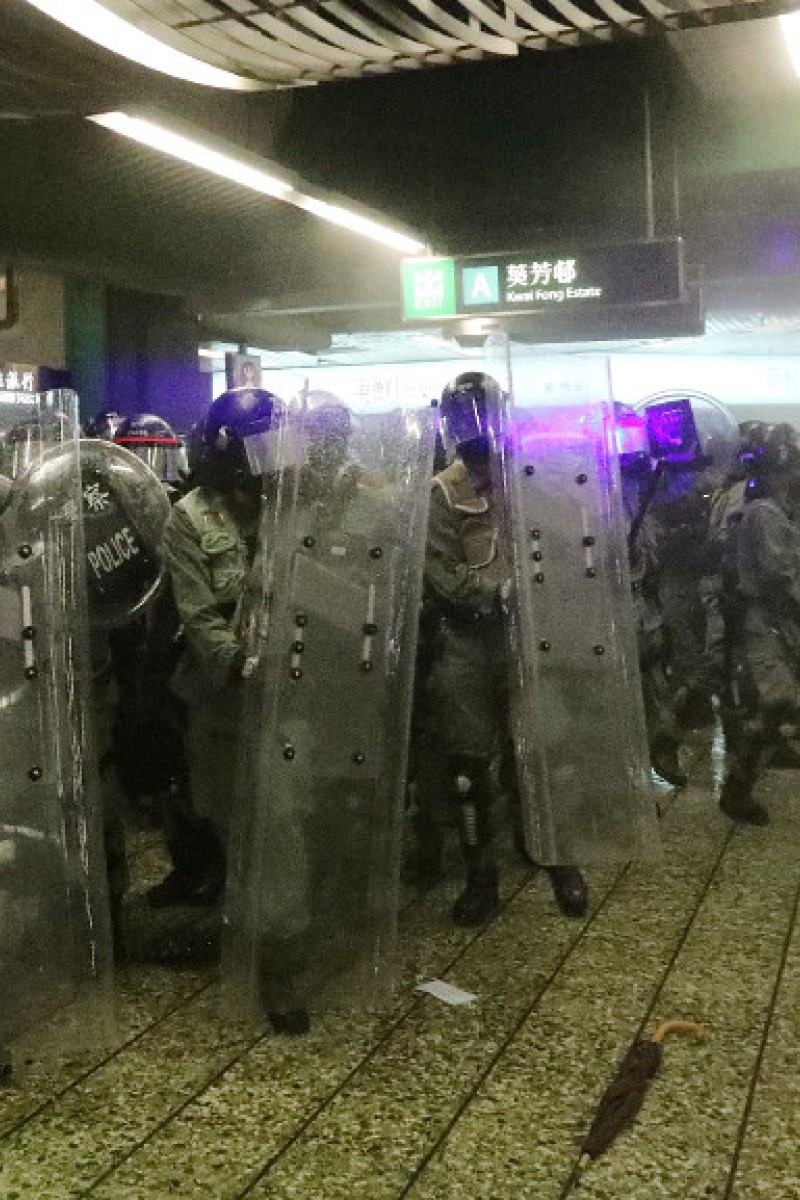 The Hospital Authority reports that at least 45 people have been injured, with the youngest person being an 8-year-old child, following a day of tear gas, petrol bombs and batons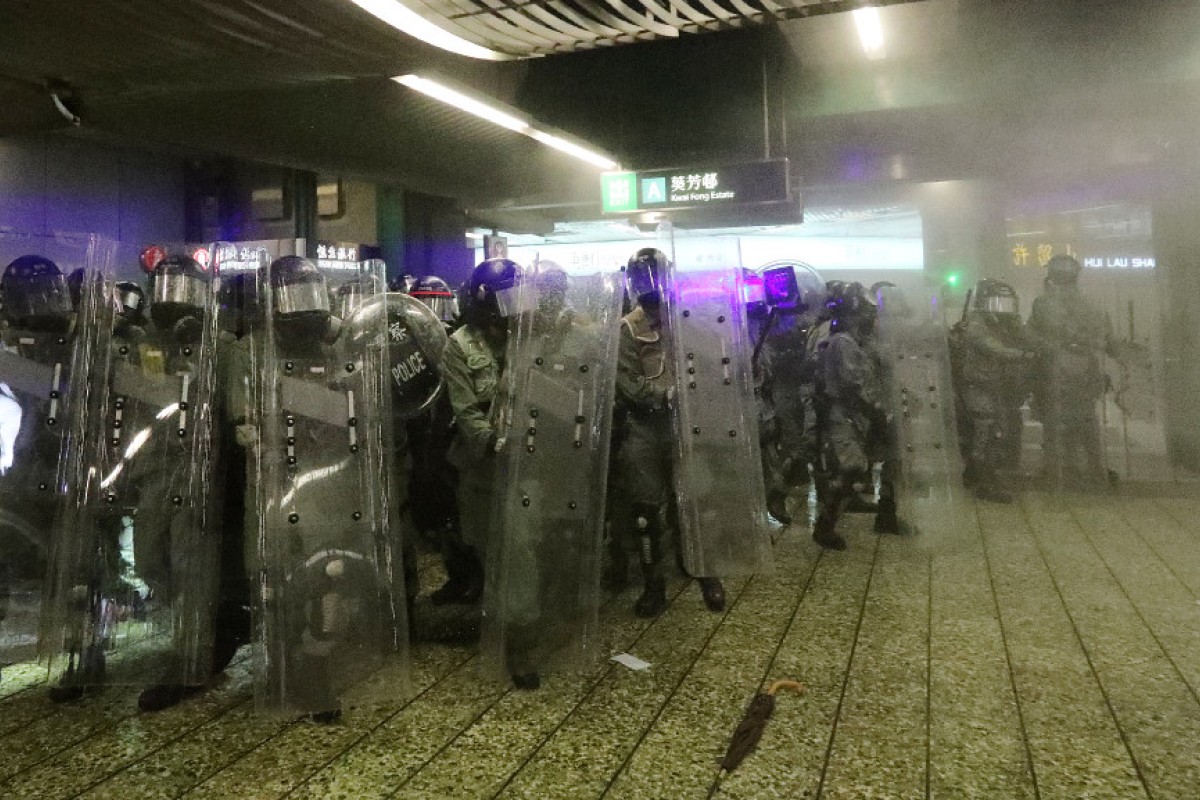 Tear gas was deployed at the ground-level concourse of Kwai Fong MTR station on Sunday evening.
Hong Kong Chief Executive Carrie Lam Cheng Yuet-ngo once again tried to reach out to Hong Kong youth yesterday. Speaking in Mandarin at the closing ceremony of a People's Liberation Army (PLA) training camp for university students, she said the government placed great value on talking to and engaging with local youth.
"My colleagues and I will be more patient to get in touch with youth from different classes to listen to their voices," she said in Mandarin. "We hope that we can fight together to build a better Hong Kong."
Her words came as Hong Kong entered its 10th straight weekend of protests, which are becoming increasingly violent as organised civilian gangs take to the streets to attack dissenters.
Parts of Tsim Sha Tsui, Sham Shui Po, Wan Chai and Kwai Chung became smoking war zones once again yesterday, as anti-extradition bill protesters continued their new hit-and-run tactics to stay one step ahead of police, responding to bricks and petrol bombs with barrages of tear gas and baton charges.
"Our aim is no injuries, no bleeding and not getting arrested," said a 17-year-old student protester yesterday, who gave his family name as Chan.
"I think our previous tactics of staying in one place led to many arrests and injuries... We need to 'be water' to avoid injuries," he told AFP at the Victoria Park gathering.
However his wishes were not fulfilled as a young nurse was shot at close range, taking a round to her eye. A frontline doctor said her eye had been ruptured and she would lose vision in that eye.
Young and old take to the streets to beg police to put down their weapons
Injuries were reported on both sides. According to the Hospital Authority, as of 11am today, the number of injured from yesterday's clashes numbered 45 people, with the youngest person being 8 years old. Two are in severe condition, 23 are stable and 20 have already left hospital. However, it is uncertain how many were injured in total, as many people may avoid going to the hospital out of fear.
Among the affected areas, rounds of tear gas were fired at retreating protesters indoors at the ground-level concourse of Kwai Fong MTR station and one of the exits of Tai Koo station.
Riot police first fired tear gas into the building at Kwai Fong MTR, then stormed inside and opened fire again.
A man in protest gear was seen lying on the platform, with blood running from his nose, while other protesters were helping him.
Video footage also showed a stationary train at a platform with people still inside.
Later at Tai Koo station, riot police charged inside to grab protesters who had been moving from one station to another.
Video footage showed officers at the top of a long, steep escalator beating protesters, while tear gas fumes filled the air.
One of those who fell to the ground during the skirmish was an elderly woman who has become a prominent fixture with a British flag at anti-government rallies that first began more than two months ago, triggered by the government's now-abandoned extradition bill.
At least four citizens, including two journalists, were attacked in North Point by a group of people who claimed to be defending the district from anti-extradition bill protesters, although plenty of police officers were at the scene, according to RTHK.
Beijing says no to independent inquiry into protests, alleged excessive force from police
Just before 8pm last night, a black-shirted man was attacked by around a group of ten men on King's Road. When local media Stand News video journalist Ronson Chan and RTHK journalist Damon Pang arrived at the scene to film the assault, one of the ten men pushed Chan away, shouting "what are you filming?"
Afterwards, he took Chan's tripod away and began waving it around, hitting and injuring Pang on the shoulder.
Earlier in the afternoon, an RTHK camera assistant was also struck in the head outside a restaurant on King's Road. A group of men also pushed a man to the ground outside the same restaurant, including some in t-shirts printed with words like "Fujianese" and "Protect Hong Kong, China."
A few policemen stopped the assault and took one of the attackers away.
Police bring back retired top officer who worked during 2014's Umbrella Revolution
According to RTHK, a group of white-shirted men waving sticks and bamboo poles clashed with black-shirted anti-extradition bill protesters and residents in Tsuen Wan in the early hours of this morning, leaving some people injured and at least one man bleeding from an apparent head wound.
This came after five or six white-shirted men were spotted attacking two men and one woman outside the Tsuen Wan MTR station at around midnight.
A policeman was injured when a petrol bomb hurled by protesters set his trousers on fire.
Sign up for the YP Teachers Newsletter
Get updates for teachers sent directly to your inbox
Sign up for YP Weekly
Get updates sent directly to your inbox